At the international exhibition "Oboronexpo-2014", the United Instrument-Making Corporation (part of the Rostec state corporation) presented the initiative development of its research and production enterprise Rubin, a mobile air defense control module for the commander of the anti-aircraft gunnery squad based on the Tigr armored car. The development has no analogues in Russia, the closest foreign analogue of the system in terms of functionality is one of the modules of the American tactical control system FAAD C2.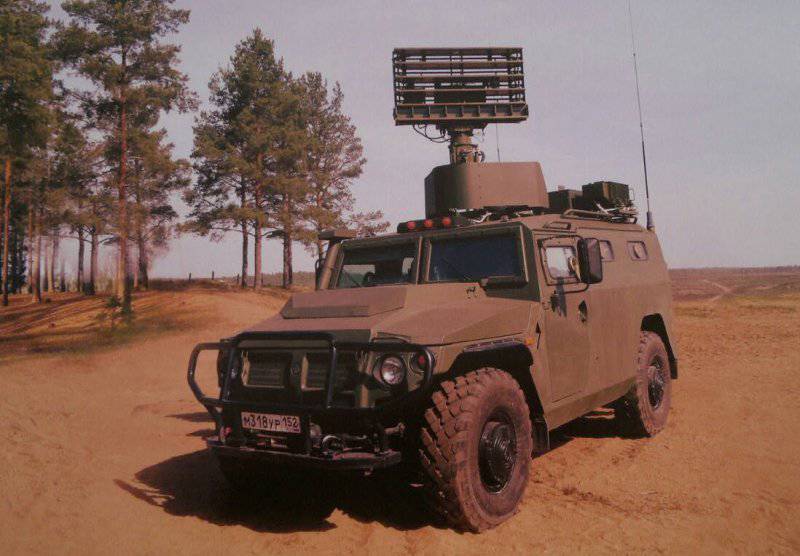 The automobile complex on the Tigr chassis is intended for the operational transfer of small units of anti-aircraft gunners, armed with man-portable air defense systems (MANPADS), and automated control of their actions. The air defense control module provides for receiving commands from higher command posts, displaying them in the system, sending orders to subordinates, receiving and generating reports on the accomplishment of assigned tasks.
"Tiger" is equipped with a compact radar system that searches for and capture air targets. The air defense control module provides data on the trajectory of targets and the scenario of actions of anti-aircraft units, and also provides automatic distribution of targets between the arrows, taking into account their position, readiness and condition of the ammunition load.
The wheeled chassis of high traffic allows the "Tiger" to move both on public roads and in rough or mountainous areas, inaccessible to heavy machinery.
At the exhibition "Oboronexpo-2014" presented a prototype machine, which is now being tested by developers. Full-scale tests of the air defense complex are scheduled for 2015 year.
OAO United Instrument-Making Corporation, a Russian state corporation, was established in 2014 as part of Rostec State Corporation to organize high-tech production of competitive products in the field of communication systems and tools, automated control systems, electronic warfare and robotic systems for the Armed Forces of the Russian Federation and other special formations, as well as competitive products of civil and dual use. The structure of the corporation includes the radio engineering concern "Vega", the concern "Constellation", the integrated structure "Management Systems" and the Central Research Institute for Economics, Informatics and Control Systems. The corporation unites 55 enterprises and scientific organizations of the radio-electronic industry of Russia with the total number of 39,5 operating thousands of people.
Rostec State Corporation is a Russian corporation established in 2007 to promote the development, production and export of high-tech industrial civilian and military products. It includes 663 organizations, of which 9 holding companies in the defense industry complex and 5 - in civilian industries are currently formed. Rostec organizations are located on the territory of 60 subjects of the Russian Federation and supply products to the markets of more than 70 countries. Rostec's revenue in 2013 amounted to 1,04 trillion rubles, net profit - 40 billion rubles. Tax deductions to budgets of all levels exceeded 138 billion rubles.