Broken Ukrainian equipment in the "southern boiler"
In recent days, the main parts of the Ukrainian 24-th separate mechanized, 72-th separate mechanized and 79-th separate air-mobile brigades and units of the border service of Ukraine managed to escape from the long-term environment with the forces of the DNR and LC in the so-called "southern boiler" at the Russian-Ukrainian border . Apparently, the "breakthrough" took place by unofficial agreements with the Russian side, and part of the military personnel of the 72 brigade and border guards, as is known, generally retreated into Russian territory. Ukrainian forces have left a significant amount of military equipment, weapons and property - as broken, and undermined, and completely whole.
Forces DNR announced taking significant trophies:
"In the Southern Cauldron, good trophies were captured. There is no exact number yet, but sources indicate a figure of about 67 units. This number includes
Tanks
, BMP, BMD, armored personnel carriers, howitzers, MLRS, air defense systems. The technical condition is different, there are fully operational vehicles (without ammunition and fuel and lubricants), there are technical malfunctions, there are damaged in battle, there is a complete illiquid condition (factory repair is needed). "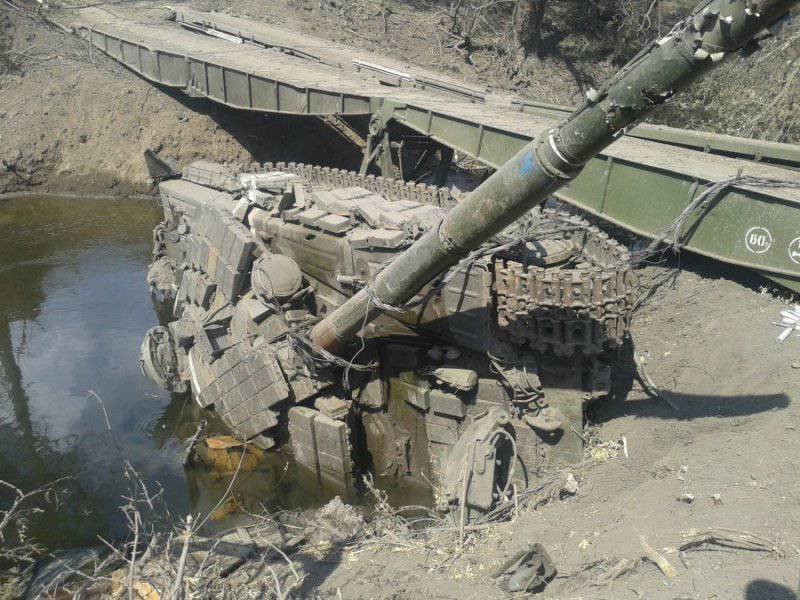 Fallen from an engineering bridge and abandoned tank T-64BV of the armed forces of Ukraine. 08.08.2014 (c) VKontakte