United States redeployed 100 units of aircraft and 8 ships to the Persian Gulf.
The United States concentrated in the Persian Gulf more than 100 units of aircraft and 8 ships for air strikes against the positions of the Islamic State group in Iraq, reports
ARMS-TASS
with reference to the press service of the US Navy.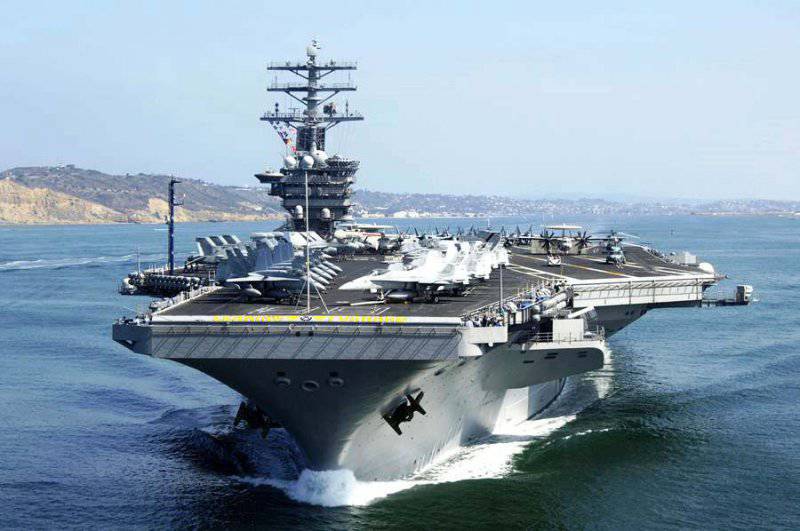 The first air strikes were carried out by aircraft from the aircraft carrier "George Bush" (CVN-77 USS George HW Bush). Together with him, according to the press service, in the water area of ​​the gulf there are "6 more US Navy ships: the helicopter landing ship Bataan (LHD-5 USS Bataan), the Gunston Hall landing ship dock (LSD-4 USS Gunston Hall), cruiser URO "Philippine Sea" (CG-58 USS Philippine Sea), destroyers URO "Arleigh Burke" (DDG-51 USS Arleigh Burke), "O'Kane" (DDG-77 USS O'Kane) and "Roosevelt "(DDG-80 USS Roosevelt)". In addition, the "Mesa Verde" (LPD-19 USS Mesa Verde) landing helicopter dock is located there.
The planned time of the "George Bush" stay in the bay is about 10 months. To date, half of the stated period has passed.
The 8 wing, located on the aircraft carrier, includes the X / NUMX F / A-24E / F Super Hornet, the X / NUMX F / A-18C Hornet fighters, five electronic warfare (EW) EA-20B Fighter Planerahs , four all-weather long-range radar detection and control airplanes (AIRCS) E-18C Hawkai, two C-6A Greyhound supply planes, eight MH-2S helicopters and four Seahook naval helicopters. "
Land support is ready to immediately provide the Marines from the "Bataana". According to the newspaper, "on the assault ship-helicopter carrier 2 thousand people of the US Marine Corps personnel from the 22 expedition division, 12 convertible planes MV-22B Osprey, eight vertical take-off and landing aircraft AV-8B Harrier, four CH-53E Super Stadium helicopters; three UH-1Y Venom helicopters; and four AH-1W Super Cobra helicopters. "
As ARMS-TASS points out, the US Air Force also has an impressive force in the region. The Air Force Central Command can, upon request, use several types of fighters and attack aircraft (F-15 / 22, A-10), B-1 bombers, reconnaissance aircraft (E-3, E-8, RC-135), support aircraft and
Drones
.