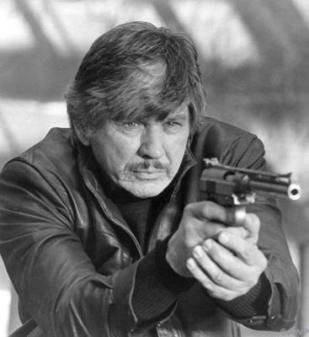 Dear Readers,
This is a continuation of the fifth material from a series of publications devoted to
arms
, designed by American designer Robert Hillberg (Robert Hillberg), which was published yesterday.
Because of my oversight, I did not insert the text of the article completely, for which I beg your pardon.
The first part of the article is
HERE
.
Wildey PIN GUN / Wildie Pin Gang
At the time, the manufacturer received a lot of letters from its customers, from which it became known that many of the owners of Wildie pistols are addicted to plinking (entertaining shooting at various non-standard targets).
To be precise - then shooting bowling pins for bowling (Bowling Pin Shooting).
Since the shooting is not only for accuracy, but also for speed, and the recoil of the pistol is not childish - after each shot the barrel threw up strongly and it took time to restore the aiming on the target.
Customers asked the manufacturer to reduce the recoil momentum without changing the caliber.
Taking into account the wishes of their clients, the campaign specialists responded immediately and developed a muzzle nozzle for damping recoil, but decided to make good money on the weaknesses of fast-keel lovers.
As a result, interchangeable barrels of different lengths appeared and under cartridges of different calibers with integrated DTK.
As the manufacturer assures, trunks with DTC significantly reduce the recoil force,
accelerate the preparation for the next shot and improve the accuracy of the fight.
These barrels can be installed on almost any Wildie gun.
What customers do with their old trunks - I'll never know.
Perhaps they shoot at refrigerators - in this case, special precision is not required.
The cost of barrels with a built-in muzzle brake-compensator depends on their length, finish (bright stainless steel or matte finish) and, possibly, caliber.
The price of additional trunks with DTK varies from $ 670.30 to $ 1,248.00.
And for lovers of shuffling on pins that have not yet had time to get a Wildey system gun, the manufacturer offers a ready-made solution: Wildey PIN GUN.
This is the same gun, but it was originally equipped with a barrel with an integrated DTC.
You can order any combination: with a frame and barrel made of polished stainless steel or with a matte finish, with an angular or rounded trigger guard.
Barrel length can also be chosen.
7 ", 8", 10 ", 12", and 14 versions are available.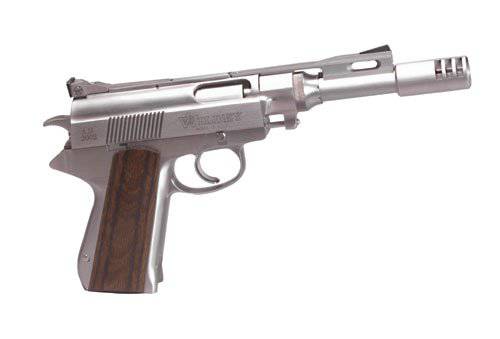 Wildey PIN GUN Gun with 8 Barrel Length (see 20,32)
Its weight is 1,855 kg.
If desired, the barrel with integrated DTC can be purchased separately and installed on any existing Wildie pistol.
Prices
Replacement barrel with integrated DTK varies and depends on barrel length and trim (Polished / Matte):
from $ 670.30 to $ 1,248.00
Wildey PIN GUN pistol varies and depends on barrel length, trigger guard shape and trim (Polished / Matte):
from $ 1,649.95 to $ 2310.95
Wildey Silhouette Pistol / Wildie Pistol
Wildie Gun Silhouette created specifically for hunting and sports shooting for long distances.
In order to increase the flight range and flatness of the trajectory of the bullet and in addition to simplify aiming - the campaign gunsmiths equipped the base model of the pistol with the 18 barrel of a length already (45,72 see) and gave this modification a proper name: Silhouette / Silhouette.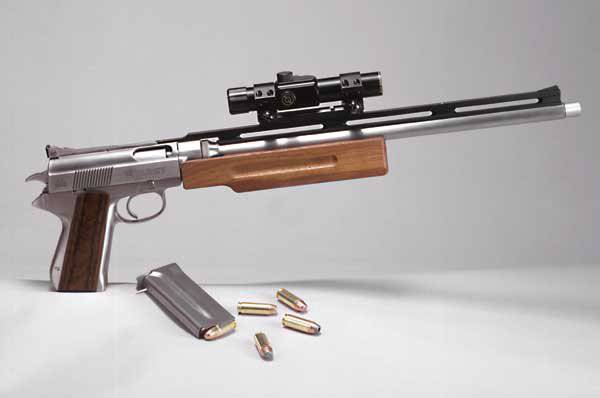 Wildie Silhouette Pistol with optional telescopic sight.
This barrel is equipped with standard hardware for mounting optical sights and is equipped with a handguard made of natural wood (American walnut).
If desired, it can be installed on any other Wildie pistol.
Wildey Silhouette is positioned as a weapon that will provide (as far as possible) particularly accurate shooting at maximum distances.
The main difference between the Wildie Silhouette pistol and the ones described above is its trigger: it is adjustable, only single action (Adjustable Single Action only).
The manufacturer describes it as "similar to the action with the USM army pistol Colt 1911" plus the capabilities of the gas regulator (read below).

Manual Mode for Jewelry Precision
To improve the accuracy of the battle, the manufacturer recommends switching the weapon to a non-automatic mode: to do this, turn the "valve" of the gas regulator counterclockwise until it stops.
Then the access of powder gases to the cylinder stops completely (they are released into the atmosphere) and after the shot the shutter does not move backwards, but the gun can function in the manual reloading mode: after each shot the shooter manually jerks the slide frame and at the same time removes the spent case and triggers the trigger, and when the bolt carrier moves back under the action of a return spring, the next cartridge is sent to the chamber.
Analogues
I know only one gun with the ability to switch to the "non-automatic" mode: this is a Ruger 22 / 45 pistol chambered for .22 LR for special operations.
But on it this function serves in order not to attract attention with a clack of the shutter and not to leave a cartridge case after a shot.
They have one more common feature: on both are fixed trunks.
And the rest is a weapon for completely different tasks: one for the entertainment of the rich Buratin, and the other for the elimination of "without noise and dust."
If desired, the barrel length of 18 "can be bought separately and installed on any existing Wildie pistol.
Prices
18 "Replacement Barrel Made of Polished Steel (Polished) for Survivor Pistols: $ 1,647.95
Replaceable 18 "barrel made of matte steel (Matte) for Hunter pistols:
$2,008.95
Wildey Silhouette gun with a barrel length 18 "(without optics):
$2,776.95
In my opinion, for a pistol with such a long barrel, at least the bipods, or better, the bipods and the butt, are asking for.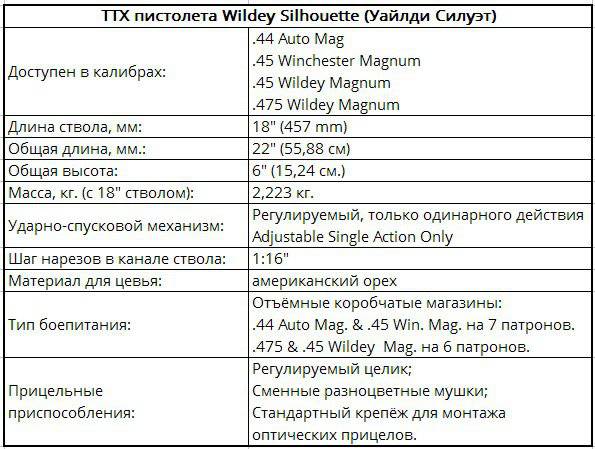 Wildey CARBINE / Carabiner Wilde
Not all customers arranged a mega-pistol with a barrel longer than the Kalashnikov assault rifle.
The firing range suited them, but the declared accuracy left much to be desired.
To increase the stability of the weapon in aiming before the shot (which would increase the accuracy of shooting) and to absorb recoil, the shoulder rest was suggested.
In order to respect their most demanding customers - for
Wilddy Silhouette pistols have developed a removable frame "Skeleton" type butt and began to offer potential buyers a turnkey solution called Wildey CARBINE.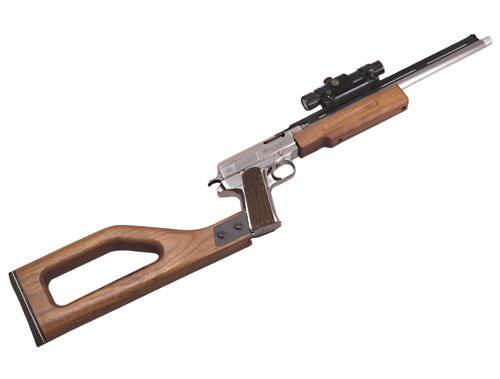 Prices
How much is the butt of American walnut I could not find out
and the prices for the kits are as follows:
Wildey Survivor Carbine (Polished) $ 3,019.95
Wildey Hunter Carbine (Matte) $ 3,249.95
The manufacturer positions its gun as a versatile and flexible weapon complex that can replace several types of weapons.
It seems like this product will save the shooter a lot of money.
Everyone saves their own way ...
My story would be incomplete, without mentioning the opportunity for the shooter to "save" some more.
How?
For example, ordering from the dealer immediately a pistol with engraving.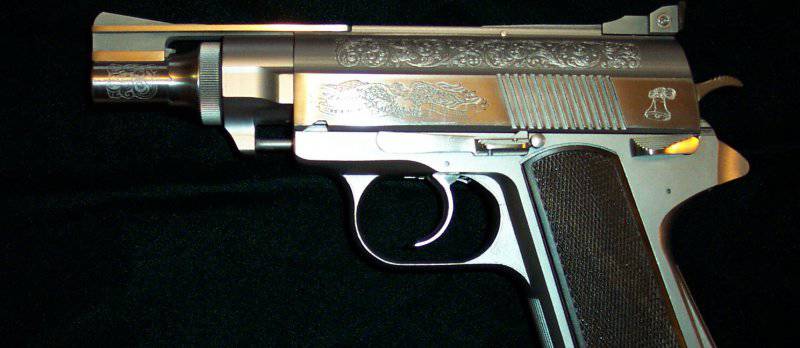 Standart finish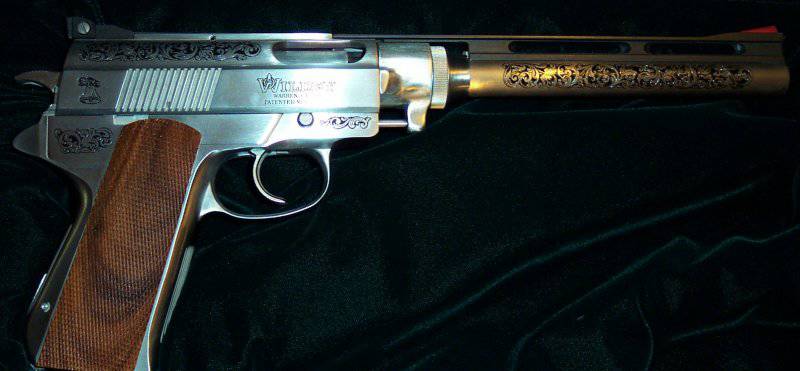 Deluxe finish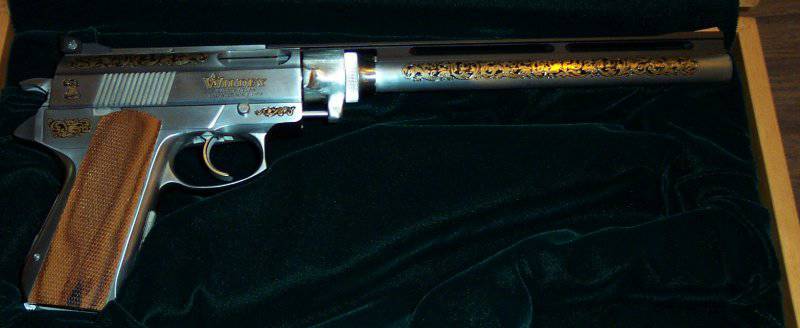 High grade finish
By purchasing a storage box and showing off for $ 359.95
Wildey presentation case
Or a shoulder holster (judging by the price of dragon skin) for $ 270.95.
Other developments
In addition, in many ways unique gun, the campaign Wildey Firearm has developed another one - quite normal in size and more familiar in terms of appearance.
It is produced in Jordan by the Design and Production Bureau of King Abdullah and is intended to arm the Jordanian army and police, as well as for export.
A feature of the Viper JAWS pistol is its ability to use 9mm PARA, .40 S&W and .45 ACP cartridges.
This is achieved by quickly replacing the barrel, magazine, extractor and liner.
But about this gun I will write a separate article.
Currently, the Wildey Firearm campaign is developing a rifle.
Nothing more is reported on the official site.
In the past, Mr. Moore ran for the US Senate, but did not become a senator.
He is an ardent supporter of individual rights and freedoms, vigorously defends the Constitution and the right to bear arms.
(I would be very surprised if he opposed it.)
Self-taught inventor, entrepreneur, public figure - Wild Moore wants to see America as the first immigrants saw it.
Apparently Mr. Moore is also an avid golfer, as he is the author and patent holder of "Method of making weighted metal golf club head".
Looks like Mr. Moore somehow lost and was very upset having failed to knock the ball out of the bunker with sand.
That's all that I managed to collect on the Wildie Moore system pistol.
It remains only to add a table with TTX and a traditional list with films in which the Wildey pistol was used as a prop.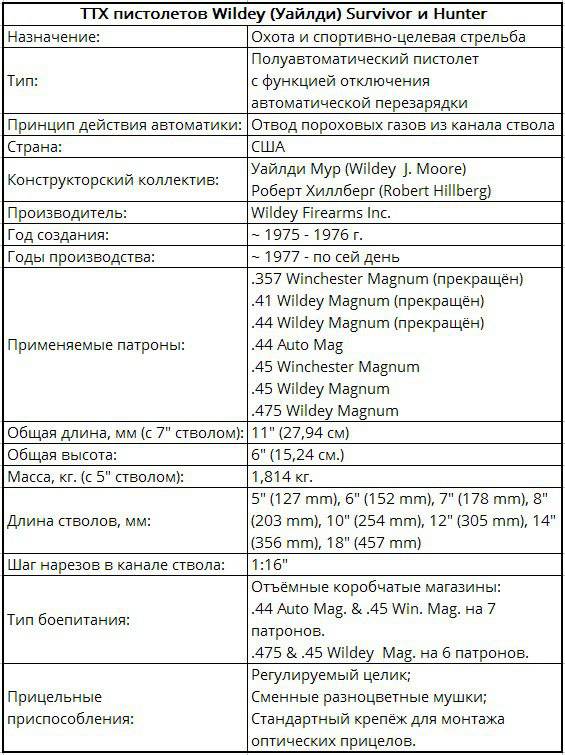 And here is a list of movies in which the Wildey gun was used:
Death Wish 3 / Death Wish 3 (1985) Starring Charles Bronson and Deborah Ruffin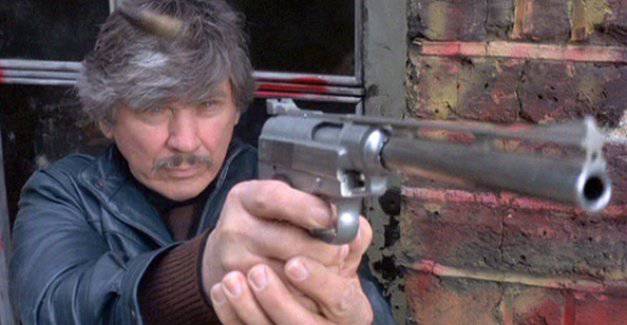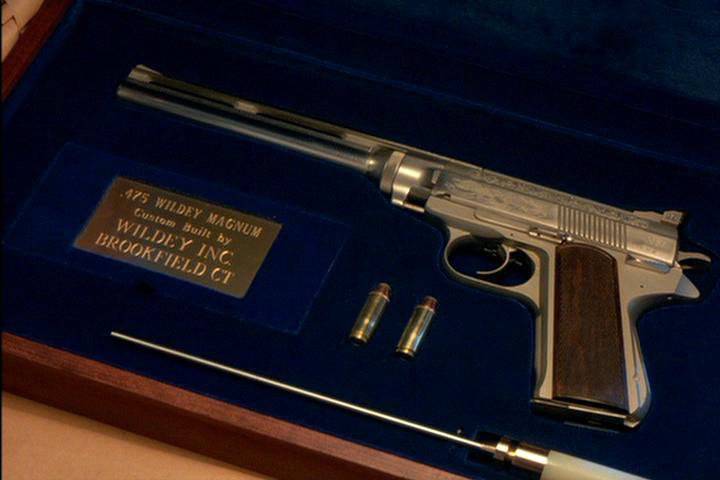 The Hard Way / 1991 Starring Michael J. Fox and James Woods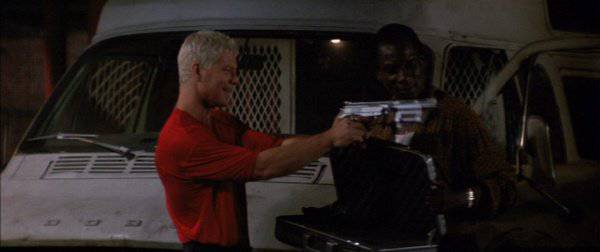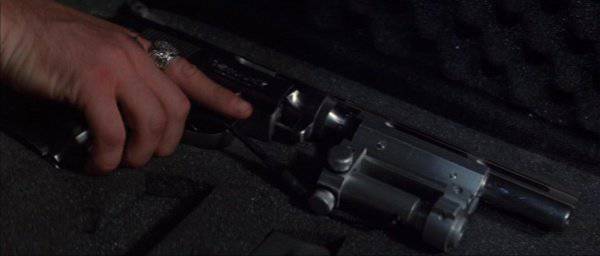 Dollman / Puppet Man (1991) Starring Tim Tomerson and Jackie Earle Haley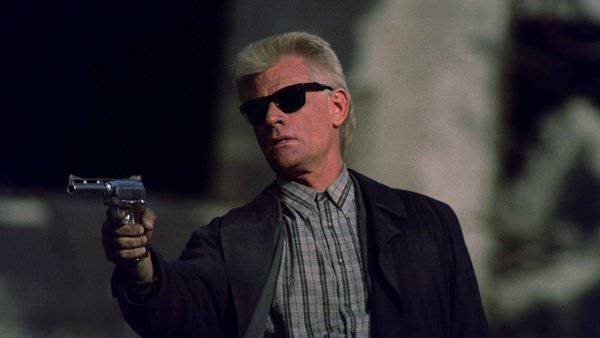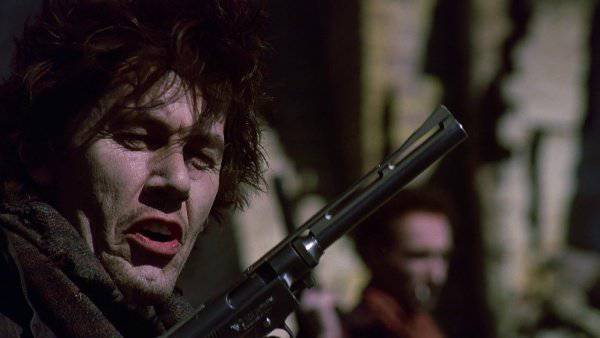 RoboCop 3 / 3 Robot-Cop (1993) Starring Robert John Burke and Nancy Allen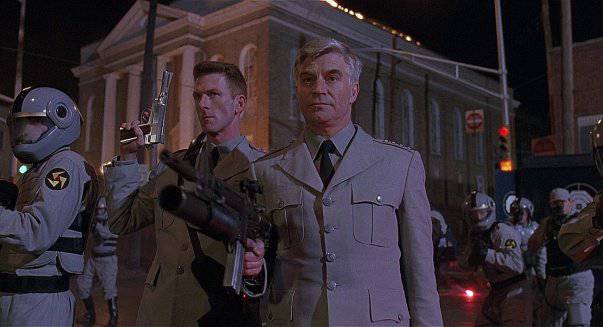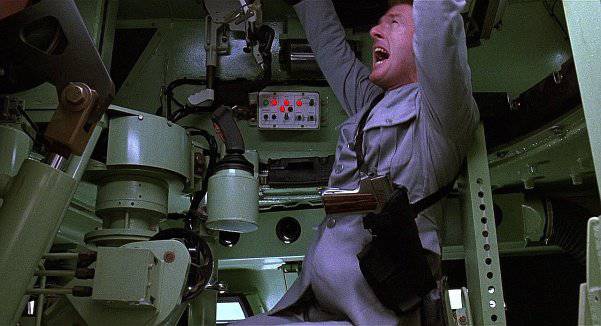 Loaded Weapon 1 / Charged Weapon (1993) Starring Emilio Estevez and Samuel L. Jackson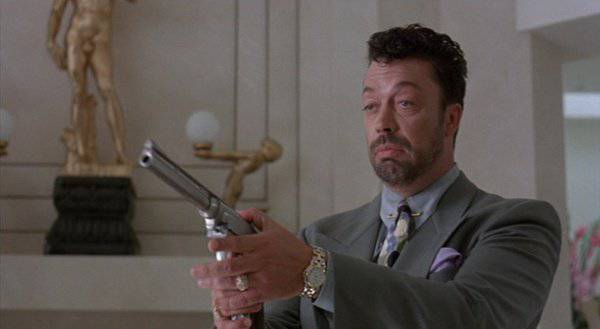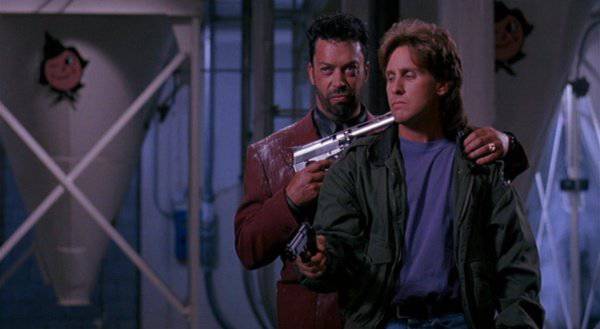 A Low Down Dirty Shame / Missing Millions (1994) Starring Keenen Ivory Wayans and Charles S. Dutton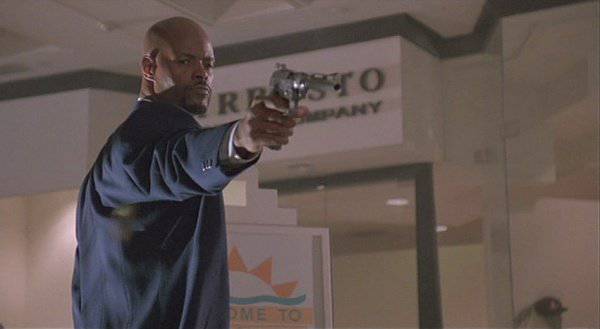 Natural Born Killers / Natural Born Killers (1994) Starring Woody Harrelson and Juliette Lewis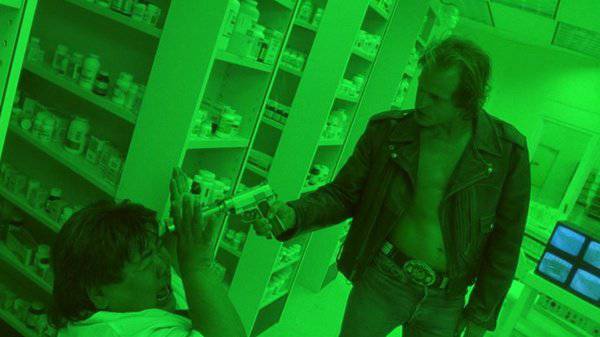 Bad Boys / Bad Boys (1995) Starring Will Smith and Martin Lawrence
In this film, another Hillberg pistol was used: COP .357 Derringer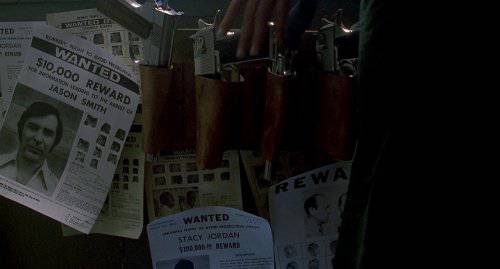 Desperado / Desperate (1995) Starring Antonio Banderas and Salma Hayek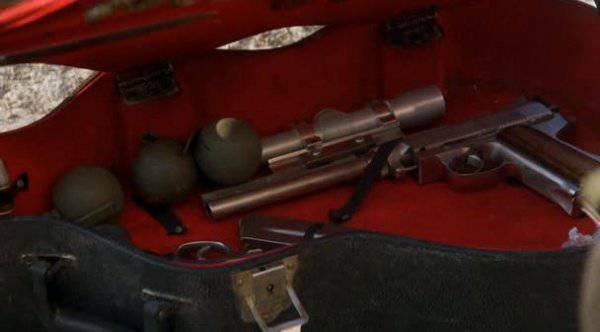 El Mariachi Double Bass Case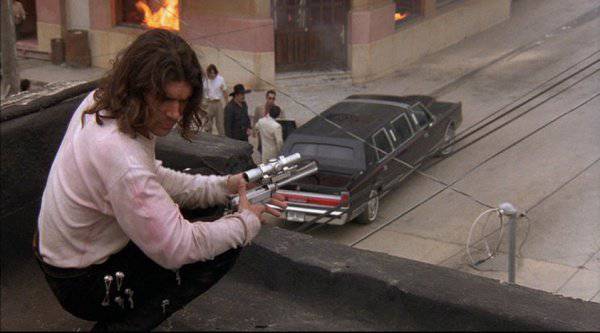 Mojave Moon / Desert Moon (1996) Starring Danny Aiello and Ann Archer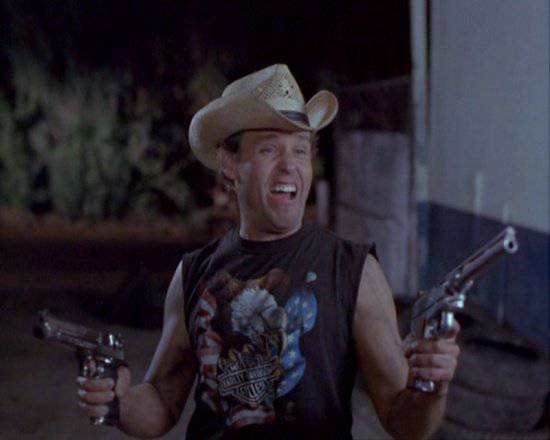 Grosse Pointe Blank / Killing at Gross Point (1997) Starring John Cusack and Minnie Driver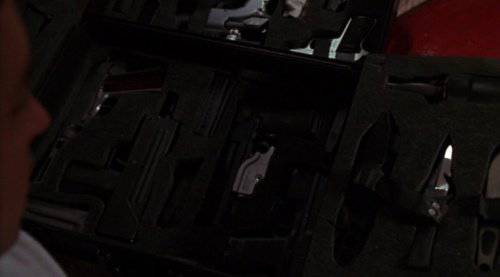 Romeo Must Die / Romeo Must Die (2000) Starring Jet Li and Alia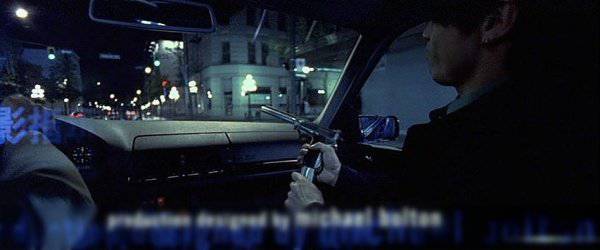 I do not remember where ...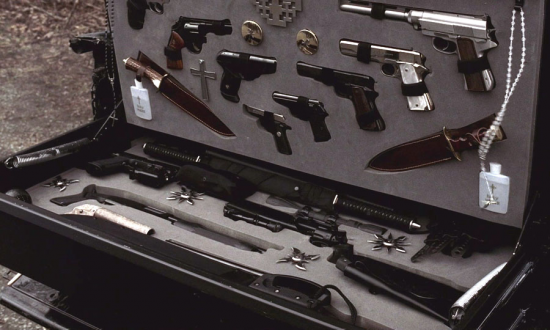 TV series that used the Wildey gun
Firefly / Firefly (television series) (2002)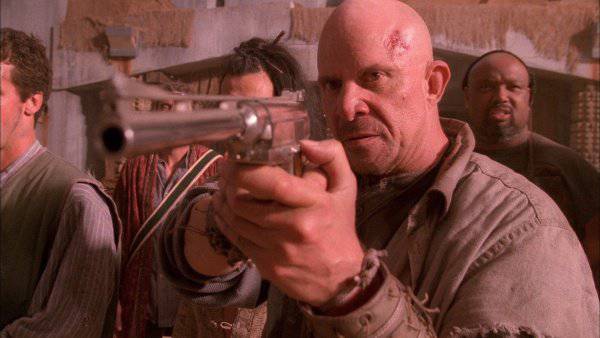 Anime, which used a gun Wildey
Trigun 1996 - 1997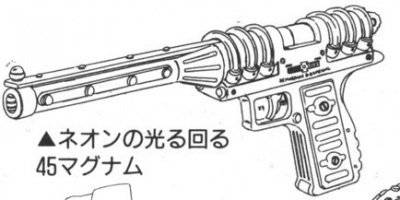 Gungrave 2003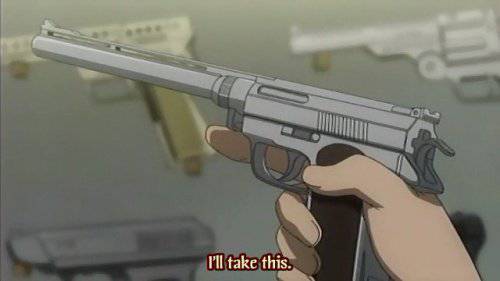 Eden of the East 2009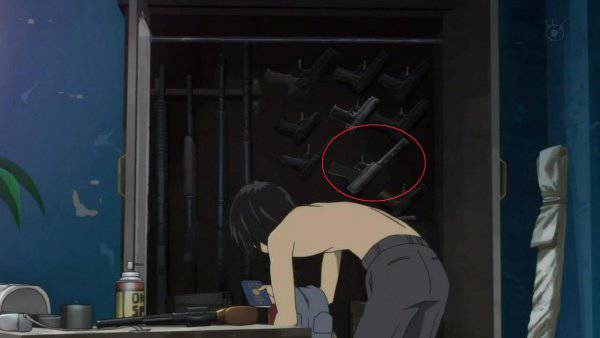 The game in which the gun was used Wildey
Cabela's Dangerous Hunts 2009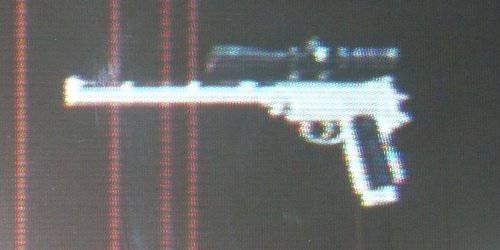 To be continued ...
Sources:
Frank C. Barnes "Cartridges of the World"
http://www.wildeyguns.com/
http://blog.modernmechanix.com
http://www.hawkbullets.com
http://www.illinoisgunshop.com
http://www.municion.org
http://forums.gunbroker.com
https://www.google.com/patents/
http://patents.justia.com
http://www.alsfirearmsblog.com
http://milpas.cc
http://world.guns.ru/
http://blog.modernmechanix.com
http://www.armoury-online.ru
http://www.findpatent.ru