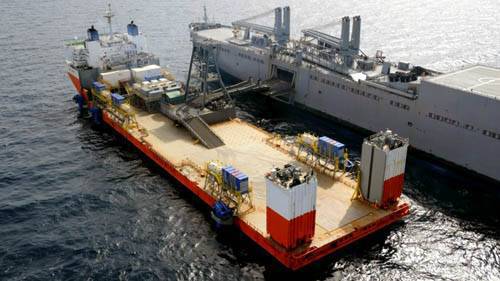 The Mobile Landing Platform (MLP) ships are expected to serve as a "transitional stage" between heavy transport ships carrying land vehicles and their landing point on the coast, providing support for amphibious operations and quick unloading of equipment in the absence of large berths equipped for large ships.
Instead of developing MLP from scratch, the construction of Alaska class tankers operating to transport crude oil will be taken as the starting point (today, four double-skinned tankers ply the sea). Of course, it is planned to carry out a substantial revision, turning the ships into transport and providing systems for loading and unloading transports from the board of another ship and directly from the shore.
The MLP will have a length of 255 m and develop more than 15 nodes (about 30 km / h), breaking to 9,5 thousand nautical miles. Crew - 34 person. Up to three air-cushion landing craft (LCAC) will also be located on board. In general, as is customary today, the platform will have a modular structure that allows flexible reconfiguration and future upgrades to perform special tasks. The MLP can also be assembled and used as a floating hospital, tactical control center, repair crane and landing platform for small aircraft.
Work on the project started a few more years ago, and in August last year, NASSCO (a division of General Dynamics) received the 115 millionth contract to complete its development. And 30 June already this year on the docks of NASSCO in California, work began on the production of the first class ship, MLP-1. In total, the US Navy to 2013 g. Expects to have at its disposal three such vessels, which with 2015 g. Will begin work in real conditions. Apparently, based on the results of the first years of use, a decision may be made to expand production.