At a meeting in Sochi with Russian President Vladimir Putin, Kyrgyz President Almazbek Atambayev confirmed Kyrgyzstan's intention to join the Customs Union before the end of this year. Reports about it
ITAR-TASS
. Atambayev noted that Kyrgyzstan has been working on issues concerning the nuances of joining the Customs Union for quite a long time.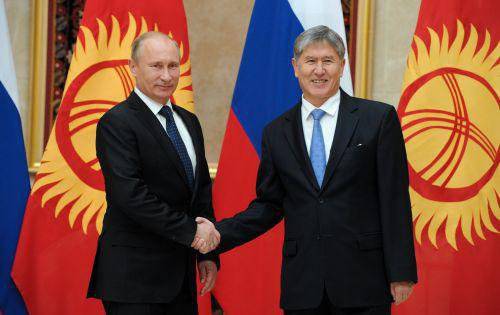 Almazbek Atambayev:
Of course, we would like by the end of this year to become part of the Customs Union and the Eurasian Economic Union. I think that God will give, everything will be fine.
Atambayev called the Russian Federation a strategic ally of Kyrgyzstan, stating that thanks to Russia and other members of the CU, Bishkek will be able to quickly overcome difficulties and work for the growth of the overall economy of a union of states.
Recall that by the end of the year, Armenia is also planning to join the Customs Union, which today includes the Russian Federation, Belarus and Kazakhstan.