With 5 in August, Andrei Stenin, a photo correspondent for the MIA "Russia Today" who worked in Donetsk, does not get in touch. Andrei was abducted by Ukrainian punishers, not for the first time showing a desire to intimidate Russian journalists covering the course of the civil war in Ukraine. The abduction took place near the town of Snow.
In different cities of Russia, actions are taking place aimed at ensuring that the Ukrainian junta releases a Russian journalist, the abduction of which is a violation of all international norms regulating journalistic activities.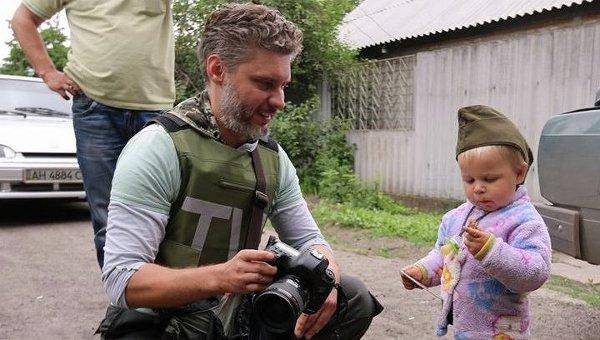 On the eve of Moscow, several actions were held in support of Andrei Stenin (on Pushkin Square, in front of the entrance to Gorky Park and on Zubovsky Boulevard) under the slogan # Free Andrew. Volunteers from a number of Andrei's colleagues distributed to passers-by the pictures that Andrei made during his work in Ukraine. Works by Andrei Stenin were also demonstrated on special stands.
Such a photo exhibition, according to the organizers, was supposed to tell not only about the illegal actions of the authorities of Ukraine in relation to journalists, but also about a humanitarian catastrophe in the disintegrating "nezalezhnoy". Reports about it
RIA News
.
Statement of the Public Chamber of the Russian Federation:
We demand from the Ukrainian authorities immediate information about his fate. We are currently preparing relevant inquiries about the situation with Stenin in the UN, the Council of Europe, the OSCE and relevant international human rights organizations. It is obvious that journalists are not participants in hostilities, however, in practice, we see that in south-eastern Ukraine their rights exist, apparently, only on paper.
Information about the abduction of a Russian photojournalist was presented to the UN. The United Nations called on the Ukrainian leadership to take measures to free the journalist. However, in Kiev, they still do not comment on the detention of Andrei Stenin by the punitive detachments.
Ukrovlasts continue to fight not only with their own people, but also with journalists trying to do everything so that the world will learn the truth about the civil war in Ukraine. Namely, the truth is that is not included in the interests of the junta and its henchmen. To conceal the truth about illegal actions of punishers against journalists, ukroSMI spreads a delusion that Andrei Stenin and his colleagues are "accomplices of terrorists."