Two weeks of artillery shelling of Gorlovka killed 52 civilians, including 9 children, RIA reports
"News"
with reference to the city health department.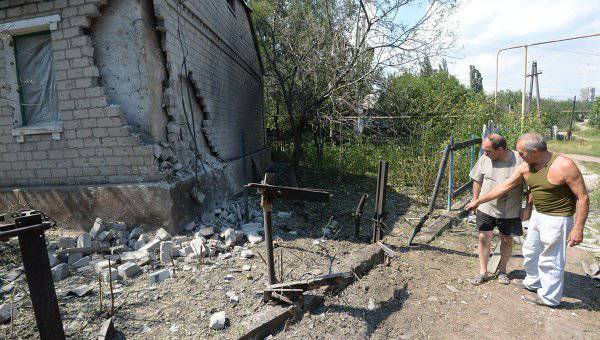 "In total, from 27 July to 10 August, there were complaints of injuries - 170 people, hospitalized - 71 people. The dead are 52 people, including nine children, "the department said.
The shelling continues now. The wooden Annunciation Church and the local supermarket have already burned down, a large number of houses in the villages of Korolenko, Aksenovka, Bessarabka, and the Komsomolsky residential area have been destroyed.
Representatives of the Gorlovka and Slavic Diocese reported that one of the shells exploded near the main church of Gorlovka, the Cathedral of the Epiphany.
"People suffered in the cathedral. It was gorlovchane who hide in the lower temple, temporarily turned into a bomb shelter, more than a week. They went for a walk around the temple and get some fresh air. Six people received various injuries, after which they were immediately taken to City Hospital No. XXUMX. One of the victims lost her hand, one of the men had fragmental wounds to the legs, another man had a splinter in the head, "they said.
In the vicinity of the city, clashes between militias and Ukrainian security forces continue. In particular, battles are taking place in the village of Batmanovka and in the vicinity of the Yasinovatsky post, where a column of military was destroyed.