The Israeli army successfully tested a new unique projectile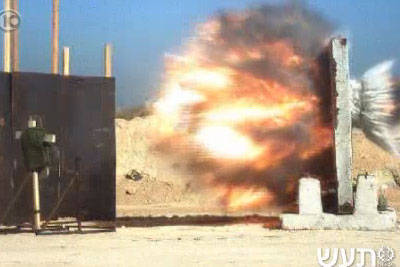 Israeli army officials reported successful trials of the M339 "Kalanit" high-explosive fragmentation projectile, which is designed to combat various "tank destroyers." According to experts, this projectile is unique and unique in the world today does not exist.
The upgraded projectile was developed by Israel's Israeli Military Industries. When working on the creation of a new projectile, the combat experience gained during the operations of armored troops in the second Lebanese war 2006 and military operations in 2008 was taken as a basis. The projectile is designed not only for the Israeli main tanks Mk3 and Mk4, but also other types of battle tanks equipped with 120-mm smooth-bore guns.
The principle of the new projectile is based on many years of scientific and technical groundwork, as well as the successful experience of using in combat conditions 105-mm tank shells such as APAM-MP-T M117 / 1, which in recent years have been used in combat by the armed forces of Israel. It also provides for the combat use of a single unified weapon projectile against a large number of targets and in various scenarios for the conduct of modern combat, which significantly reduces the range of necessary tank shells used previously.
A special tank projectile fuse is pre-programmed after the projectile is introduced into the charging chamber, which allows the tank crew to significantly increase the combat effectiveness of its use in various combat scenarios, including firing at tanks, infantry, fortifications, light armored cars, and residential buildings.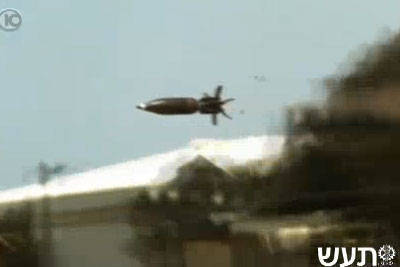 For example, when firing at powerful fortifications or protected bunkers, the projectile effectively overcomes the barrier until the moment of the explosion, which makes it possible to form a deadly destructive fragmentation field directly inside the object being destroyed.
Experts note the versatility of the unique projectile, which can be used quite effectively against a huge number of targets, but its main task is to ensure the safety of tank crews. During the tests, some fragments of which were demonstrated on the air of the ITV channel, it was possible to see how the "calanite" released from the tank gun pierces the wall built of thick concrete and with high efficiency destroys enemy manpower behind the protective barrier. . It is planned that the first new, unique
weapon
will receive armored forces units stationed in the north of the state and in the most dangerous area of ​​Israel - the Gaza Strip.
Ctrl Enter
Noticed a mistake Highlight text and press. Ctrl + Enter