For the second time in the last two months, the atomic bombers of the Russian Air Force, accompanied by fighter aircraft, found themselves in close proximity to the airspace of the United States and Canada, which forced the Americans to lift interceptors into the air, reports Channel
RT
on the USA Today newspaper.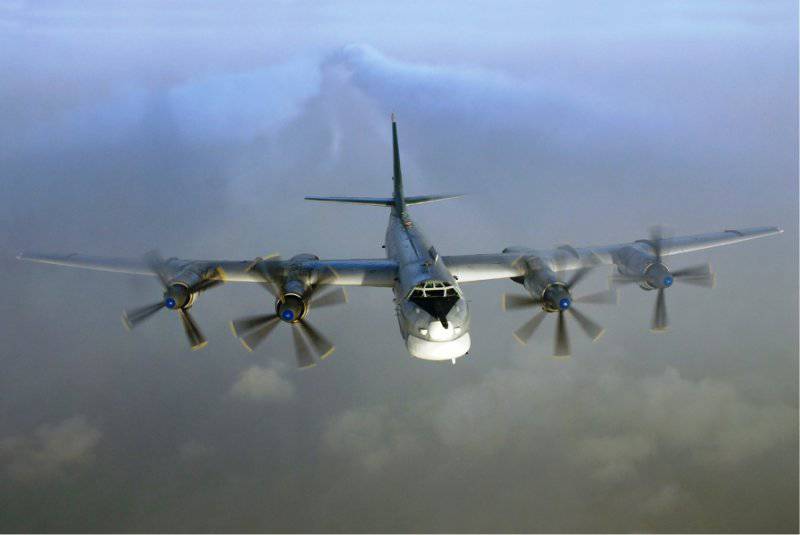 A spokesperson for the US Air Force told reporters that over the past 10 days, the Russians have flown 16 flights to areas of northern Canada and Alaska, calling them "regular training flights." American pilots during one of the interceptions were noticed by Russian Tu-95 bombers, a spy plane and an anti-submarine Tu-142.
"Over the last week, NORAD (North American Aerospace Defense Command) visually identified a Russian aircraft in action inside and around the US air defense identification zones"
A spokesman for the command, Beth Smith, said. He described these maneuvers as "a surge of activity".
In connection with this, the Russian military declare that all flights are planned in advance and take place in strict accordance with international rules, while "the borders of other states do not overlap".
Recently ITAR-TASS reported the first overflight of the Northern Sea Route by a squadron of Su-34 fighter-bombers. The Commander-in-Chief of the Russian Air Force, Viktor Bondarev, qualified this passage as a test of action in the Arctic.
Russian planes were spotted by the US military in the sky over California in May of this year, their appearance was immediately connected with the Ukrainian events. Air Force Commander in the Asia-Pacific Region Herbert Carlile is confident that "Russia's actions in Ukraine and the Crimea have a direct impact on the Asia-Pacific region."
Commenting on the May appearance of Russian aircraft, the general said:
"They came up with the help of the far
aviation
to the shores of California, circled Guam. F-15 climbed to intercept the "bear" (Tu-95), which flew to Guam. "
After the aggravation of the crisis in Ukraine, Russian Defense Minister Sergei Shoigu announced an unprecedented increase in the activity of the US and NATO armies near the Russian borders. He drew attention to the increase in the number of aircraft and American troops in Poland and the Baltic States, as well as an increase in the number of NATO warships in the Black Sea.
"RT" recalls the April 23 incident on the eastern coast of the Russian Federation. On this day, the Russian fighter aircraft intercepted the American strategic reconnaissance aircraft RC-135U: Su-27 flew literally in front of the nose of the American aircraft, demonstrating to the pilot the lower part of his fuselage with military missiles. The maneuver was carried out so close to the spy (about 30 m) that it fell into the turbulence zone formed by the jet engine of a fighter jet.
"These actions were so dangerous that the crew decided to stop fulfilling the mission. The official with whom I spoke declared that such a close flight had put the lives of American pilots at risk. "
, - Jim Shutto, CNN's chief correspondent for national security issues, wrote in his commentary on the event.