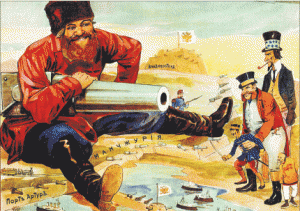 First of all, I ask dear readers not to take what is written below as suggestions and, moreover, the beliefs of the author of this material. The reason for my reasoning was the conclusion of a gas agreement with China, which was accelerated and pushed events in Ukraine, and they, in turn, provoked our current confrontation with Western countries, especially with the United States.
Alas, the world is arranged in such a way that geopolitical competition between countries and nations is eternal, their interests will sometimes collide, sometimes coincide, causing either tension and various clashes between them, or mutual aggression. No one has eternal friends or eternal enemies, there are only eternal interests.
Whatever it was, but today the relations of Russia and China in all areas are dramatically improving and getting stronger, because our interests coincided in confrontation and competition with America. But for how long? Once it will somehow resolve with Ukraine, and we will already be tied to China with many obligations, which will certainly push many countries that have problems with it closer to America, that is, farther from us ... And the rivalry with the United States in the long-term world the game for us, too, will not disappear anywhere. Here you will think ...
China has always been a problem for Russia, both as a neighbor and as a partner. But not only for Russia. Almost along the entire perimeter of its borders, China has territorial disputes with its neighbors: Japan, India, Burma, Vietnam, Mongolia. And since the days of servicemen of the boyars of the ambassadorial order in the Moscow kingdom, the principle of Russian foreign policy has been formed, which has been working flawlessly for centuries: "Make friends not with your neighbor, but through your neighbor." When they were neighbors and faced with great Poland, they were friends with Prussia against her (not yet shared). Became neighbors and enemies with Napoleonic France, they began to work with England. Then they collided with England in Asia and the Caucasus, became friends with America, they sold Alaska to her. Then again with England and France against Germany and Austria-Hungary. Before World War II, Poland was again divided with Germany. Germany has become our neighbor and enemy, defeated it, along with England and America. Then they made an alliance with Red China, but they quarreled and rallied against it with India and Vietnam, which, having fought off America, immediately broke up the anti-American alliance with China, recalling its eternal enmity with it.
This rotation has reached our times, when rivalry between countries from the desire to control territories objectively transformed into a desire to control and use resources. The old territorial disputes concern relatively small areas and are preserved more as the desire of countries not to undermine their state-national prestige by concessions to their neighbors.
And here comes to mind the long dispute between Russia and Japan over the southern part of the Kuril Islands, thanks to which there is still no full-fledged peace treaty with Japan that sums up our results in the Second World War. In short
story
The question looks like this. After the capitulation of Japan, the Soviet Union demanded and received from it the southern half of Sakhalin Island and all the Kuril Islands adjacent to it, which made the Sea of ​​Okhotsk the inner sea of ​​Russia. But in the 1951 year at a conference in San Francisco, where a comprehensive peace agreement of the victor countries with defeated Japan was to be signed, the Soviet Union, in solidarity with red China, which was replaced by Taiwan at this conference by America's decision, did not participate in it either . At that time, Japan was already the rear and ally of the United States in the Korean War, where China openly fought against America and, secretly, the Soviet Union. Therefore, the Japanese ventured to put forward demands on the return of the Kuril Islands to the Soviet Union, having received support from the Americans. After pacification in Korea, Stalin's death and Khrushchev came to power, negotiations on peace treaty with Japan resumed (in 1956 year).
Khrushchev really wanted to reduce the burden of military spending for the country in order to improve the situation in the economy. In addition, Japan by this time has become a very attractive trading partner. Therefore, when Japan raised the territorial issue, they did not refuse to discuss it with it. The Japanese began to bargain in a typical oriental manner, they first offered to return everything to the southern part of Sakhalin. But gradually, during the negotiations, they lowered their demands. The "illegal" channels managed to find out that Japan was ready to be satisfied if it were possible to agree on the transfer of the island of Shikotan and the ridges of the uninhabited islands of Habomai to her. And here there was a gross mistake from the Soviet side! Negotiations from Japan were then conducted by the Prime Minister himself, and even directly in Moscow. If the Japanese got Shikotan and Habomai as a result of a long, hard and hidden trade, the prime minister would return home as a winner to the applause of the whole country. But the Soviet government decided not to pull the case and immediately, openly (!) Offered to return Shikotan and Habomai in exchange for signing a ready-made peace treaty. For the Japanese, this was a shock, because, based on their ideas, if you are quickly inferior in negotiations, and even this concession is not ashamed of communicating it to everyone, then this is a weakness, and there is an opportunity to get much more. And if you don't reach the inferior, you will "lose face" in your eyes! Therefore, the Japanese delegation literally had no choice but to rest on its demand to return all the southern Kurils: Iturup, Kunashir, Shikotan and Habomai. Yes, and read this requirement publicly. As a result, it was possible to sign only a declaration on the termination of the war and some economic agreements. And the territorial issue poisoned and poisoned all relations between us until now, it binds the Japanese firmly to the United States, does not allow us to extract all the benefits from full-scale economic cooperation, although our economies complement each other almost perfectly. Meanwhile, even in the conditions of the Ukrainian crisis, when America and Japan extort tough sanctions against Russia, the Japanese, in their own way, sabotage these sanctions gracefully, making them purely formal, and they themselves try to show, again, very gracefully, their disposition to us .
So I dream! And what if you could somehow solve the problem of the islands with Japan and finally conclude a peace treaty? There is no reason to keep the huge American bases in Japan, our economic cooperation would grow so that it could be (what the hell is not joking ?!) the engine of the world economy - and so on and so on and so forth ... The whole question is how to do it , so that neither side loses face, so that the agreement can be sincerely respected by both peoples, and not only bring them benefits.
Now, I again remind you that the current rivalry between countries is primarily a desire to control and use resources, but it is not necessary to control territory if the main goal is achieved.
What are the resources of the southern Kuril Islands? First of all, these are marine bioresources, there are also some hopes for the development of their shelf in oil and gas. We also need these islands because we give free passage to our ships and warships from the Sea of ​​Okhotsk, blocking free access to this sea for all the others. More from the Japanese on the islands are the graves of their ancestors, which even now they are not forbidden to visit everywhere, even on Sakhalin. But in the desire of today's pampered modern comforts of the Japanese to settle down and once again live on these small and very uncomfortable for living islands, I strongly doubt. Therefore, the following idea occurred to me later.
In politics of international relations there is such a forgotten concept as a condominium. This is when one or several states agree and jointly, on an equal basis, manage some territory, of course, equally exploiting its resources equally. So I think, and if this solution is not suitable for removing the Japanese claims against Russia? Of course, in no case should not just take and offer this option to the Japanese. Again we get the embarrassment of the sample 1956 of the year. But if we discuss this option in our press and at the public level? Then arrange a joint conference with the Japanese public on this issue ... But when the proposal to talk about this is followed by cautious official proposals from Japan, then the time will come for the diplomats.
Now back to China. If it were possible to reach an honorary condominium with Japan, this would be an indirect example for him in disputes with his neighbors. After all, the Chinese are now in conflict with the Japanese over the Senkaku Islands just because there are probably large reserves of oil and gas there. The same is due to the Paracel Islands and the Spratly Islands with Vietnam. And if China in these disputes, too, went and made condominiums, it would dramatically reduce the need for a US military presence in the Pacific region. And it already comes to the point of absurdity: Vietnam, in a dispute with China, is trying to rely on America, with which it has not fought harshly in alliance with China and Russia for a long time.
So I conclude that the "condominium" arrangement with Japan in the long term will allow us to lift our wariness and maintain the friendly disposition of all our neighbors in China, despite all our rapprochement with it.
Finally, I repeat what I said at the beginning. Everything stated above should not be considered my convictions and suggestions. So, the flight of thought ...