In Kiev, there is a meeting between the "president" Petro Poroshenko and NATO Secretary General Rasmussen. It is reported by the news agency
Interfax-Ukraine
. At the meeting, Poroshenko said that he hoped for the development of cooperation between Ukraine and the North Atlantic Alliance. It would be strange if Poroshenko did not say such words, because it was to turn Ukraine into one more vassal of the United States by drawing in NATO and Poroshenko was seated in his current chair.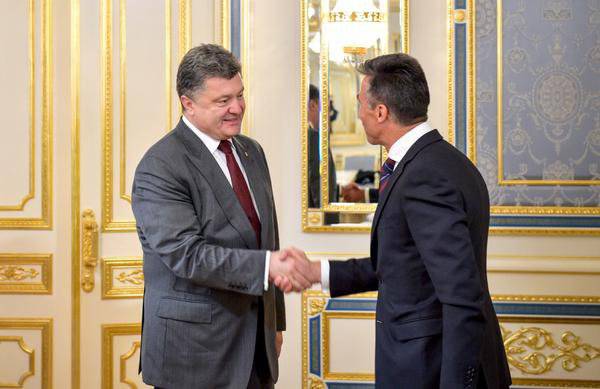 It is reported that Poroshenko awarded Rasmussen with the highest award provided in Ukraine for citizens (subjects) of foreign countries. We are talking about the Order of Freedom. Poroshenko, handing this award to the military bloc's general secretary, said that Rasmussen's visit to Kiev was evidence of NATO's support for peace in Ukraine and its sovereignty. This phrase of the Ukropresident once again confirms that scenes from the theater of the absurd unfold in Ukraine. The peace in Ukraine and the military bloc, which has turned a number of quite prosperous states into ruins and sowed many years of chaos in them, is an amazing combination.
The main topic of conversation between Rasmussen and Poroshenko was the "Russian aggression". That is how the topic is covered in the press service of the leader of the Kiev junta. Another topic arising from the first one is preparation for the meeting of the Ukraine-NATO Special Commission, which is to be held in Wales within the framework of the next NATO gathering.