At today's government meeting, Prime Minister Dmitry Medvedev announced that Russia is closing its airspace for the transit of aircraft of Ukrainian airlines. Now, Ukrainian air carriers will not be able to carry out transit flights to countries such as Azerbaijan, Georgia, Armenia and Turkey. Reports about it
Interfax
.
At the same time, Dmitry Medvedev said that the government is now considering even tougher measures in connection with the situation in Ukraine and in connection with the sanctions imposed against Russia. These measures consist in a possible ban on transit air transportation through the airspace of the Russian Federation of North American and European companies.
Medvedev:
Our country is ready to revise the rules for using the Trans-Siberian routes, that is, to denounce the agreed principles for the modernization of the existing system of using the Trans-Siberian routes. (...) The issue of changing the so-called entry and exit points into Russian airspace for regular and charter flights of European and American air carriers is being worked out. (...) As a result of the application of such measures, obviously, the costs of Western airlines will increase, and significantly.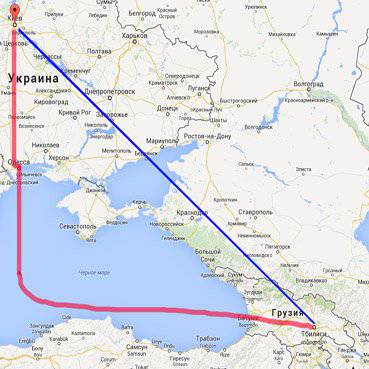 The blue line is a direct route of the Ukrainian air carriers of the flight Kiev-Tbilisi, the red line is a possible route after the introduction of a transit ban from the Russian Federation
You do not need to be an outstanding mathematician and economist to understand what losses such a move Russia promises to Ukrainian air carriers.
The head of government emphasized that Russia is taking such measures after the West imposed sanctions on Dobrolet.