Malaysian experts said that the Boeing 777 was hit by an air-to-air missile of the Su-25 fighter.
An expert group from Malaysia concluded that the Boeing-777 airliner that fell in the east of Ukraine was shot down by the Su-25 attack aircraft, reports
Pravda.Ru
.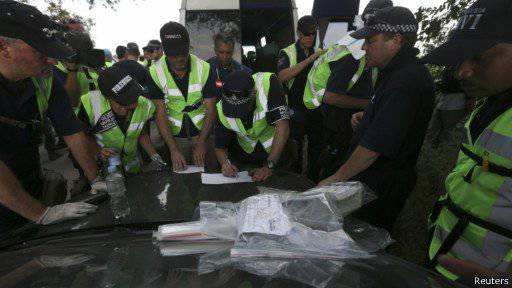 According to experts, they first fired an air-to-air missile using a passenger liner, and then "finished off" it with fire from an 30-mm cannon. This is indicated by the nature of the damage and the fragmentation of the fragments: there are also rounded holes, which are usually obtained as a result of shots from a cannon, and tearing holes, characteristic of missiles with swept striking elements.
"In some (photographs from the crash site) the fragments from the explosion coincide with those that are left
weapon
with a remote fuse, and on others - more accurate and heap, from fire from a cannon. We are analyzing this, "the representative of the expert group said.
According to him, the liner fired a rocket with a thermal homing head, which got into its engines. This version refutes the claims of Kiev that the plane was hit by a Beech installation.
Earlier, the head of the Main Operations Directorate of the General Staff of the Armed Forces of the Russian Federation, Lieutenant General Andrei Kartapolov, reported that shortly before the crash, a Ukrainian attack aircraft Su-25 was noticed near the Boeing.
Meanwhile, the
Air force
notes that in the crash area of ​​the Malaysian airliner clashes between the militia and the Ukrainian security forces continue. According to the Prime Minister of the Netherlands, Mark Rutte, due to the dangerous situation he had to suspend the search for the remains of the dead passengers.