That "zahist", that sweep - everything is one
Dear editors! My recent friend living in Ternopil, asked to publish her opinion about what is happening. She 50 years, she is the mother of three children, her son enlistment office shrouded in subpoenas for participation in the ATO. He is hiding. Now and then the coffins come to them there, in Ternopil ... People seem to have begun to see clearly ... In general, I am transmitting her opinion on her behalf. - M.V.
* * *
It seems that the "Zahist Batkivshchyna" is nothing more than a real terrorist sweep not only from the south-east, but from the whole of Ukraine.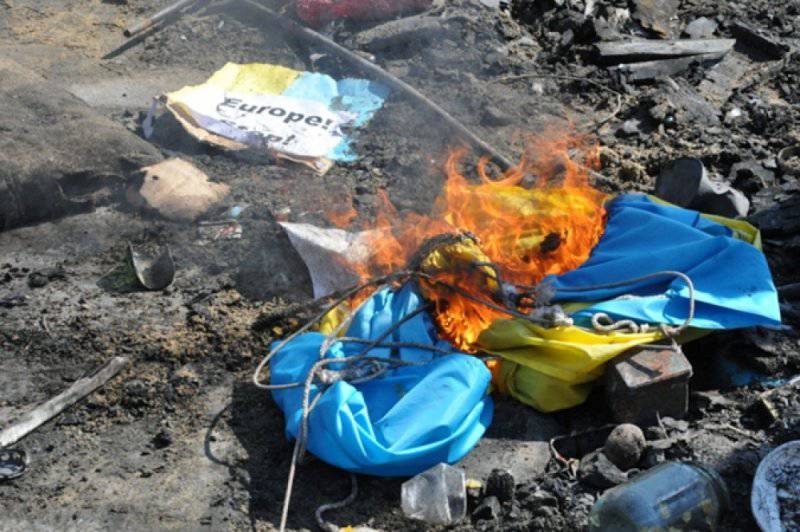 The other day, to us, in the Ternopil region, we again lowered the distribution list to send the next batch of soldiers to the Donbass. A new battalion is formed from simple rural guys. The military commissars and the "agents", of whom the unmeasured number has divorced, drive around the villages and take the guys straight from their houses (of course, those who were less nimble and did not have time to hide). At the same time, no one asks anyone whether you want to fight or not. And just try to refuse! ..
Recently, local guys were buried in the city again. Nine guys returned home in coffins after only a couple of days after being sent to war. Blown up in one armored personnel carrier. Money that is regularly collected from people supposedly on the uniform of fighters, somewhere miraculously disappear. Our guys not only do not have military skills, but are also deprived of at least some protection - body armor. They are used as a "one-time" (it seems so used to say now?) Cannon fodder, which is thrown to fight "Russian and Chechen terrorists." After all, they (as we are told every hour from the television screens) are tearing apart the "red nenko".
However, very few people believe in our "play around" the media. We do not believe even the workers of the military registration and enlistment offices, who day and night seek out, call out and invite men to appear allegedly "to verify documents". Nobody wants to fall for this bait anymore. Everyone knows that this will be followed by the mandatory signing of the agenda and sending to the ATO. My son has been called from the military registration and enlistment office several times already. And to the address of the registration of his nephew, who is now in earnings, it was already three agendas. Although he was not at all military liable! .. A neighbor on the landing (he recently got married) rewrote his apartment to his wife, and he checked out. Now here is "hanging in the air" so that they could not mobilize. In-law followed the example of a neighbor and also discharged from the shelter. He says he does not want to fight. Yes, and with whom? With the same peaceful people like us? .. Even young people who grew up in 90 and 2000 already understand what is happening.
One of my friends not so long ago "fought" for his son at the walls of the military registration and enlistment office. Then dozens of mothers gathered there. But no one listened to their prayers and cries. Fortunately, the women went home alive ...
Our "truthful" media and journalists have never hinted at the discontent of people, about what is really going on in that war, damn it! .. And this is called "freedom of speech"? On television, every now and then they bother and show one set up. In the mock-up plots, children and women rejoice, proud that their fathers, husbands and sons leave to defend their homeland. What kind of pride and joy can there be, if it is not known whether they will return back home? These are endless experiences, tears, despair! .. And now they have signed a decree on the mobilization of men up to 60 years. This, it turns out that we will have only women? And who will feed the family? Deputies who are exempt? We, unlike them, do not need war, we want a peaceful sky over your head.
I appeal to Ukrainian women: for God's sake, do not let your husbands and sons go to this fratricidal slaughter! The current "Zahist Batkivshchyna" is reduced to military terror not only in the south-east, but also in the whole of Ukraine. The genocide mechanism has been launched throughout the country.

Video. Ternopil, Ukraine. 17.07.2014