Do not teach us to live, and then we will not say where you need to go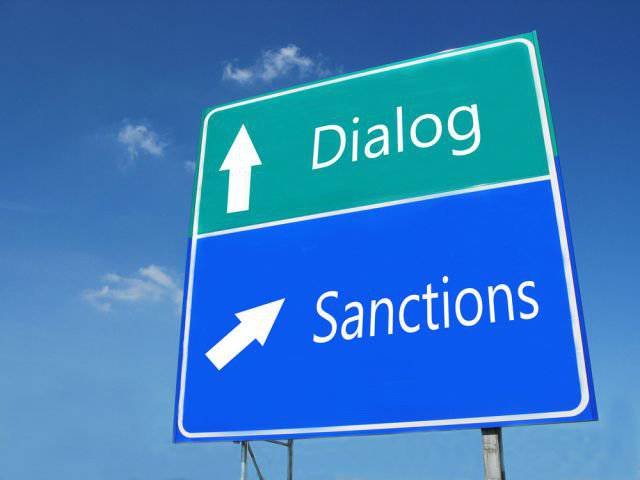 I was subjected to sanctions in my childhood a lot and often. That mother will float, then the father put in the corner. Well, or vice versa, although it was less common. There were many reasons for the "sanctions", well, and the parents came up with the reason for the punishment much earlier than Barack Obama. It sounded like this: "For bad behavior."
And if, as a rule, no claims arose regarding parenting measures to raising a disobedient child (parental authority and respect for them still give them the full right to dispose of me as they please), then try with the wording "For bad behavior" put in a corner the whole country to the depths of the soul angered
Obama, for obvious reasons, failed to flog Russia, and he has no parental rights. But this "guardian No. XXUMX" made a kind of parent committee from "countries No. XXUMX" and decided to punish Russia roughly, so that henceforth there would be no problem with obedience. About the effectiveness of these "sanctions" and about how and on which we twisted them, a lot of good words have already been said here, and I see no reason to repeat.
And the moral and moral aspect of this topic, which sounds like "Who are the judges?"
Here you are, old Germany. With a frightened us with the sanctions climbed? We like German cars, household appliances, clothes - everything that we enjoyed so much and often bought from you. You like Russian gas. It would seem - peace, friendship, chewing gum. But no, there, with the sanctions, "for Russia's belligerent attitude towards neighboring states."
Do we need to tell you and teach you where the concept of "fascism" took shape and into an ugly, evil force? Of course, Russians are not vindictive, but our memory is good. Have you, dear (and not once) since the times of Alexander Nevsky and the Teutonic knights came to teach life to Russia? And didn't you 70 years ago, for the last time, didn't you play around?
Who, if not you, knows better than others whether the Russians want war? What is your dear, even if retired, moral right to teach us tolerance? And who, if not you, should understand that any war ends sooner or later with peace (and, as a rule, on our terms). Do you intend to "sanction" for a long time — ten, twenty years? And then what? And then you will regret "ruined years" and "unpaid alimony" due to a divorce ...
France. With this, we generally have more than 200-anniversary of "living together." You, dear to the Russian heart, the homeland of cognac spirits, I suppose, forgotten during this time, who among us was the initiator of this unfulfilled "living together"? Remind me? Have you become such a peace-loving person for a long time?
The fact that the Russian Cossacks forgave you at one time, and having voluntarily left the glorious city of Paris, returned home - not your merit, but the Cossacks (more precisely, the Russian) good will. And we, by the way, remind you, did not impose sanctions for the stable, arranged in the Assumption Cathedral of the Moscow Kremlin, and for tons of Russian gold, exported in an unknown direction.
So, you, unlike Russia, are a real aggressor country, and, despite all our good attitude towards you, again, if I may say so, you are shitting us. So, it's already reluctant to beat you, but what to do if you don't understand something differently? Why don't you live without sanctions?
Who among us are still from the "terribly great and humane peacemakers"? Well, of course, the islander, England, who made a decent capitalist on robbing colonies, countless wars, robbery and violence. So, in the Russian eye, the Crimea saw, and in its logs such as Northern Ireland and Scotland, do not you notice? To you, English queen, diamonds, prityrenny on colonies, not too tight, no? And then symy, let's talk "for democracy", so beloved in your country - for some reason adhering to a constitutional monarchy.
I don't even want to talk about Poland, Latvia, and, as Mayakovsky used to say, "other Swedes", although it could be - with feeling, plainly and constellation, for each item decomposed. Explain that morals advocates and democracy teachers are one of them as an astronaut from a ballerina.
By the way, there is one more island nation that joined the sanctions. Japan is called. First he signs up for anyone, and then some of his islands want back unsuccessfully. So this one too
story
He does not teach anything, and with respect to America, he still professes the principle of the beaten wife: "He beats, it means he loves."
Gentlemen of Europe and not so much! Do not be fooled by the test tubes with white powder and the proofs from the series "You are to blame for wanting to eat me!" Uncle Sam, your master, is very often mistaken. That Hussein mistakenly hang, then Gaddafi will shoot. Himself or with the same gop-company, with which he likes to prescribe other kinds of miraculous sanctions. Forgetting at the same time that he lives on the ground, trimmed of the indigenous population, which simply ditched and quietly finishes now, driven into the reservation.
You and I have a long history. And, we want (you) or not, but you and I (you with us) still live and live, unless, of course, you are the first to get tired of living on this planet.
The Crimea, which has returned home voluntarily, is a bright ray of light in comparison with the dark realm of skeletons in cabinets in each of your states. He will not return to Ukraine before America returns the land to the indigenous population of its continent. And not least because the States prepared the fate of the very "indigenous population" for the natives of Ukraine.
Europeans have no moral right to condemn us or to force us to do anything. To condemn - because they themselves have a stigma in a cannon, and to force them - because each of you once received this very stigma and will definitely receive it if it has territorial or other claims to "aggressive Russia", which will never and no one first, mind you, did not attack.