One of the most common and persistent misconceptions is that we should not get too deep into the affairs of Ukraine, since its people themselves take such interference extremely negatively and condemn us for it. Like, if the residents themselves need such help unnecessarily, then why do we need to be holier than the Pope? The misconception in this case consists primarily in the fact that Russia's policy towards any country in the world, including Ukraine, however harsh it may sound, is far from being primarily based on the opinion of the population of a given territory. Moreover, this opinion can be rudely falsified.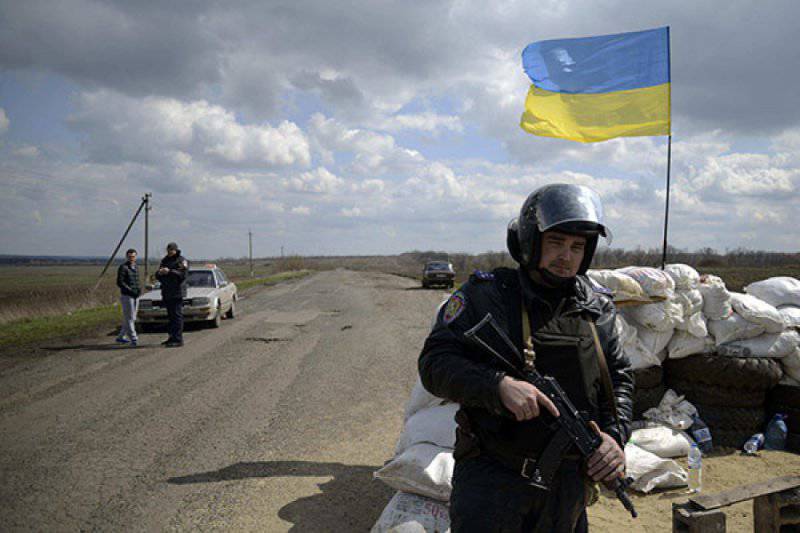 The axiom is that the foreign policy actions of any state should be determined primarily by its own, fundamental interests. They remain in absolute priority, even if they are in a certain contradiction with real or imaginary "interests" of the population of the neighboring power. Our own and, of course, fundamental interest in relation to Ukraine lies in the fact that this territory should never and under no circumstances pose a threat - no military, political or civilization - no one at all. The neutralization of any attempts to create such a threat (especially such brutal and uncompromising as the current American one) is today the alpha and omega of Russian policy in the Ukrainian direction. No NATO troops on the Russian border, no American missile defense systems at a distance of spitting from Russian missile bases, no military alliance between Ukraine and the United States, Russia can not allow under any circumstances. Are the interests of the Ukrainian population important in this sense? Of course. But only to the extent that they do not contradict the above geopolitical imperatives of Russia.
Thus, the infantile reasoning that once the population of Ukraine does not want something, then, therefore, Russia does not need it, is a complete heresy and cannot be considered seriously. Residents of the Kharkiv region, for example, may well be accommodated by the deployment of American medium-range missiles on its territory with the flight time to Moscow for three minutes. In the end, it is for them jobs and good salaries. For today's poor Ukraine - almost manna from heaven. But does this mean that Russia should respect such interests? Of course no! Moreover, in obedience to the instinct of self-preservation, I must do everything to ensure that this never happens.
And if the same Kharkiv region cannot live without NATO missiles, so much the worse for the Kharkiv region. It should be clearly understood by all who are now trying to present something there with the Russian Federation. No attempt to turn Ukraine into a force hostile to Russia can be recognized as "legitimate" by the very fact, despite any legal squiggles. Ukraine can exist either as an organic part of the Russian world, or, at worst, in that restless but relatively safe state for Russia, in which it has been for the last twenty years. Therefore, even those in Ukraine who today sincerely condemn Russia for its allegedly inadequate behavior, should realize their deep wrong and draw proper conclusions from the truth, which says that living well, causing inconvenience to a neighbor, especially inconvenience, is fatal for it dangerous. work out. Well, and if someone, nevertheless, will insist on it, let it not be offended when he "gets drunk" on his own bad head.
Now about another no less popular myth that today is almost on everyone's lips. It lies in the fact that Russia, even if it wants to support its half-brothers in Ukraine and protect its own interests, in no case should not resort to direct and especially military intervention in the ongoing conflict there. It is motivated, as a rule, as follows:
1. Russia should keep the peace to the last, avoid direct military intervention, because war will bring great misfortunes and losses.
2. The deployment of troops will inevitably lead to an increase in the scale of hostilities, an increase in the number of victims and, as a result, will give rise to a deep and irreversible mutual alienation of the peoples of Russia and Ukraine, putting an end to the possibility of their unity in the foreseeable future.
3. The use of Russian power on the territory of Ukraine will inevitably cause an extremely negative reaction of the West, total economic sanctions on its part and the threat of military confrontation with it.
Not being at this stage a staunch supporter of Russia's direct military participation in the conflict in Ukraine, I nevertheless consider it necessary to caution against any conclusions based on fundamentally wrong messages. In any case, all the above fundamental arguments against the introduction of troops are, in my opinion, at least questionable. And therefore, can not be the basis for making any government decisions.
It is naive to think that Russia at the moment is not directly involved in the Ukrainian war. Accepts, and moreover, the most active, giving New Russia both material aid and passing volunteers there. That is, there is no "Chinese wall" between the current supposedly "peaceful" situation and the state of war. Russia is already in the war. Yes, this war was imposed on her, yes, Moscow did not want her. And yet it is a fact.
Now about the losses. Those dozens of Russian families that have already received funerals from Ukraine for their loved ones will probably not understand if they are told that Russia does not suffer losses in this war. As for the reasoning that it is the input of troops that will increase these losses many times, then there are absolutely no grounds for such conclusions. On the contrary, many military specialists are convinced that it is the current version of the protracted, quasi-civil war in the east of Ukraine is the most bloody and destructive. And it was he who caused the most estrangement between Russians and Ukrainians, because the enemy propaganda unambiguously blames all the endless hardships and deprivations of this war on Russia.
As for the variant with direct and massive entry of Russian troops, that is, there is every reason to consider such a development as the least painful. First of all, because Russia possesses a colossal military superiority over the former Ukraine, and in these conditions, the resistance to the already exhausted in battles, the demoralized former Ukrainian armed forces, most likely, will be very short lived. If at all. Judging by the indiscriminate desertion from the ranks of this terrorized junta army, it cannot be ruled out that in case of a meeting with Russian troops, its personnel with a huge sigh of relief will simply go under their legal and force protection. As for the individual atypical ideological Bandera, they will either be destroyed by their own colleagues, or by local residents with considerable expense to them.
The determination of the West to enter into open military conflict with Russia over Ukraine is zero, even according to the estimates of the Western leaders themselves. And Russia already receives their so-called economic sanctions in full, and something more to expect from these very practical gentlemen is also not worth it. In any case, the same European Union completely excludes the possibility of sanctions impacting the import of Russian gas, which is vital for Europe.
Thus, Russia does not yet resort to the massive introduction of its army into the territory of Ukraine by any means due to the myths described above. The Kremlin, in contrast to the overly agitated public on both sides of the border, is quite adequately assessed by the Kremlin. And for that elementary and reasonably obvious reason that there is absolutely no need for it yet. The Ukrainian army is weakening every day more and more, and the Donbass militia is only getting stronger and delivering more and more sensitive blows to the enemy.
Over twenty years of Russian-Ukrainian separation were used with maximum effect by those external and internal forces that are vitally interested in ensuring that this separation becomes eternal. It was under their "sensitive guidance" that an entire generation grew up, for which Ukraine is the same abroad as, for example, Turkey, and given the greater comfort of the Turkish resorts, even more distant. The close ties of the Russian and Ukrainian regions, the constant mutual visits of millions of relatives, the tremendous common interest in the cultural heritage of a single civilization (residents of Leningrad to Odessa, or Odessans to Moscow) - all this is largely in the past. Today's young Russian knows rather
history
construction of the Egyptian pyramids, rather than the once famous Odessa Potemkin Stairs. And the fact that the same Odessa, as well as Kherson, Nikolaev, Sevastopol, Yekaterinoslav and a lot of other cities are built from scratch not by some kind of "ukrami", but by the Russian Empire, only rare Moscow historians are known today.
The current Ukrainian-Russian confrontation produces abundant shoots on such a soil abundantly replenished by mutual oblivion. You can make sure of this, even after a little sitting in Russian or Ukrainian social networks, in which waterfalls of irreconcilable enmity, mutual accusations and unbridled hatred flow. But the problem is also that the conviction of the so-called "Ukrainians" in the universal hostility towards Russia, that they all, from young to old, do nothing that jump on Maidan and yell "moskalyaku to Gilyak", it becomes more generally accepted point of view. On the basis of which the same fundamental conclusion is made: Russia should not give a damn about Ukraine and forget, let them clear up their own problems there.
It is obvious, however, that such a notion of the inhabitants of a neighboring country is too simplified. The brotherly (or rather, the same) people, represented by millions of our closest relatives, have not gone anywhere. And the fact that now with Ukraine there are mainly hostile speeches, so this, as they say, is just a matter of technology. And above all, the technology of mass propaganda, which today is completely captured by the Bandera-fascist regime and put at the service of American interests hostile to our two powers. Today's dissenters are "enemies of Ukraine", "terrorists" and "separatists", they have either been shut up in jail or intimidated to death with such demonstrative reprisals as "Odessa Khatyn". And after that, someone else is surprised at the well-organized and carefully filtered flow of hatred coming from Ukraine, and makes on this basis a conclusion about Russia's total hostility to the population of this territory!
We deceive ourselves. Tens of millions of best friends and half-brothers cannot become the worst enemies overnight - there is something wrong here. Why does no one remember about the famous "Stockholm syndrome", in which hostages taken by terrorists always praise the terrorists, and not those who are trying to free them? In this case, an entire nation was taken hostage, which the terrorists are required to do.
So this myth is also about the primordial and total hostility of the so-called "Ukrainians" to the Russian people, which is why they should not extend a helping hand, as ridiculous as the previous one.
Moreover, it is completely obvious to whom it is beneficial to impose blind hatred and irreconcilable hostility between the two parts of a single whole. Those who are for this whole - the united Russian world - are the mortal enemy. And for many centuries, civilization has become such, and more specifically, the anti-civilization of the West. "Divide and conquer" - this principle has been guiding it since ancient times. That is what they are doing now in relation to Russia and Ukraine, trying not only to sow the deepest discord within our united family, but also to destroy us with the hands of each other. Why, it is also quite obvious: it was the Russian world, as the most non-conciliatory and disinterested, that the Lord God resolutely offered to give truly inexhaustible resources of natural wealth that no one else can and cannot have. For the insatiable West, which from time immemorial has been deprived of this and lived at the expense of plunder of other nations and civilizations, these riches are the most tempting prize. So they try their best. And those of us who, by virtue of ignorance or stupidity, help them in this, in every way supporting the evil myths they spread, actually work on their robbers, facilitating to them the task of finally bringing our family to the ground and settling this person with our insatiable bloodsuckers.
It's not my idea: when we are united, we are invincible. What happens when this unity is not, we see today.