A shell exploded next to a UN school in the southern Gaza Strip city of Rafah on Sunday, reports
"Russian Air Service"
... As a result, at least 10 people were killed and another 35 were injured.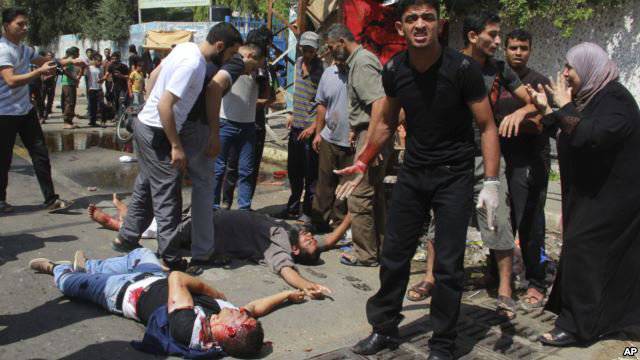 Chris Gannes, spokesman for the United Nations Relief Agency for Palestine Refugees in the Middle East, said there were about 3000 Palestinians at the school in Rafah.
"I cannot say that it was a direct hit, and we cannot say which side was the target," said Gannes.
Israeli military spokesman Lieutenant Colonel Peter Lerner said they were not firing at civilian targets, and that the attack in the area was aimed at "three Islamic Jihad terrorists riding a motorcycle not far from the UN school in Rafah." According to him, an internal investigation has been launched in connection with this incident.
"Voice of America"
notes that this is the third case of shelling of UN schools by the Israeli army in the past 10 days. According to UN Secretary General Ban Ki-moon, this is a "gross violation and crime."
In turn, Israel accused Hamas militants of using civilian facilities, including schools and hospitals, to shield missile launchers and ammunition depots.
On the night of Saturday to Sunday, the Israeli army launched 13 airstrikes against various targets in the Gaza Strip. As a result of these attacks, at least 30 people were killed.