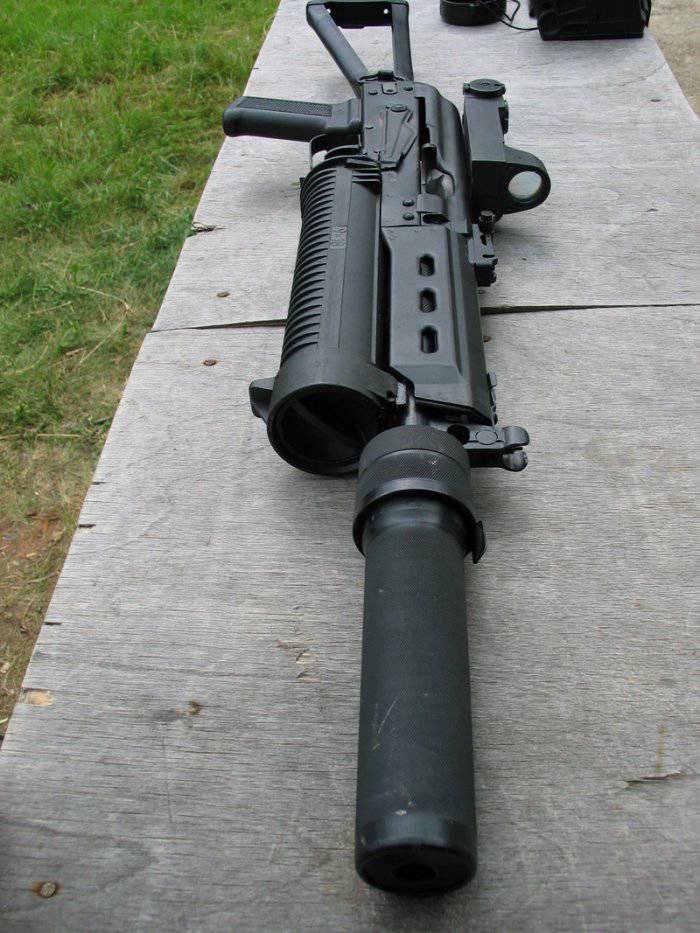 In 1993, Kalashnikov and Dragunov (junior) made the first version of the new submachine gun called the Bison PP-19. It was designed for the cartridge 9х18 (both standard and high-pulse, upgraded). Its distinguishing feature is the presence of a screw (from it. -) grenade shop 64 capacity cartridge. In the process of further refinement of the design, based on unification with a Kalashnikov assault rifle (60% of the details of "Bison" borrowed from AK), two modifications appeared - "Bizon-2" and "Bison-2B".

The range of cartridges used has expanded - the cartridges of 9x17 Kurz and 9x19 Raga have been added.
The latest modification "Bison-PP-27" was developed in 1997 year under the cartridge 7,62x25 TT, which has a high bullet speed and high penetrating power. The capacity of the screw shop - 45 cartridges.
On the original PP-19 model, aiming devices are installed, identical to those on the AKS74U machine gun. The muzzle cut is equipped with a compact flame arrester with two wide rectangular windows. Butt metal, folding to the left. It has some distinctive features, which were caused not so much by functional considerations, as by the desire to maximally unify the product with the current production of Izhevsk Machine-Building Plant, which ensures minimal changeovers in the manufacturing process. This is how the front sighting device of the AK-100 series appeared. The aiming strip with the clamp is also a detail of the AK design. The store of the new modification is made of aluminum alloy (the polyamide store is in development) and has four holes on the right side with 4, 24, 44 and 64 markings. The shooter determines the amount of ammunition in the store through these holes.
PP-19 "Bison" with a silencer
As for the modification "Bison-2B" (index "B" means silent), it is distinguished by the original design solution of the butt. Hard metal butt folded and fixed in the upper position above the receiver cover. Undoubtedly, this is a more ergonomic solution, while the strength characteristics are not inferior to the automaton variant, and the fighter, if necessary, can use the butt in hand-to-hand combat. The rear sighting device has also undergone significant changes. Instead of an open sight, a diopter appeared. "Bison-2B" is designed to work only with a silencer.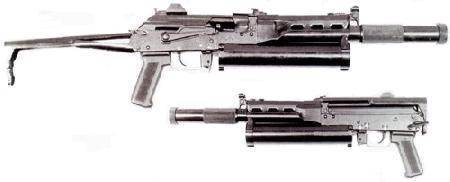 "Bison-2B" with a butt in combat (above) and marching positions
During the tests, all products of the PP-19 series showed a high degree of reliability and dependability of operation in the most severe operating conditions.
Weapon
has excellent martial qualities.
Performance characteristics