Rada did not release the "golden" Yatsenyuk
Ukrainian glad today voted on the resignation of Mr., who calls himself the head of the cabinet - Arseniy Yatsenyuk. As you know, Yatsenyuk 24 July 2014 of the year announced that he resigns, since Ukraine has not formed a coalition government. Rada did not accept Yatsenyuk's resignation, motivating her decision by the fact that she and Yatsenyuk would have had to dismiss the entire Cabinet. This is reported
RIA News
.
Along with the vote on the person Yatsenyuk in the Verkhovna Rada passed the vote on the package of measures that the same Yatsenyuk proposes to get the economy out of the crisis and transfer it to a new level. What exactly this "new level" promises to be - neither Yatsenyuk nor is pleased to report. They also do not report how, with a decrease in GDP and a simultaneous increase in public debt, which Ukraine is unable to pay, the country has not yet been defaulted.
For example, Argentina was declared bankrupt after Buenos Aires was unable to pay 1,3 a billion dollars in debt. Ukraine's debt for Russian gas alone has long exceeded $ 5 billion, but the West continues to draw Ukraine as a solvent state, and Yatsenyuk as an overly talented prime minister.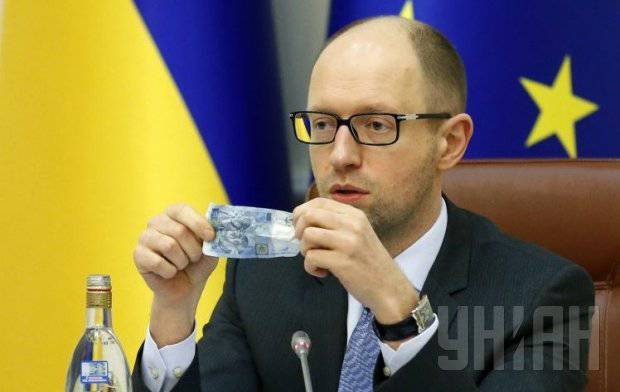 Apparently, the investment in its time was really impressive, and the West does not want them so easy to lose. Yatsenyuk, on the other hand, used the "democratic" focus with the "desired" resignation in order to continue driving the state called Ukraine into credit bondage under the guise of taking the economy out of crisis. Not the prime minister, and gold ...