US Department of State justifies the use of artillery by Kiev security officials in Eastern Ukraine
Washington considers justified the use of Ukrainian army artillery in densely populated areas of Donbass. This was confirmed at yesterday's briefing by the representative of the US State Department Marie Harf, reports
ITAR-TASS
.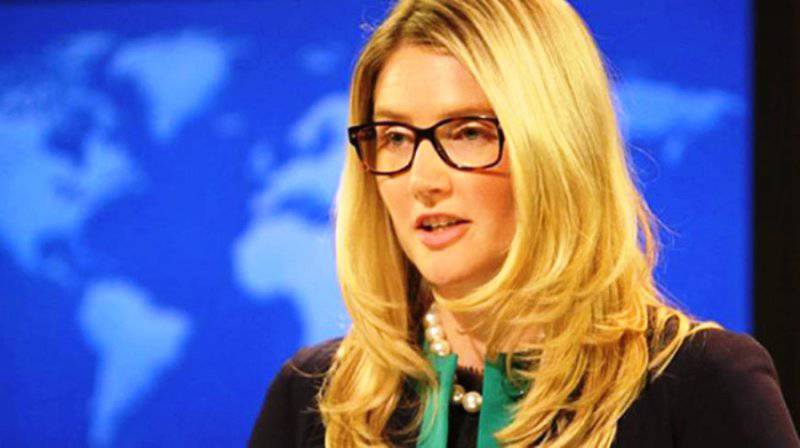 Commenting on the course of the military operation in the Donetsk region, she noted that "those weapons that are mentioned in the reports (on the situation at the scene) are a standard artillery component in the armed forces of the former Soviet (republics)."
"We are certainly not going to tell the Ukrainians that they cannot use the standard
weapon
especially when they are under such fire. "
said Harf.
In her opinion, the large-scale military operation in the eastern regions of Ukraine is explained by the "responsibility (of Kiev) for the protection of citizens in their own country." Well, "the cause of all this instability" is "the actions of Russia."
Harf, however, did not deny that the Ukrainian authorities still have the responsibility to "exercise as much care as possible to protect the lives of civilians." However, according to her, Kiev has nothing to reproach for, as it demonstrates "extreme restraint in the face of incredible opposition."
And when one of the journalists asked her if the United States has "information that the Ukrainian military are firing at the territory of the militia with medium-range ballistic missiles, Harf replied that she had nothing to add to what was said earlier. There was nothing to say about the shelling by the security forces of a nursing home in Lugansk.
Touching on the topic of sanctions, the representative of the State Department acknowledged that in this way the West is trying to worsen the state of the Russian economy and thereby provoke popular discontent with Vladimir Putin's policies.
"The bottom line here is to continue to build up pressure and increasingly" squeeze "them economically so that President Putin makes the right decision. At some stage, Russian citizens, I think, will be seriously unhappy that their economy is sinking due to its actions in the region and other countries. This is what (sanctions) are meant to achieve, and we will increase the pressure. "
explained Harf.
At the same time, she rejected accusations that unilateral US sanctions are aimed at worsening the lives of ordinary Russians.
"Absolutely not. The goal, I repeat, is to put enough pressure on the Russian government to change its calculations. "
stressed Harf.
Then she repeated the statement of Barack Obama about the lack of desire of the American administration to move towards a "new cold war". As for the "economic war," Moscow itself is to blame: "Nothing would have happened if Russia had not invaded Ukraine."