Ukrainian enterprise was again on top. While bloody battles are taking place in the southeast, while civilians are dying in cities and villages, some business structures have decided to make money on this. They make money like this: they organize excursions to the zone of the so-called "anti-terrorist operation". Reports about it
"In the fist"
.
Depending on the region from which the client is sent, the price of the service varies from a thousand to 8 thousand hryvnia.
The following ads are posted on the pillars (in Russian):
Excursions to the ATO area. "In the footsteps of the Ukrainian army." Full support. An interesting tour of the liberated cities. Excursion directly in the risk zone, where battles take place (with a full set of protective uniforms). Photo and video. Cities: Slavyansk, Kramatorsk, Lysychansk, Krasny Liman, Severodonetsk, Soledar, Karlovka, Netaylovo, Pervomaysky, Popasnoe, Rubezhnoye, Yubileyny (the list is being updated).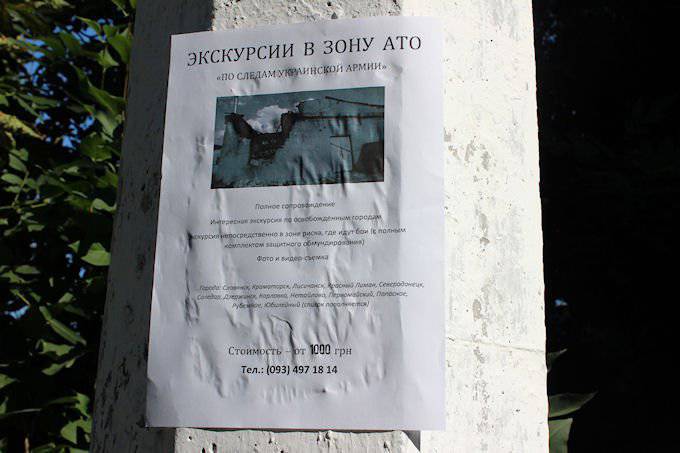 The interviewee explains that tourists will be transported to the places that have suffered the most during the fighting, roadblocks, other fortifications, and burnt equipment will show. In addition, tourists are promised "gifts" - fragments from shells, shells, "souvenir" fragments of destroyed buildings of Slavyansk and other cities.
For most normal people today, this looks like blasphemy, but not for those who use war for individual business, trying to build material well-being on blood. Or Kiev is not enough "200-x" among its own military - you need to add more and "200-mi" tourists?