Tbilisi does not respond to Washington's demands to stop criminal prosecution of Saakashvili
The General Prosecutor's Office of Georgia announced the 80-formed volumes of evidence of the guilt of former President Mikhail Saakashvili in excess of official powers. In addition to Saakashvili, the same article of the Georgian Criminal Code includes such persons as the former mayor of Tbilisi, Ugulava, the former Minister of Justice Adeishvili, the former Minister of Defense Kezerashvili and the former head of the Ministry of Internal Affairs Merabishvili. The main element that allows the prosecutor's office to make such accusations against all these persons concerns the dispersal of the opposition rally in November 2007, as well as the illegal exclusion from businessman Badri Patarkatsishvili of the (now deceased) opposition television and radio company Imedi. There is no talk of an attack on South Ossetia in this matter.
The statement of the prosecutor's office of Georgia leads
Interfax
(transfer):
The investigation into this case is being conducted from October 25 2013. Numerous investigative measures were taken, X-NUMX witnesses were questioned, there are video materials, expert reports and other documents important for the investigation. The amount of documentary evidence collected in the case is 100 volumes.
In this case, Saakashvili faces up to 8 years in prison. And Saakashvili knows how "good" he is in Georgian prisons.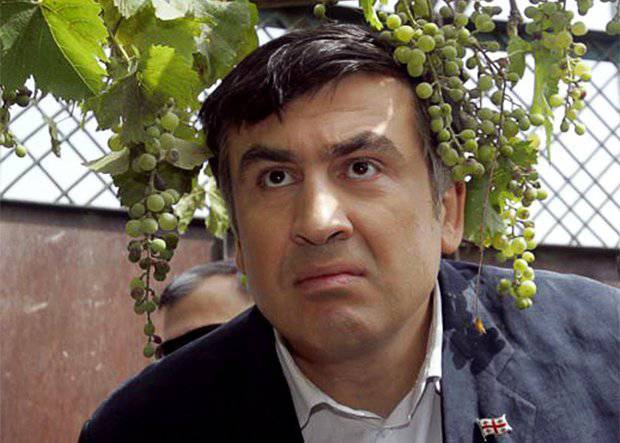 After the statements made by the Georgian prosecutor's office, the ubiquitous Jen Psaki decided to intervene. This time, following the podium in one orthopedic boot, Psaki said that Washington was urging Tbilisi not to use the judicial system against Saakashvili. According to the version of those who wrote the text of the speech for Psaki, in Tbilisi today they decided to follow the path of political revenge. Isn't Washington doing the same thing over the last time?
In addition to the US State Department, four representatives of the Senate are concerned about the fate of Saakashvili. These gentlemen published a whole statement in which their vision of the reasons why Saakashvili cannot be judged is given. Translated from the US-Senate in the human language, these reasons are described something like this: Saakashvili is our (American) son of a bitch, and therefore not under a jurisdiction.
In Tbilisi, they have not yet responded to statements from the US, where Saakashvili found his orphanage. Is the game independence? ..