Gorlovka militia traded 17 captured Ukrainian security officials for the wife of his friend
On Tuesday, an exchange of prisoners took place in Gorlovka, during which militiamen exchanged the 17 of the Ukrainian military for Olga Kanygin, who had previously been accused by the Ukrainian Security Service of "participating in the financing of separatism," RIA reports
"News"
.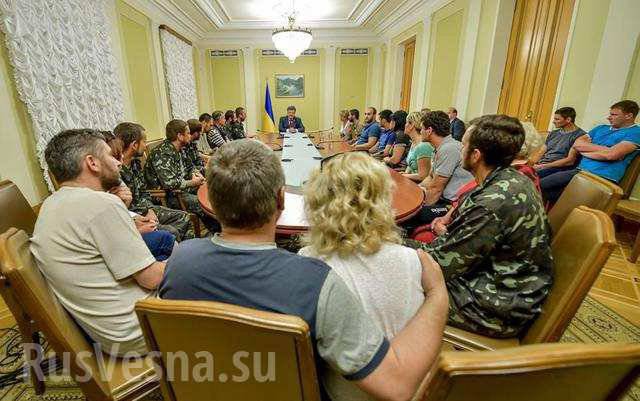 Among the prisoners released by the militia were a local resident, 6 soldiers of the 2 th mechanized battalion of the 72 brigade, a citizen of Georgia Vasily Budik, and also 4 SBU employees. After the exchange, they all went to the reception to the Ukrainian President Petro Poroshenko.
"Today we have released 17 hostages, including the Ukrainian military and one civilian foreigner. They were held captive in Gorlovka. I can say one thing - Ukraine is proud of the courage with which our guys were held captive. And we will do everything to free those who are still in captivity, "Poroshenko wrote on Facebook.
"Russian Spring" reminds that these "courageous" prisoners imitated their own shooting by the commanders of the Gorlovka militia, Igor Bezler. According to the military, in this way they wanted to attract the attention of the authorities of the country so that they began to take at least some actions to save them.