What am I dreaming about today?
I remember exactly what I dreamed about yesterday. I wanted peace yesterday. The world is good. The world is the sun, this is the summer, these are the children. The world is a favorite job. The world is a walk with the family.
But that was before the bombing of Gorlovka. Rather, it was before I saw a dead young mother hugging her dead child.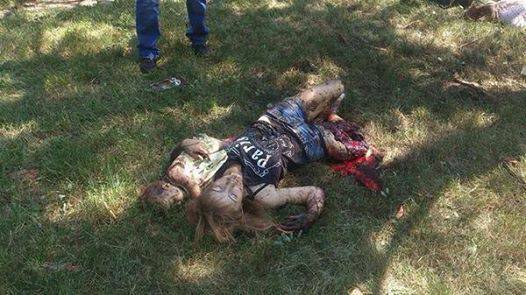 Now, after that, I have only one desire - I want to see the black, charred corpses of the Ukrainian soldiers, the "National Guard" and the Pravoseks. I want Poroshenko to cut off his legs. I want to see the brains of Irina Fahrion. I dream to see Turchinov guts. I want to die Yatsenyuk. I want to see Klitschko's head cut off by a splinter. Hung Avakov - what could be more beautiful?
I want the ruins of their residences.
I want to see the crowd tearing apart Kolomoisky's corpse.
I have no good dreams left.
They were taken away from me by your vile United Ukraine. Eurocertified, Western-standardized, in cookies, with forelock and embroidery.
I do not want anything more from the "Ukrainian patriots". I used to want them to be smart. Then I wanted them to be scared at least.
Now I need nothing from you but your death.
... I do not know why this happened to me right now.
There were corpses before.
And Mariupol, and in Odessa, and in Lugansk.
There was this hypocritical lie about "they themselves" in half with foul joy. There was also a hypocritical urging on the mouths of "our" "Conscience of the Nation". All this was already.
But for some reason I could more or less coolly talk, talk about politics, about the goals and objectives of Russia, about some kind of negotiation process.
And now I can not.
I do not think. It does not say.
All the time, this dead woman can see her child.
Dear United Ukrainian patriots! Dear United Ukrainian politicians!
I beg you very much!
Do not be afraid. No need to think.
Do not be horrified by the work of their hands.
I do not need anything from you.
Please die. I ask you to.
I beg you.
Die the most terrible and shameful death. Suffer before death. Writhing in agony. Let the urine stream down your legs and empty your intestines. Choke on your own blood, urine and feces.
I don't need anything from you anymore.
Just die, beasts.