The largest plant for the disposal of ammunition stands idle without a state defense order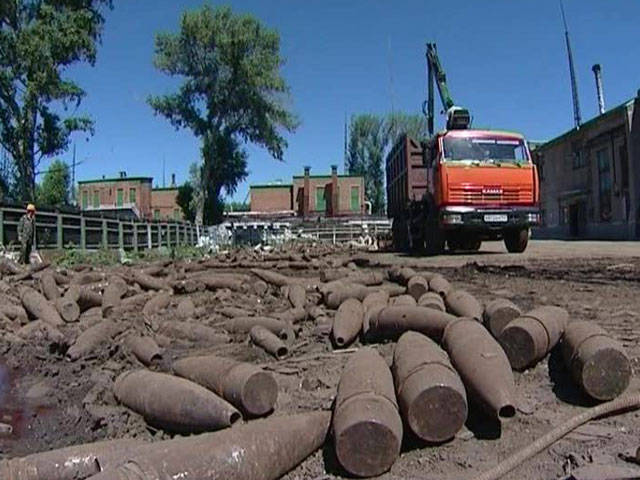 Commanders will answer for the explosions of arsenals in Udmurtia and Bashkiria. Meanwhile, experts say: they could not have happened if the military department had placed state orders for the disposal of ammunition on time. Meanwhile, in Sterlitamak, the largest ammunition disposal plant in the country is idle.
The manipulator carefully loads the rusted pigs into a special body - however, these former artillery shells will not go to the smelter anymore. This is the last batch, which is now a visual aid so that workers do not forget how to handle hazardous cargo.
"These are 120-, 122-, and 150-millimeter artillery shells - we brought them from the arsenals in Malaya Purga and Urman, but unfortunately, there are no orders now," says Oleg Karev, chief engineer of the federal state-owned enterprise Avangard.
The largest factory for the disposal of ammunition in the country for several years now interrupted by random orders. The staff on forced leave, the workshops are idle, although the enterprise is capable of processing up to 120 thousands of tons of military shells per month.
The siren sounds - this is how industrial utilization of ammunition begins. These 150-mm artillery shells were brought from the arsenal in Urman, shortly before the fire. They lay on the stand in an underground bunker and set on fire. Fire fountain - and in a few minutes the shell becomes an empty disc.
After separation of the fuse, the sleeve goes for disassembly: hexogen is extracted from it, which after processing becomes the basis for civilian seismic charges, and pistons are turned out of the body. At this plant for the first time in the country, they learned not only to dispose of the contents of their arsenals, but also to make quite peaceful products out of it.
"These are the hulls from the Uragan missiles - excellent fences are obtained from them," says Vladimir Dömyshev, head of production for commercial products.
And on this installation, everything is done with the help of water - a powerful jet literally cuts through the body of a missile. Grozny
weapon
from the volley fire systems "Hurricane" after such a procedure becomes completely safe.
After the recent events in the settlements of Urman and Pugachevo, the specialists again began to talk about the problem of disposing of old military arsenals. It is unknown how many of them were built all over the country, but the workers of this plant are sure: if the Ministry of Defense places orders there again, then there will be fewer dangerous warehouses on the map of Russia.
Ctrl Enter
Noticed a mistake Highlight text and press. Ctrl + Enter