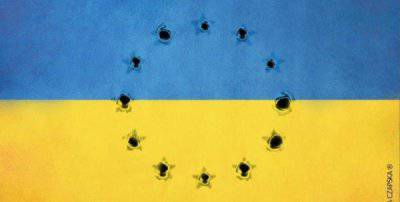 The coup in Ukraine and all the recent events are reminiscent of the fuss of several general business partners in the nineties. Especially here in Russia.
Who carried out the coup and "planted" on the rule of Poroshenko, of course. But it is not clear where Yanukovych is now and what he is doing. The fact that he is a "bad person" who never loved Russia and dealt with it because of economic necessity, I think, is clear and without explanation. The fact that our government needed it as a "ass of a fool" at a certain stage is also clear. It is not clear why we agreed with the election of Poroshenko, and did not shout at every corner that "Poroshenko is illegitimate, elections are rigged", etc.
I do not think that Yanukovych has any supporters in the Donbas. Someone chose him in 2010. And these supporters must be among the local oligarchy, and among the officials, law enforcement agencies, etc., and even the common people, although in this environment, I think, he has lost his popularity.
What prevented our organizing the "government in exile" of the legitimate president of Ukraine and stamping out decrees at a speed exceeding the mad printer of the Ukrainian Rada? What prevented shouting to the whole world: "Here they are, the decrees of the Ukrainian president, popularly elected"?
There were a lot of such governments in the world, and they are now: http://ru.wikipedia.org/wiki/%CF%F0%E0%E2%E8%F2%E5%EB%FC%F1%F2%E2%EE_ % E2_% E8% E7% E3% ED% E0% ED% E8% E8. Someone feeds them, educates them, tells them what to do. They are listened to in different organizations (UN, OSCE, etc.), in the end, even lead to power (Poland, Czech Republic, Lithuania, etc.). What prevented us? Or hindered?
At the same time, Russia could practically openly help the New Russia. After all, initially, the DPR and LPR were organized as federal entities of a single Ukraine, and we have our own, elected President's people.
Nobody removed the "High Command" from him, therefore, the Ukrainian Armed Forces must obey him, and if they do not obey, it is not the Armed Forces, but illegal armed formations with a handful of war criminals at the head — according to all international laws, they can be "moistened in the toilet" .
Yes, in principle, and now nothing else interferes. But with other goals. Yanukovych's supporters have not gone away, and he has money.
Now in the world there are no friends with anyone. There are the US, who know how to bend Europe, there is China, who for all his 10000 years did not care at all but himself, there is Africa, Latin America, Southeast Asia and Australia, which were colonies all their lives and behave accordingly, that is, without having their own initiative, they are trying to join one or the other. There is India, whose main task is to feed a billion of their beggars. There are the Middle East (which partly includes Africa) and Central Asia, where without a strong dictator, confusion and vacillation begin and immediately the world caliphate is declared. All these countries need allies only as either markets or as sponsors.
And there is Russia, which, instead of the interests of the state, supports the interests of big business - "state" and oligarchic. Operation "Crimea", when the entire population of Russia was agitated and finally believed in their power, when it became clear who is a patriot and supports his country, and who is 5-I column, is not considered. Because this operation was planned and carried out by a very intelligent person (or a group of people), but then he (they) disappeared somewhere. The policy has gone unintelligible again, consisting only in appeals for world peace. I won't say anything about BRICS, because no real steps have been taken, except for the "talking room" and the signing of incomprehensible papers.
Now big business has entered the political scene. In which all interests are tied to the United States and Europe, where they live, rest, buy companies and real estate, where they have families, after all. They understand perfectly well that nobody needs them there, and only their money, safely stolen from the Russian budget, is needed. And that at any time, when they no longer need them, they will take everything away from them in favor of the "so-called" true democracies — under one pretext or another. What, in principle, is happening now.
Returning to the beginning of the article ... The business project "Ukraine" is coming to its final stage. All of us are witnessing the redistribution not only of Ukraine, as property, but, I think, of the whole world. Therefore, the entire Western world is actively slipping into another world war. Only, I am afraid, after this war there will be very few in the world ...