According to RIA
"News"
with reference to the representative of the North
fleet
Vadim Serga, on Monday, the crew of the latest multi-purpose nuclear submarine (NPS) Severodvinsk, project 885 Yasen, took her out of the main base in the city of Severomorsk and headed for the White Sea.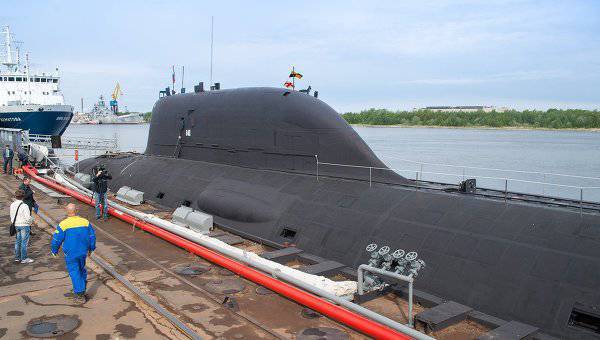 "After the transition to the White Sea, the crew of the head multi-purpose submarine of the project" Ash "will have to accomplish a number of planned combat training tasks preceding the interception of combat duty," said Serga.
Construction of the Severodvinsk nuclear submarine began in 1993. The submarine was launched in the 2010 year, and its trial operation began in December 2013 year. 17 June 2014, the submarine became part of the Russian Navy.
The multi-purpose nuclear submarine "Ash" is a fourth-generation ship with a reduced level of acoustic field. Its main purpose is to defeat surface, underwater and ground objects with the help of supersonic cruise missiles and universal deep-sea self-guided torpedoes.