The changing world of artillery (Part 2)
Russian models. Russian self-propelled tracked systems are currently at a disadvantage due to the decline in global interest in 152-mm caliber, whose ballistic characteristics are significantly inferior to the latest 155-mm armament. Despite this, a lot of C219 Msta-S and 2C5 Hyacinth-S cars remain in service with many countries and can now benefit from the appearance of guided projectiles. Modified versions are available with 155-mm / 45 caliber implements (2C19M) or 155-mm / 52 caliber, but orders are not reported.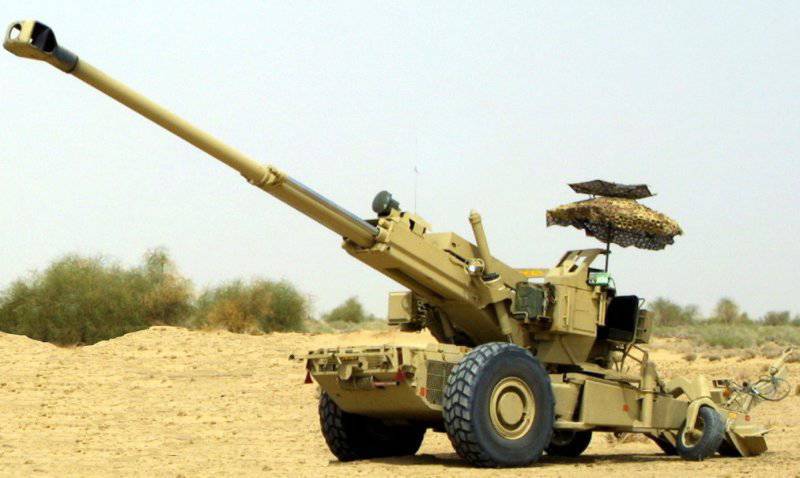 FH77B05 from BAE Systems Bofors is not currently being mass-produced, but is one of two final bidders for a large program of the Indian army
Wheel self-propelled systems
And again, the two main classes differ in combat weight (less or more 25 tons), and also that the calculation can fire while sitting in the cabin (that is, protected by armor) or must dismount to work with the system.
Models of machines weighing more than 25 tons, which, as already noted, are increasingly directly competing, at least with lower-end track systems, include:
ZTS ZUZANA (Czech Republic). ZUZANA is a modified 155-mm version of the 152-mm DANA system, which by the time of its appearance at the end of 70-s, was the first artillery system in the world on a wheeled chassis (Tatra 815 8XXNNX high-performance truck). ZUZANA was supplied to Slovakia (it became the first former Warsaw Pact country to adopt the 8-mm self-propelled system) and to Cyprus in the version with an 155-mm / 155 caliber and a semi-automatic loader. Since then, this option has been replaced in the company's catalog with a more advanced model with an 45 caliber cannon and an automatic loader.
Denel G6 (South Africa). G6 was the first in the world system on a wheeled chassis and with a combat weight of 47 tons remains the heaviest. The entire 145 system was manufactured for three countries (43 for South Africa, 78 for the UAE and 24 for Oman) in the original version with an 45 caliber gun. A new version with a 52 barrel caliber (G6-52) is being released; The basic version with the 23 liter combustion chamber has a maximum range of 53 km. In the Extended Range variant (extended range) with a 25-liter camera, the range reaches 67 km with VLAP ammunition.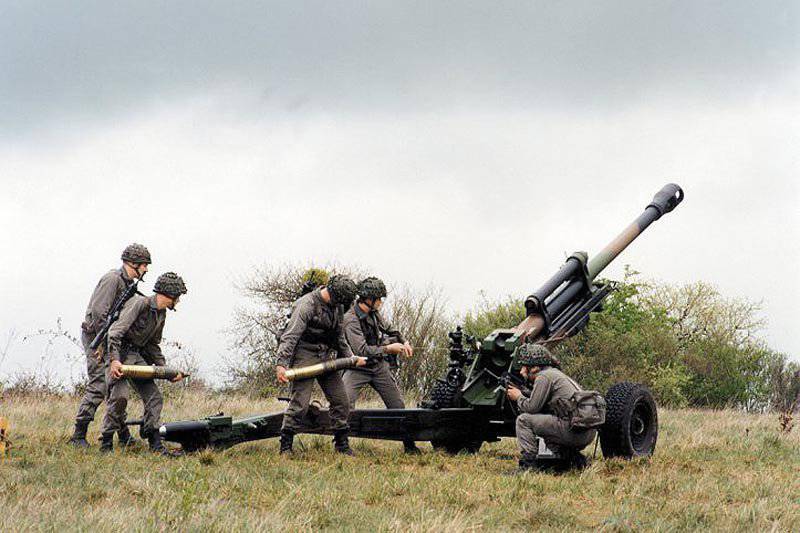 Nexter recently introduced an improved version of the Mk2 with the well-known 105-mm LG1 gun.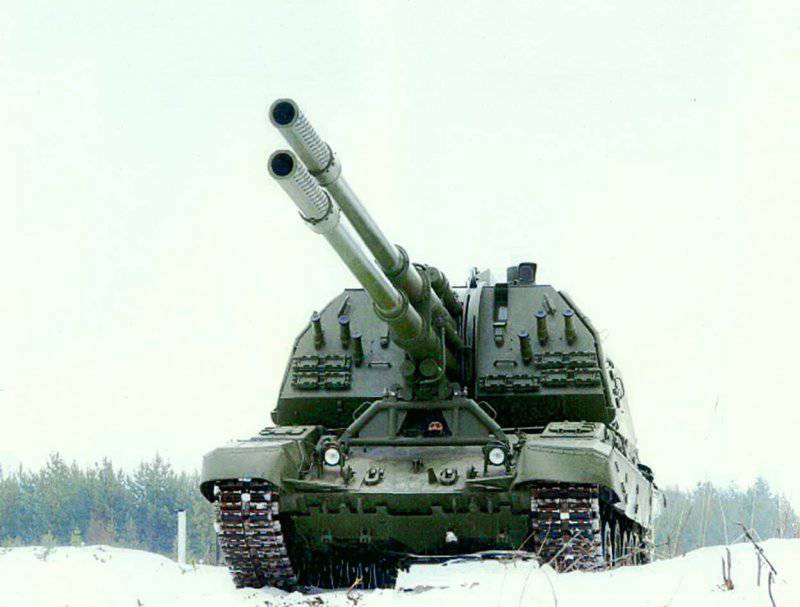 Coalition-SV (modified 2C19M Msta-C) was an intriguing Russian concept with a very high rate of fire (15 - 18 shots / min). It is achieved through a double-barrel configuration, automatic loader and 50 rounds of ammunition. The prototype was shown to the political and military leadership in 2007, but the program appears to have been stopped
BAE Systems Bofors ARCHER (Sweden). ARCHER is an articulated vehicle with a combat mass of 30 tons, the mass of an artillery module 13,1 tons. The gun is an elongated version (52 caliber) of the FH77B towed howitzer, mounted on a Volvo A30D 6xXNNX truck chassis.
The ARCHER has a sophisticated automatic loader with 20 ready shots that can be shot out in 2,5 minutes, but unlike the ZUZANA or G6, the howitzer does not have a turret turning on 360 °. On the other hand, it has an important advantage - fully controlled from the armored cab. Calculation of 4 person (2 person can serve in a critical situation). Working outside is only needed when replenishing the ammo on the 20 shots.
The ARCHER is currently in mass production for the Swedish and Norwegian armies, which ordered the 24 system.
SCG NORA B52 (Serbia). NORA B52 is a self-propelled system with 155 ton weight, including ammunition for 52 shots, mounted on an 31-mm / 36 cargo platform. It is offered either on the Serbian FAP 2882 8x8 chassis (Mercedes license) or on the Russian KAMAZ 63501. The newest version of the K1 has a fully automatic ammunition supply system, which allows for the rate of fire of 6 shots / min. Another feature is the double armored cockpit to protect the crew on the march and during firing. The gun, apparently of its own design, fires all types of NATO ammunition and has a maximum range over 42 km when firing a projectile with a ERFB / BB bottom gas generator.
It is reported that NORA B52 will go into service with the Serbian army, but it is not included in the latest official lists. 36 systems were sold to Myanmar, and another recent order provides for the supply of 20 systems for Kenya.
The model range of light (less than 25 tons) wheeled self-propelled systems has steadily expanded in the past few years, although only two actually received the status of a production model.
Nexter CAESAR (France). Howitzer, defining the trend for a whole category of artillery systems mounted on a truck. CAESAR has an 155-mm / 52 feces gun and a ground mass of 15,8 tons (including 3 tons of recoil masses), the combat weight is 17,7 tons, so it can be transported by the C-130 transport. CAESAR is a so-called "integrated" self-propelled system, that is, carries a gun, 18 rounds of ammunition and an SLA / command and control system (ATLAS in the version for the French army) on the same chassis. The calculation of the 5 man is placed in a secure cabin while driving, but the gun is usually serviced outside.
The general order book includes 72 systems for France to replace the TRF155 towed howitzers 1 (deliveries completed), six for Thailand (plus the option for 12 - 18 units) and 80 - 100 units for the National Guard of Saudi Arabia (deliveries).
Norinco SH1 (China). The system is shown in 2007 year and is designed specifically for the export market. SH1 is a caliber 155-mm / 52 cannon on the chassis of a 6x6 truck. With a 22 T combat weight, including ammunition for 20 shots, the SH1 has a 5 man calculation, which is placed in a protected cabin during movement. The gun is described as capable of firing any NATO-standard munitions, as well as an ERFB-HE with a bottom gas generator or rockets plus an 155-mm version of the Krasnopol laser-guided projectile. It is reported that approximately 90 SH1 howitzers are in service in Pakistan.
Other truck mounted and currently available howitzers on the market include Soltam ATMOS (Israel), Norinco SH2 (China) and Singapore Technologies LWSPH (Singapore). None of them has yet reached a commercial breakthrough, however, their characteristics and capabilities are subject to an ongoing process of change, as manufacturers are constantly striving to make them more attractive.
Samsung's K9 THUNDER is mass-produced for the South Korean army, while the T155 FIRTINA derivative is supplied to the Turkish army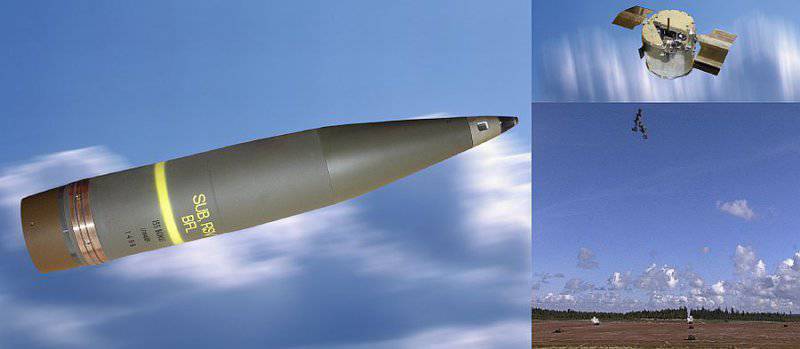 BONUS from BAE Systems Bofors and Nexter is an intelligent 155-mm projectile designed to destroy armored vehicles. In its case there are two submarines with sensor fuses, it also has a gas generator, which increases the range to 35 km. As soon as the submarines are released above the target area, everyone searches and identifies targets in a circle with an 200 diameter, processes the image received from IR sensors operating at several frequencies, and then compares the results with data from a laser radar (LADAR). The target profile is determined and then it is compared with the data received from IR sensors, thus the combat targets can be separated from the false ones. After detecting and identifying a target inside the zone, it is destroyed by an EFP (Explosively Formed Penetrator) shock warhead type
Towed artillery
The list of deficiencies attributed to towed howitzers is quite long. They need too much time to occupy and leave the position and, thus, they are hardly suitable for the "shot and run" tactics on which modern artillery doctrines are based on avoiding counter-battery fire. They have very bad tactical mobility on rough terrain. The significant total length of the towed + towed howitzer impairs traffic on winding roads or in urban areas. And they have no protection for their calculation.
Despite this, and despite increasing competition from the wheeled SG, claims that the towed artillery is dying or has already died are in fact slightly premature. Many users are still interested in the positive qualities of towed howitzers: stability and survivability in all combat conditions, ease of operation, the most modest logistical needs and last but not least, the cost of procurement and deployment. In addition, artillery tugs are mostly standard military trucks that can also be used for other purposes when they do not need to do their direct work. There is no need to say that this is not at all the case with artillery systems mounted on trucks. In addition, in operational terms, light towed howitzers remain indispensable in certain geographical conditions and / or for some units, as has been clearly demonstrated in Afghanistan.
Approximately 2 / 3 of the world artillery fleet is represented by towed models, including around 11000 155-mm howitzers. And at present, a certain number of programs are being carried out to modernize or replace existing samples. New developments focused on howitzer 52 or 45 caliber with high performance on the one hand and so-called ultralight models on the other. Currently active 155-mm howitzers programs include:
BAE Systems Bofors FH 77B05 L52 (Sweden). The FH 77B05 L52 (NATO standard caliber 52 barrel) is a further development of the successful FH 77B02 L39 model. A longer barrel and a larger chamber leads to an increase in the range of more than 40 km. The howitzer uses modular and capus charges, from which you can shoot intelligent ammunition of a new generation. The onboard ballistic computer allows you to calculate firing data, perform automatic guidance and fire control, automatic ammunition data and weather data. FH 77BO5 L52 has its own ground navigation system, eliminating the need for observation and sight, which reduces operating costs.
The FH 77B05 L52 is currently not in service and has not been ordered by any country, but it is one of two contenders for a large Indian order for the purchase of 400 units and further local production of 1180 more systems. The FH 77B05 L52 is being offered for India by the new Defense Land Systems India, a joint venture between BAE Systems and Mahindra & Mahindra.
Norinco PLL01 (China). Based on the earlier GHN-45 model (caliber 45 barrel), the PLL01 was manufactured by the first batch of 54 systems in number to re-equip the Chinese army artillery regiment. It is sold for export with or without the APU (12 tons) or in a lightweight version of the GM-9,8.
NIKE T155 PANTER. Developed in Turkey with some support from the Singapore company STK, the T155 PANTER is mass-produced for the Turkish army with the aim of gradually replacing the old M114. Reportedly, final demand is 138 units, but production has already exceeded 225 units. The first export order from Pakistan for the supply of PANTER 12 howitzers was also received.
PANTER is the heaviest (14 tons) and the longest (11,6 m in towed position) howitzer 155-mm / 52 caliber among modern models. It is also arguably one of the fastest due to its APU with an 160 horsepower, which allows it to reach speeds of 18 km / h. She has a reduced calculation of 5 people, she can shoot 3 shots in 15 seconds.
Soltam ATHOS (Israel). Developed as a private program and not having orders announced today, ATHOS is unique in that it is the only modern towed howitzer with 39, 45 or 52 barrels of caliber. Barrel replacement requires minimal modification. It is also offered with or without the APU. It is also the only 155-mm towed howitzer that has a 180 ° shelling sector horizontally compared to a conventional 60 - 70 ° sector.
STK FH2000 (Singapore). FH2000 developed by Singapore Technologies Kinetics for the Singapore Army based on the previous model FH88 155-mm / 39 caliber, it is the first towed howitzer 155-mm / 52 caliber, entered service in the world (1993). She has a calculation 8 man, diesel APU power HPN 75 allows you to move independently at a speed of 10 km / h. The howitzer can shoot at a maximum range of 42 km using extended range ammunition. The shutter mechanism is semi-automatic, that is, the shutter opens automatically during roll-up. Electronically driven, hydraulically driven, a pulse rammer sends a round to the chamber with a high level of consistency.
Production for the local market seems to have been completed; manufactured over 50 systems. Several FH2000 were sold to Indonesia. The howitzer competes with the FH77 B05 L52 under the Indian program.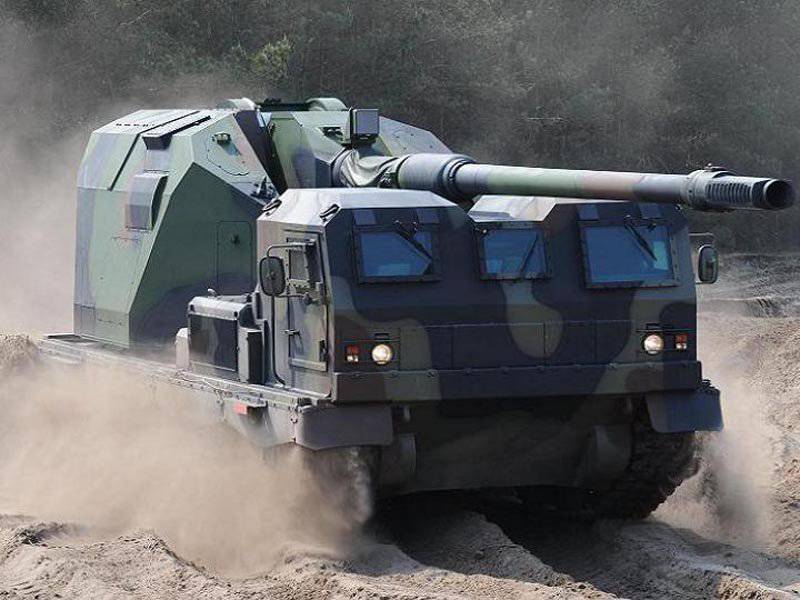 KMW / GDELS DONAR combines an AGM turret with a caliber 155-mm / 52 turret on a modified ASCOD chassis. Intelligent automation solutions enable DONAR to have two people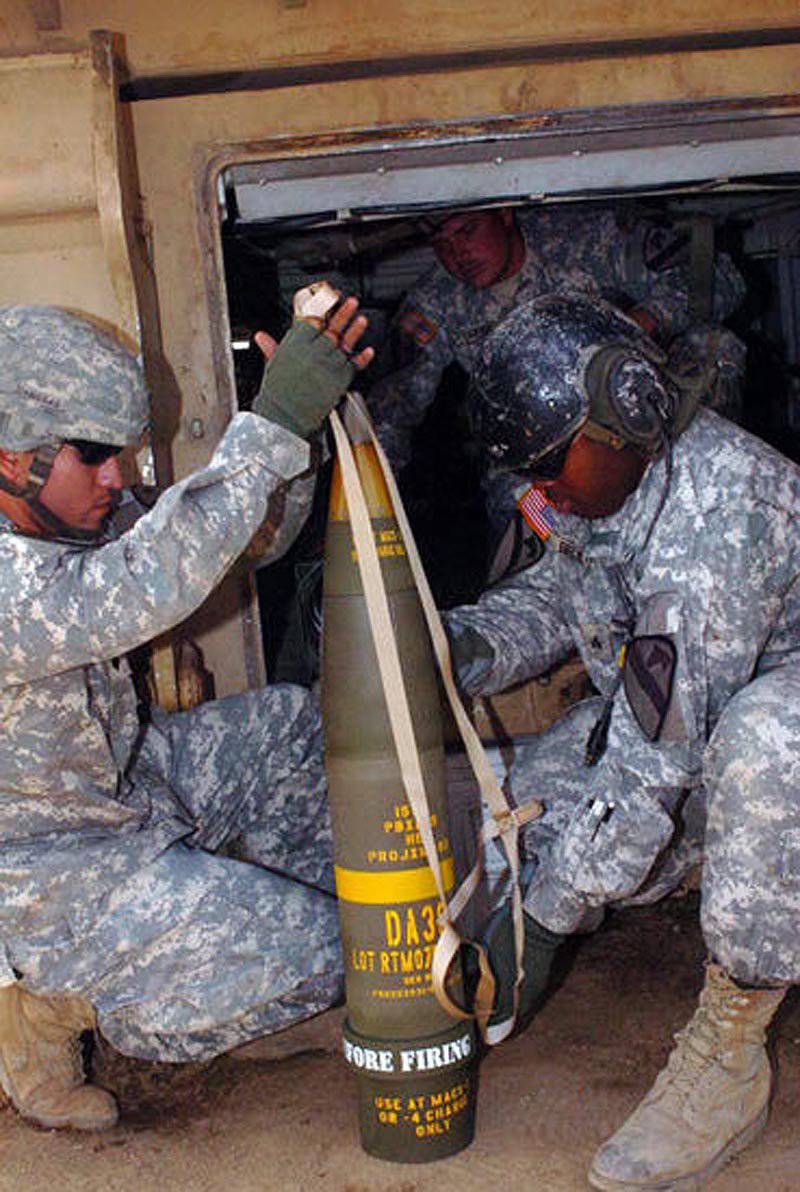 M982 EXCALIBUR guided missile "preparing" for a shot
GDSBS SIAC (Spain). The newest howitzer 155-mm / 52 caliber production General Dynamics Santa Barbara Systemas has such improvements as the APU and semi-automatic loading mechanism, allowing you to have a maximum rate of 10 shots / min against 4 – 6 shots / min from other systems in this class and conduct continuous fire from 60 shots for 30 minutes. The howitzer is positioned in 120 seconds and is ready to fire in 90 seconds. SIAC is in service in Spain and Colombia, and mass production continues.
The new ultralight class (HLW) includes two models:
BAE Systems M777A1 / M777A2 (United Kingdom / United States). Howitzer M777A1 / A2 155-mm / 39 caliber is in service and in mass production for the US Army (273 ordered) and Marine Corps (380 ordered), as well as Canada (37) and Australia (57).
The M777 is the world's first artillery system in which titanium and aluminum alloys are widely used. With a mass of less than 10000 pounds (4220 kg), this is the lightest 155-mm howitzer in the world, i.e. a field gun whose weight is half the size of a conventional 155-mm system. Low weight allows you to quickly deploy M777 in any theater, including helicopters. The gun is currently being deployed in Afghanistan and Iraq, it will also be supplied with a new M982 EXCALIBUR guided munition developed by Raytheon and BAE Systems, it has a maximum range of 40 km and an accuracy of 10 meters. The calculation for M777 consists of 5 man, the howitzer has a maximum rate of fire of 5 shots / min.
STK SLWH PEGASUS (Singapore). PEGAGUS can be described as an intriguing "semi-self-propelled" system due to the presence of an 21 kW motor, which allows the gun to move independently at a speed of 12 km / h. The total weight of 5,4 tons is easily compatible with transportation on the suspension of a cargo helicopter. The system has a calculation of 6 - 8 man, 3 shots are shot in 24 seconds. PEGASUS 54 systems are in service with the Singapore Army.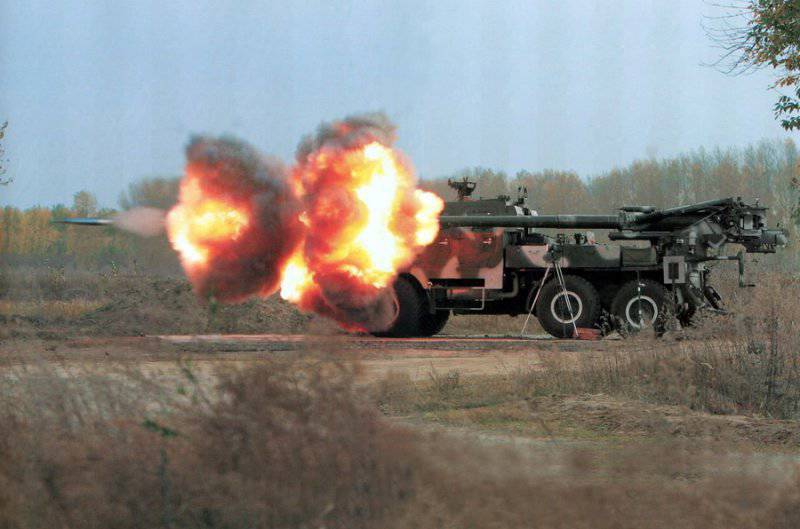 The Norinco SH155 caliber 52-m / 1 system installed on the truck is firing direct fire in the photo. Is in service with PakistanSerbian NORA B52 is shown in the photo. This is the newest version with front and rear armored cabs, they give protection to the crew during movement and shooting. NORA B52 won two import orders before entering into service with its own army
Appearance of MRSI
Until the recent past (and this situation persists in many countries), artillery systems could rely mainly on high-explosive or cluster projectiles to deliver impact to a target, with only one exception to the sadly unreliable laser-guided projectiles, for example COPPERHEAD. Thus, the final effectiveness of artillery fire depended, and to a very large extent still depends, on such factors as the quality of the gun, the internal and external characteristics of the munition and its destructive power, the training and professionalism of the artillery crew and advanced observers, as well as speed and efficiency. the entire process of transferring and calculating data for firing.
Taking into account the multiple influence of the above factors, the organization and maintenance of effective artillery fire was still (relatively) an easy task for fixed / slow moving or unarmored targets, but became almost impossible for fast moving, well armored, pinpoint targets, such as MBT, especially when impossibility of carrying out the adjustment. As a result, shooting guidelines determined, for example, the need to shoot at least 30 155-mm projectiles to cover an 100 x 100 square, which contains three or four heavy armored vehicles.
The above problems are currently worsening due to political and operational implications. On the one hand, the ban on cluster munitions eliminates virtually what could be the main tool for correcting the lack of accuracy inherent in artillery fire in the final segment of the trajectory, that is, a massive strike on the target area. On the other hand, the increasing deployment of artillery weapons in asymmetric and counterinsurgency scenarios makes it extremely necessary to reduce indirect losses to a minimum. Fortunately, a number of technological developments come to the rescue.
First of all, the appearance of the 155-mm / 52 cal configuration of the NATO standard with a 23 liter chamber is an optimal compromise between mass and size on the one hand and ballistic characteristics on the other. Automatic or semi-automatic loading systems allow you to shoot 3 shots in less than 20 seconds and to fire 6 shots / min for several minutes.
Secondly, and also importantly, a new generation of intelligent munitions is being introduced with submarines, controlled on the final trajectory, or having sensory fuses (remote) or at least the ability to correct the trajectory. Programs such as SMArt, BONUS, EXCALIBUR, Krasnopol, Kitolov 2 or SPACIDO now provide the possibility of destroying armored vehicles in motion, as well as destroying fast-moving targets or threats in urban environments without destroying everything around them.
At the same time, GPS-based ground navigation systems are becoming widespread along with command and control devices and SLA, allowing artillery to take up their positions for firing much faster and then fire accurately. Especially important in this regard is the use of control systems to automatically transfer target coordinates to artillery command posts and then transfer orders to open fire on individual guns so that the latter already have all the necessary information about the target and number of projectiles even before taking the prescribed positions for firing. This actually transforms each individual artillery system into an almost autonomous one and allows you to hit a target from the first shots without the need to shoot sighting ammunition.
The end result of all of the above is the concept of MRSI (Multiple Rounds Simultaneous Impact - the simultaneous impact of several projectiles. The angle of inclination of the barrel changes and all projectiles fired at a certain time interval arrive at the target simultaneously). Round the clock, in any weather, without zeroing in order to maximize the surprise of the blow.
The capabilities of MRSI imply a very high rate of fire (in fact, the most attainable), as well as quick means for accurately calculating small changes in the propelling charge and angle of vertical guidance for shooting each subsequent projectile along a different trajectory. Practically, and also depending on the type of gun and the ammunition used, nowadays you can reach a MRSI salvo from three to six rounds at a range of 15 - 35 km. The accuracy at the end section varies from 95 meters to 15 km and 275 meters to 30 km for a standard high-explosive fragmentation shot, but improves dramatically (less than 10 meters) using new generation intelligent ammunition.
155-mm artillery with sensor fuses destroys vehicles in motion
Manufactured and marketed by GIWS (a joint venture of Rheinmetall AG and Diehl Group), the 155-mm SMArt 155 artillery shell is specifically designed to disrupt armor attacks.
SMArt 155 means Sensor-fused Munition for Artillery, Caliber 155mm (artillery ammunition with a touch (non-contact) fuse, caliber 155 mm). This is a reliable, highly effective artillery shell of the "shot and forgot" category. Each projectile has two autonomous, intelligent submunitions with high performance. They are capable of neutralizing fixed and moving armored vehicles, including
Tanks
in any environment and in any weather. SMArt 155 can stop the onset of armored vehicles with minimal ammunition consumption and with very high accuracy even at long ranges of destruction. The risk of indirect loss is minimized.
The projectile has a thin-walled casing in order to obtain the maximum volume for two sub-shells. The combination of multi-mode sensors with a projectile type shock core (or EFP) makes these submarines extremely effective. Excellent target definition and falsifying, a large coverage area, high probability of hitting and outstanding warhead characteristics guarantee maximum mortality and destruction on the ground, that is, effective neutralization of armored vehicles.
Fire missions can be completed with just a few shots in a very short period of time. This allows you to use the tactics of "fired and drove away", significantly reducing the effectiveness of the enemy's counterbattery fire, a critical factor in protecting their forces.
Excessive self-destruction is a key feature of the SMArt projectile, whose creators paid particular attention to avoiding the risk of unexploded ordnance. If the target is not found in the search area, two redundant and independent mechanisms consisting of strong and simple components guarantee that the projectile will reliably "self-destruct", which allows its troops to move in the zone with greater confidence. There is a goal, no target, the combat unit of the sub-order suspended by parachute is designed so that it is undermined as soon as the height above the ground becomes less than 20 meters. If this function does not work and the sub-order falls unscathed, the warhead automatically detonates as soon as the voltage from the battery drops below a certain level. This mode also closes possible malfunctions of sensors and electronics.
GIWS developed a projectile at the end of the Cold War so that the Bundeswehr could counter the threat of armored vehicles of the Warsaw Pact countries, which led to an economically beneficial form of deterrence.
Today, the armies of Germany, Switzerland, Greece and Australia are armed with SMArt 155. The SMArt projectile is constantly being upgraded, it has successfully proved itself in 26 shooting tests, confirming its extreme reliability.
Materials used:
Military Technology
www.baesystems.com
www.nexter-group.fr
www.elbitsystems.com
www.stengg.com
www.rheinmetall.com
www.norinco.com
www.denel.co.za
www.gdels.com
www.ztsspecial.sk
www.yugoimport.com
www.diehl.com