Algeria refused the French frigates in favor of Russian corvettes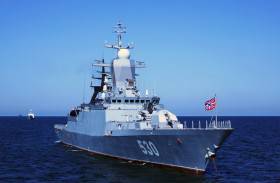 Algeria intends to purchase from Russia three corvettes of the 20382 "Tiger" project - an export version of the guard ship of the 20380 "Guarding" project, - citing its sources in the Rosoboronexport company, the Vedomosti newspaper reports.
The contract is estimated at 700 million dollars. Earlier, the Algerian Ministry of Defense planned to purchase French fremm class frigates, the cost of each of which varies from 400 to 600 million euros, which is significantly more expensive than the cost of Russian corvettes.
The agreement with Algeria, if signed, will be the first export contract for the supply of ships of the 20382 Tiger project.
In 2006, a number of agreements were signed between Russia and Algeria for the supply of weapons and military equipment for a total amount of 7,5 billion dollars. Algeria expressed interest in acquiring Russian frigates of the 11356 project, but later began negotiations with the French to acquire fremm class ships.
In case of concluding an agreement with Algeria, an order for the construction of corvettes of the 20382 project "Tiger" is planned to be placed at the Baltic factory "Yantar", where the Indian order is now being fulfilled for the construction of three frigates of the 11356 project.
Ctrl Enter
Noticed a mistake Highlight text and press. Ctrl + Enter