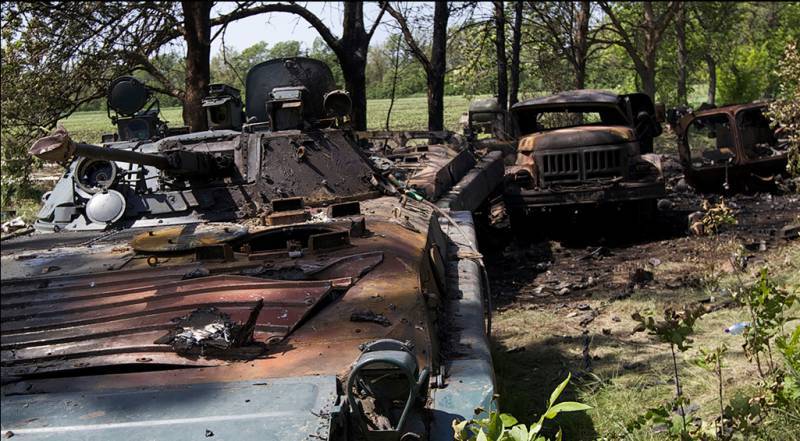 Several stories from the rubric "Tin"
The first story from a fighter of the special forces "Alpha", who was released on vacation for 10 days. Says that all this is hopeless. The local population is not ... unbeatable. The fighter does not understand what all this is for. Shows "mobile phone", opens the list of contacts. He says that half can already be removed. These guys are gone. In the last month alone, 40 people have died, whom he knew personally and with whom he communicated. He has a presentiment that, having gone back to the ATO zone, he will not return. During the vacation, he wants to have time to notarize all the documents for mom. He says that those recruits who arrive in the ATO zone are cannon fodder. There is fear in the eyes. They know little. Experienced fighters agreed among themselves not to make friends with recruits. They are afraid to get used to it. They are afraid to be friends. Because then it will hurt.
The mother of a contractor lives in the next doorway. No persuasion works - she flatly refuses to talk about it publicly. She's ashamed. She is ashamed to look not patriotic. The son is crying on the phone. They were forced to dig trenches. Water is coming into the trenches. Ankle-deep. Because the groundwater is high. Shoes one size up will get wet. The guys are sitting in trenches with water. As soon as it gets dark, there is no escape from mosquitoes. They eat it alive. The children were given half a loaf of gray bread and canned food (sprat in tomato). For all day.
Another off-air mom says the following. There is nothing to shave with. The guys are overgrown so that the outside is not much different from the Chechens. Washing your head is a whole problem. Most of the time they wear a helmet. The head sweats, the hair turns oily, itches. To avoid lice, they cut each other's hair. There is a fatal lack of socks and panties. Healthy men who walk in heavy shoes all day are embarrassed to take off their shoes in the evening. The smell is incredible. Taking a normal bath is a basic dream. At least somehow they wash in a hurry - because water is worth its weight in gold. Many have forgotten what it is to brush your teeth. Water for them is more valuable than body armor. The soldier says that his dream is to sleep on the bed.
Another
story
... The children are 20-21 years old, study at the Lviv Polytechnic. When the summons arrived, the parents rushed to look for loans. To redeem their son from the ATO zone, they ask for 1200-1500 dollars. Moms are shocked. One sold all the gilded jewelry. Another, runs to doctors in search of a certificate of a fictitious illness. Parents say that the employees of the military registration and enlistment offices are just in the air. "Loot" knocks down around the clock. A friend is calling from Kiev. Bought off for $ 2000. The question is, is it cheaper in Lviv ...
Another guy writes in private: the summons came in May (not for mobilization, but for the call). I was very surprised, because ahead of writing master's, defense and presentation of diplomas. He has been allergic since childhood. In the period from May to July, he experiences the strongest phase of allergy every year. Runs from the nose. The eyes are red like a rabbit's. Sits on antihistamines. In addition, the left eye is almost invisible (vision is less than 10%). Despite everything, it was recognized as fit. They said, let my mother come - maybe she will solve something. And my mother is working. Most of all, his question aroused ridicule: if I get into the ATO zone, will they give me pills against allergies? The guy had never heard such group laughter.
Other story. Poet, translator, writer, arranges literary events, published several books of his own. They said that they would teach him to shoot from some kind of anti-aircraft gun. The fact that this writer has never held anything heavier than a bag of books in his entire life does not bother anyone. Or - an artist. A very subtle, creative, creative person, gay. According to any indicators, it is not suitable not only for war - even for hard physical labor. The person is just from a different test. Prepares a personal exhibition. His head hurts, where to get high-quality oil paint - what kind of war is there? Keeps track of his appearance and neatness. He can listen to conversations about war only for reasons of new subjects for paintings. These are the people who are far from any military theme. This is an outrage against them.
Another guy, 30 years old, qualifies for mobilization. Yes, he really was in the army. All I have learned is to mop the floor well and peel potatoes quickly. He missed the united meeting, because just at that time he fell ill with measles and spent a month and a half in the infirmary. He will not fold the machine. Formally, according to the documents, he is a shooter. But
weapons
does not know how to use. And most importantly, he does not want to. Because now he cooperates with international foundations to help orphans. For him, the agenda will become a personal tragedy. Because he is neither psychologically nor professionally suitable a priori.
Another story is from Ternopil. The father of three minor children (16, 8 and 2 years old) received a summons. The man has a wonderful job. Earns 9000 a month. Asks: will the state provide for my family at the same level as I am doing now? Or do you want me to quit my job with a salary of 9000 and go and risk my life for three times less?
Another woman called. Her godson volunteered. He abandoned his underage daughter. For half a year he does not send any money for the maintenance of the child. Strangers feed her. The apartment debts have already exceeded 2000. When the daughter asks her father about the money, she says that no one has paid him yet. And some of those who were injured were written "home trauma".
... This is just a part of the stories that flock to me. All these people are ashamed. They fear that they will be accused of undermining the morale and misunderstood. I can't promise them anything. Because under this text, pathetic comments are guaranteed to appear on the topic "Ukraine is above all, for the sake of it you need to risk something" and so on. Others will write that all this is fiction, give names. Someone else will write that the author must be immediately sent to the front line - let him die for his country. And as he dies, then so he needs it.
I have nothing to oppose to each of these messages - except for the silent shame of these people, from whose mouths I write these stories. Ashamed of yourself. Shame for their "unearthly" demands to the state, which despised them for 23 years. They feel powerless to exploit their sense of patriotism and duty. They all perfectly understand everything.
On their behalf, let me ask the President: where is your 1000 UAH per day, which you promised to pay to each soldier in the event of your election? Where is their 1000000 life insurance - as you promised during the election campaign? Where is your promise that only volunteers will be in the ATO zone?
Well, of course - we have a crisis, yes, yes ... Our people resemble body armor, while Ukraine ranks 4th in the world in the export of weapons ...