Interview with refugees. Civilians fleeing from Ukrainian shells know exactly who shoots them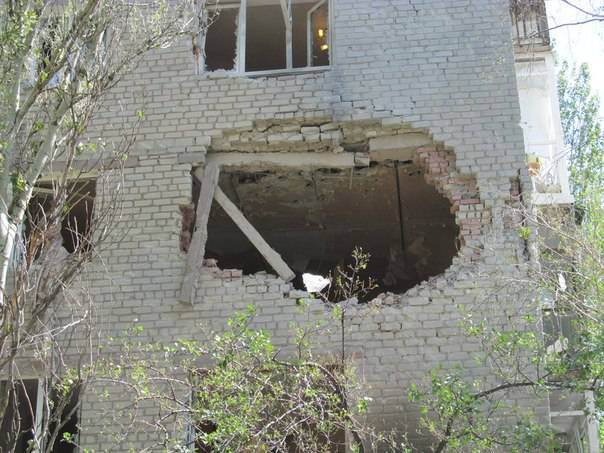 The Donetsk dormitory, where deputies of the Novorossia parliament visited today on behalf of their leader, Oleg Tsarev, is now inhabited by 50 people evacuated from Donbass hot spots, 15 of which are children from 2 to 16 years. Almost all fled from the bombing in almost what they were in bomb shelters and basements. They say that they barely had time to grab the documents, and some even did not have time to take them.
Deputies Alexander Kolesnik, Rustam Abdulaev and Oksana Bevtsyk bought and brought them humanitarian aid: a washing machine, household supplies, bedding, dishes, hygiene items, food, toys, fruits and sweets for children.
The bulk of the refugees - women, children and the elderly. People are depressed and confused. Everyone has their own grief. And everyone has one common misfortune - the war, from which they save their children. And they all have the same questions: why are they bombed at home, what are children to blame for and when will it all end? Questions rhetorical. People are well aware: those who can answer them are blind, deaf and numb from their cruelty.
Helen's son took straight from the bomb shelter, where they hid with colleagues. She was at work when heavy bombing began. The son did not even let him go home. He was afraid for his mother's life. Mother, with whom he remained alone in this life. And she is with him. Elena had three children. She buried two of them. It was only he, her hope and meaning of life. "They closed their eyes and went ... We were accompanied by a star, we were here. Life is scary. Kill civilians. Thanks to those people who understand this and help us in distress, "said the woman through tears.
"It is painful to talk about it, and to survive - all the more so," says Tatyana, who came here just yesterday from Uglegorsk with three children and a mother. - Bombed. Fearfully. The glass shakes, the house shakes. Everyone in our house has small children. And we all fear only for children. Otherwise, they themselves would have taken
weapon
and went into the militia. "
Together with Tatiana came here several of her friends, neighbors and acquaintances. Uglegorsk is a small town, almost everyone knows each other there. All husbands - in the militia. Lena, a mother of two children, is very worried that she has not heard her husband's voice for almost a day - the number is not available. He says that there are a lot of such concerns, because a husband is at war: "Somehow he didn't get in touch for two days. Friends have almost considered him a "two hundredth."
But I believed, I was looking for - I was ready to lap up the entire field with sunflowers on my knees, just to find him alive. Thank God found. But now again there is no connection ... Our little son was operated on yesterday, and the husband does not even know about it. Should have been done on Friday at home, in Uglegorsk. But we were given 15 minutes for fees to take the children to a safe place. I had to negotiate and operate the child here. Today came from the hospital. "
We asked Arthur, 3, how he feels. "Namayna," answered the little one. - And the Kamaiki bit me and then smeared me with green paint. And we have thunder every day in the yard, and my mom and Dasha spend the night in the basement, and I want to see my dad. "
"We lived quietly at home, worked, did not touch anyone. And today we don't know if we're at home or not, they say, women are running on. - Nowhere to return. And how to return? All abandoned. And if it were not for the people who help us here, we do not know what would have happened to us. Where to go with children?
Here, too, explosions are heard, but at least not under the very window. Children, only hear the rumble of this "thunder", hiding - under the bed, under the bedspreads and crying.
We have a question for the Ukrainian government: how many children must still die in the Donbas in order for it to stop bombing us? When will Poroshenko see that ordinary people live here, who are killed by his army every day? It seems that today we are not in Donetsk, not in our field, but in some other, unreal world. It seems that all this is not happening to us. "
Press Center DNR © http://dnr.today