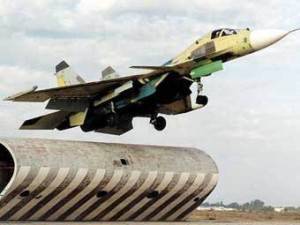 Russian Minister of Defense Anatoly Serdyukov at a meeting with his Ukrainian counterpart Mikhail Yezhel on Wednesday asked him to transfer a deck simulator to Russia for rent
aviation
THREAD (Crimea).
"I signed an appeal to the Minister of Defense of Ukraine with a request to transfer to rent or in some other form a NITKA test site for trainings of deck aviation," RIAA quoted Serdyukov.
News
".
Recall that a year ago, the Minister of Defense Anatoly Serdyukov said that Moscow expects to receive from Kiev the use of a unique range of NITKA runway systems (research aviation training complex) in the Crimea and, as a source in the Defense Ministry told the newspaper VZGLYAD, it's even ready abandon their plans to build a similar landfill in the Krasnodar Territory.
According to Serdyukov, with their Ukrainian counterpart, Mikhail Ezhel, they discussed the possibility of using the NITKA landing range, located near the town of Saki, used to test landing aircraft on the deck of aircraft carriers. "The Russian side is interested in continuing education at this firing range of pilots of deck aviation. Currently, positions are being agreed regarding its technical condition, pricing procedure and settlements for the services provided," said the head of the Russian defense department ITAR-TASS.
In November, 2010, the Ministry of Defense of Ukraine announced its intention to increase the fee for Russian pilots using deck aviation of the Ukrainian test site.
As the newspaper VZGLYAD previously reported, until 2008 pilots of the 279th naval fighter regiment of the North regularly trained on the simulator
fleet
(airfield based Severomorsk-3). In September 2009, the Ukrainian side refused to allow Russian pilots to the training ground, citing technical reasons.
Russia annually paid Ukraine 500 thousand dollars for the rent of a simulator, and also completely at its own expense and on its own repaired all its equipment.
The ground-based test aircraft simulator is a special training complex that simulates the deck of an aircraft carrier. Designed for testing technology takeoff and landing of the aircraft. It is an airfield with a steel flight field in the form of a ship's deck, equipped with a springboard and aero-finishers. Its dimensions are equivalent to the parameters of the flight deck of the heavy aircraft-carrying cruiser "Admiral of the Fleet of the Soviet Union Kuznetsov" of the Northern Fleet of the Russian Federation.
06.0