Normal western country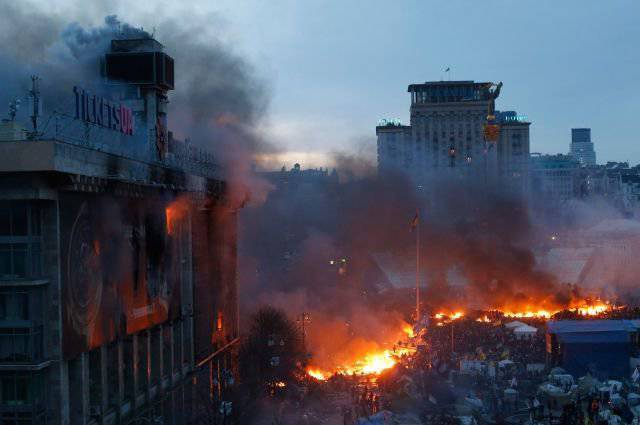 An unknown Ukrainian citizen wrote something to me about Borodaya and "what would the Russian Federation do if it were a normal Western country?"
They asked - we answer.
If Russia were a normal western country, it would declare a special operation to force Ukraine to peace, within which Ukraine would bomb Ukrainian cities for several months, first of all Kiev. One of the first goals would be the Kiev telecentre.
Then a "weighted" peace treaty, approved by the UN Security Council, would be signed. The treaty would imply the withdrawal of Ukrainian troops from the declared (not controlled by the rebels, but the declared) territory of Novorossia, the deployment of Russian troops and UN peacekeepers there (if UN peacekeepers are against, then you can do without them, but in such conditions peacekeepers will, of course, be in favor) . At the same time, the treaty would proclaim Novorossia as an integral part of Ukraine and would launch the peace negotiations between Ukraine and Novorossia.
The negotiations would have lasted for ten years. During this time, the disloyal population of the Beard and Co. would have been squeezed out from the territory of Novorossia, and Moscow would once again declare that if Ukraine and Novorossia could not agree, then it would recognize Novorossia as an independent state. In such conditions, there would be no reason to agree on Novorussia, of course, and one day its parliament (without any, we will note, referendum) would declare independence of Novorossia. Moscow would recognize Novorossia, stressing that this is a victory for democracy, and there is little that is written in the peace treaty and the UN Security Council declaration.
Boroday would become the prime minister of the Moscow-funded Novorossia and would receive him at the highest level in the Kremlin. In this case, Colonel Girkin (Prime Minister of New Russia during the transition period) would be charged with war crimes against the Ukrainian population. But in view of the fact that all the witnesses in the Girkin case totaling several dozen people either disappeared or were killed or renounced their testimony, the court would acquit Girkin. Having headed the Alliance for the Future of Novorossia party, he would have become the main competitor of Borodai in the struggle for the highest posts in the new state.
Russia and Novorossia would create a trade association and start negotiations on the accession of Novorossia to the Eurasian Union.
But all this, of course, would have happened only if Russia were a normal western country.
At least, the Republic of Kosovo appeared just like that.