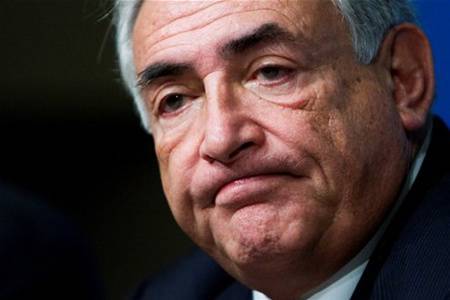 As the newspaper "New York Times", the case of Strauss-Kahn threatens to fall apart in court. The testimony of a 32-year-old immigrant from Guinea, who accused the former head of the IMF of attempting to rape, raises serious doubts from prosecutors. In addition, it turned out that there were serious inconsistencies in the testimony of the so-called "victim of sexual violence". "Since the initial charges against her, Strauss-Kahn, she has repeatedly lied," - writes the New York Times, referring to sources in law enforcement.
The newspaper also reported that shortly before contacting the police in connection with the so-called "attempted rape" she had a conversation with an unknown man. They discussed what benefits can be derived from the accusations addressed to Strauss-Kahn. Further more. As it turned out, the interlocutor "of the victim of violence was a resident of the United States who had already been detained for drug possession. The police also found out that over the past two years he had transferred large sums of money to the maid's account several times. In total, she received about 100 thousands from him dollars.
In studying her biography, other interesting details emerged. During interrogations, she told in a tragic voice that she had mentioned previous rape cases in her asylum application in the United States. However, in the papers that she filled out when filing documents, nothing like this was found.
As a result, the investigation established only one thing: the maid did have sexual contact with Strauss-Kahn, but there was still no evidence of coercion to such contact or rape. And, most likely, it will not be. But first it was necessary to humiliate and trample a person, handcuff him and not just shackle him, and disgrace the whole world in this form. And next to him at all the photos should have flaunted the American police, full of pride for having detained such a terrible criminal.
If the affair finally collapses, then many will be disgraced. The judge, who had not figured out anything, took the sternest measures to the accused and defiantly sent him to the most terrible prison in New York. Oskandalitsya New York police, which in this
stories
appeared, frankly, not at its best. The entire American Themis, who spat on the presumption of innocence, who had previously declared the person guilty and trampled him into mud, would be offended.
And of course, the vaunted American press, which for some reason declared itself the most impartial and most democratic, would be discredited, even though there were already hundreds of cases to make sure that this did not have the slightest relation to reality. The same press that unanimously, as in a totalitarian state, supported the bombing of Belgrade. The same press, which with foaming at the mouth proved to the whole world that Saddam Hussein has nuclear, chemical and even bacteriological
weapon
. The same press that is included, as if on cue, and tears up another enemy of America appointed from above, be it Milosevic or Muammar Gaddafi.
Take at least the same "New York Times", by the way, is still the best newspaper in America. What not just talked about in the hot pursuit of Strauss-Kahn and his victim, its observers! Maureen Dodd, known for her Ionic essays, choking with indignation, attacked Strauss-Kahn as if he were Saddam Hussein or even worse. In her article with the characteristic title "Influential and Primitive," she described "a God-fearing, hard-working young widow who is straining from hard work in a hotel in Times Square to provide her teenage daughter, to justify the shelter provided to her and take advantage of the opportunities that America provides. " Here, all readers must collectively weep and even cry out. But then - to experience the attack of the noblest indignation. After all, he encroached on the God-fearing maid - we quote - "a mad, excited old satyr, who ran out naked from the bathroom, attacked her and began to drag her around the room like a caveman."
The story of a modest God-fearing maid and an old wrinkled satire was repeated in many publications on this subject. It was said that the poor maid was deeply depressed, wept for a long time, worrying about her bitter fate, and that she was only from
News
- do you imagine? - I found out who exactly encroached on her modesty and godly fear.
Next Maureen Dodd completely suffered, as in his time Ostap Bender. First of all, it remained to those French who tried to express doubt that Strauss-Kahn suddenly turned into a caveman. The observer pinned them to the pillory: they say - "people with constantly unbuttoned fly, who read notations to other people." Got to Schwarzennegger. She gave him the nickname "Sperminator" and called him "a famous European with an alarming tendency toward sexually aggressive behavior." Do you need to remind the raging observer that when Schwarzenneg lived in Europe and was European, he was not famous at all, and became famous in America When did you get her citizenship?
But this is not just nonsense, hypocrisy and limitation. Everything is much worse and much more neglected. Behind the indiscriminate and even contemptuous attitude towards Europe and European politicians, the desire to deal with a man whose guilt has not yet been proven, the righteous indignation of European mores, where women allegedly cannot protect themselves from "influential and lustful old men" is the holy belief in superiority USA over the whole world and all American over all non-American. "This story," writes Maureen Dodd, full of such superiority, is an inspiring example of how in America even a maid can afford to have dignity and the right to be heard when she condemns one of the most powerful people in the world that he predator. "
In fact, this story is not about a maid with unearthly dignity, but about a completely different thing: an attempt to blackmail and deception, supported by the entire pious press, and how in America, in the name of totalitarian political correctness, they spit on the presumption of innocence for the sake of public reprisal a man who, most likely, just slandered.
The same notes and another columnist, "New York Times" Robert Cohen. Again - bad and elite French politicians who believe they have the right to rape maids, again - reasoning about how "a young African woman raised her voice against violence from an influential person," and that there was no conspiracy against Strauss-Kahn and there was an attempted rape. However, before raising her voice, a young African woman decided to find out from her supervisor how much she can get from this influential person. True, there was no evidence of coercive sexual intercourse. True, the whole story strangely coincided with the intensification of the struggle in France for the presidency and for the further course of the IMF. But for all American journalists it doesn't matter. It is more important to put aside all suspicions, to call legitimate questions absurd and to proclaim - once again - America's everlasting rightness and its superiority over the whole world.
There is only one "but". Sorry, this is not journalism. This is called propaganda. And in this regard, the American media is really the best in the world.