US intelligence agencies: Boeing-777 militia shot down, most likely by mistake
On Tuesday, US intelligence officials said at a press briefing for journalists that the Malaysian Boeing-777 airliner was shot down over the territory of Ukraine by militias, who most likely made a mistake by mistaking it for a military aircraft, reports
ITAR-TASS
.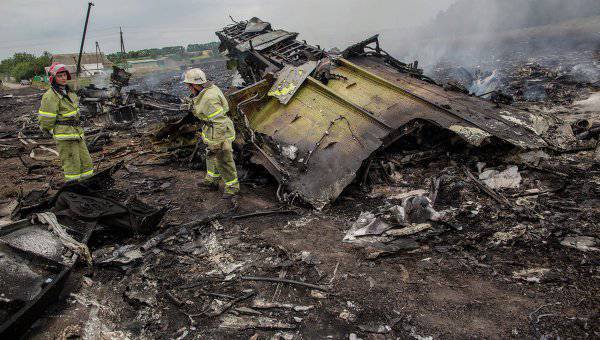 "We don't know who hit the button ... We don't know the name, we don't know the rank, we are not even 100% sure of the nationality ... The most plausible explanation is that it was a mistake, and the rocket was launched by a poorly trained crew," intelligence representative.
It was noted that Washington did not have any evidence of Russia's direct involvement in the disaster, but it "created the conditions" that led to the tragedy as a result. In addition, once again there were accusations against Moscow that it supplies the militia of the DPR and LPR with various weapons, including
Tanks
and air defense systems.
No technical information was provided to support the statements about the involvement of the militia in the crash. According to American intelligence officials, they are based on satellite imagery, radio interception, and information from various social networks. It was noted that the reliability of some data from open sources has not been confirmed.
RIA
"News"
reports that the United States also questioned the information of the Ministry of Defense of the Russian Federation about the situation that was developing in the area of ​​the crash of the Malaysian aircraft. On Tuesday, Russia's permanent representative to the EU, Vladimir Chizhov, said that the relevant report had been submitted to the European Union. According to him, on the part of the latter, "so far there is no reaction."
"It was followed only by the United States, and was quite predictable - they put Russian data into question. This, of course, is their right. But, if they doubt, they would have to present their evidence, which they have not done yet. I will add that never in such situations the Americans do not present actual evidence, referring to the fact that this is intelligence information, that it may compromise their sources, etc., "stressed Chizhov.
On July 21, the Russian military reported an increased activity of the Ukrainian radar stations shortly before the tragedy, the Buk anti-aircraft missile complex deployed to the militia territory, as well as a military aircraft, which was located next to the airliner.