From the stories of the front
I am not a writer, and it is difficult for me to describe these events. Therefore, I will write on behalf of my father. He told me a little bit. Maybe it will be interesting.
I came to the front in the spring of 1943 in a penal officer's company with a penalty box. With me and another poor fellow, a motorist lieutenant, they took cubes from their buttonholes (epaulets had not yet been issued), issued rifles - and were put into operation.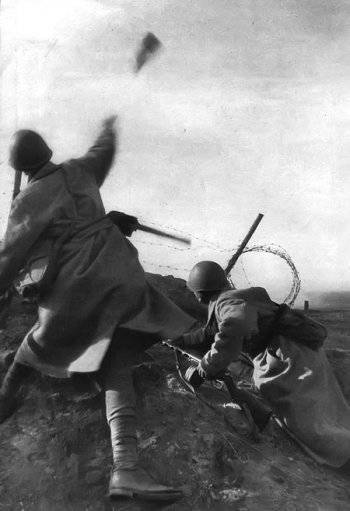 The company took up positions opposite the notorious Blue Line in the Kuban. The position was flooded, the strongholds were scattered. I and two of my comrades slept in a boat and often woke up with a wet shoulder, because the boat was leaking. But it was spring, and we basked in the sun, until a stray bullet flew between us and killed the third.
After a small artillery preparation, the company was sent on the attack. They walked knee-deep to the waist in the water, and only when I saw that there was no one around me, I lay down for a bump. When it got dark, got out. There are seven people left from the company in 140. And they were all officers. Even the wounded were not drowned.
The company began to receive reinforcements, and they made me a messenger. They gave a small punt. I delivered the reports between strongholds.
Once swam to the open place where the reed was mowed down by an explosion. I did not take into account that the German was on a hill - and got: he fell out of the boat, and the water was boiling around. And only one thought: "Here is mine, here is mine." Out of ammo. While the German was reloading the machine gun, I managed to swim into the reeds. Then he counted more than twenty holes in the boat and several in his overcoat.
Soon my monthly business trip in the penal company ended, they returned the title and sent on to fight.
PS My father always said "punishment company", although the officers - penal battalions. Maybe someone will fix it, I did not find anything.