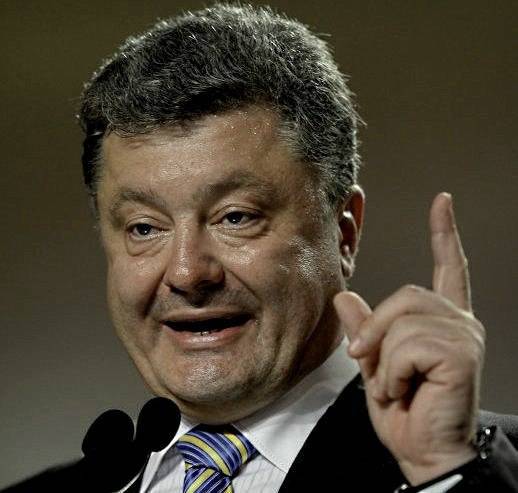 My numbers will be extremely scarce, only arguments in an intuitive sense - I'm not a minstat:
- benzel was on 12 became 16-17
- Komunalka increased by 80% and will continue to grow
- my income fell to zero. Just do nothing.
- the good thing they managed to get out of the warehouse until May is also to translate everything into liquidity, which we are now stupidly eating
- the same bribes, only on a larger scale
- a naive colleague-entrepreneur "slapped" at the border with the goods = minus the cost of a consignment - he did not want to give out a bribe, I thought, like, they already canceled bribes
While all may still remember that
-----------------------------------------------------------------
We have to border with them (Ukraine, approx. Avt.) 50 kilometers. Machines with their numbers missing, although previously there was not at all. In passport offices do not break through, every second holds a passport with forks, discuss how to solve issues with documents. Prices for work of the type "we load, we carry, we dig, we break" have fallen heavily.
-----------------------------------------------------------------
My friends make carved furniture like workmen. They don't increase their salaries, but rather delay them. Since there are less orders. The system is inert. They're spending their stocks and leftovers. The owner of the office at Aiudi said the flag will post on the production shed. Like a patriot. Well, he just himself offended. Friends of others work at a construction site. Now they go three days a week and they will hang out. Projects are suspended or frozen. Fully appears on the windows. Rent or sell. Etc. I went to Odessa. U is really a lot less visually. There are no crowds on Deribas and in pubs. That lost profit will come out in the fall.
-----------------------------------------------------------------
Kharkiv grannies at the entrances are almost unanimous: there was no such bedlam under the bandit Yanyka. I do not know, as in other cities, but in Kharkov they are still talking about this topic without fear. Prices are rising, pensions and salaries are not. The shops on Barabashovo are closing - wholesalers from Belgorod do not drive. In the city at the offices there are a lot of leaves in the windows: rent, sell. The farther, the more leaves.
-----------------------------------------------------------------
Well, about Kharkov:
- prices for imported drugs have risen strongly (almost 2 times)
-an expensive hygienic pads and household chemicals
- Risen imported products on 40-50% (for example, olives, sprats, Italian pasta)
-people began to talk more often about politics, any mood, but more pro-Russian
- in the center there are more blue and yellow rags
- In some universities, employees began to send more often at their own expense for a week or two, but not everywhere. NTU "KhPI" is a quiet island of prosperity, for which I thank the rector, he is clever and well done, God grant him health.
-the entrants enter universities, the city is still in the mainstream of a peaceful life.
-----------------------------------------------------------------
every day - like on a dynamite - you are waiting for everything when it babakhnet completely.
Prices are rising - I left 200 UAH in the store, but now just yesterday 600 didn't buy anything ...
Communal - growing.
At work - the number of orders falls, every day there is talk that we will close.
Talking around is only about the fact that Russia is a murderer, an aggressor and yours, America is beyai, fluffy and cool.
Well somewhere so ...
-----------------------------------------------------------------
Kiev
Hryvnia devalued by 40%
Products and goods zabugornye more expensive, respectively.
Drugs - well, almost 2 times (importers laid the course for the euro greatly overpriced, insured)
Vegetables fruits of our production - cheaper for the season (well, it always has been). Sausages, jelly and the rest did not seem to go up much.
Companies providing services are trying to keep prices so as not to lose customers. Salaries froze.
The communal apartment has risen in price - but so far it is insignificant (well, at least for me), but when the heating season starts, I think everyone will feel it. Familiar put boilers in large quantities, will the mains stand?
Fuel (took for an example the price of a Socar gas station):
1.01.2014
A-95 - 10.99 uah
DT - 9.99 UAH.
21.07.2014
A-95 - 15.99 uah
DT - 14.99 UAH.
-----------------------------------------------------------------
How prices have changed in the last month
Expensive. Gradually, carefully, but every day.
Drugs soared into the heavens, some disappear. The old women who complained earlier that Corvalol went up by 10 kopecks are now silent. For ... democracy.
Products - chicken practically = the price of pork. Those. expensive and that and that.
Cat food with 20 gr. became 42 and threatened that the delivery will not be (yes, I care about it, I can do anything, and what to feed the predator?)
There is no salt or rarely comes across))) In the sense of stone, there is a little extra and iodized for expensive.
In the boutiques of sale - take at least something, just take it. This is for clothes. Jeweler prices steadily.
Dollars change - just bring. Moreover, they practically do not sell. Has handed over, I stand, I think of the, the man runs up to an exchanger - to buy. Cashier: "no".
as with orders in your business
On the streets darkness appeared young guys and young ladies with advertisements "windows and doors for cheap"
From acquaintances, many are surprised (those that jump) say that there are fewer customers, calculations in dollars, revenues are falling.
what neighbors and colleagues say
Like that: Russia is an enemy, they attacked us, the East is not a pity - there are terrorists.
We endure 5 years / 10 years (underline the necessary) and everything will be cool. And those who are in chocolate and now agree to endure.
My friends at work detained a salary for 10 days, then they paid a part. They promise to give somehow. They are silent because jumped and I do not risk complaining. Others are waiting for a big cut.
Deposits are pulled out with a fight. But in Kiev, all the same they give.
Nazis from acquaintances suddenly said that it is necessary to make stocks for the winter (a week ago she made fun of such thoughts)
Not jumping or silent or share only with like-minded people.
Friends thought that otmazali children from the army. I recalled that they also have husbands (now they sit, worry)
as the situation on the streets
All painted in bicolor (I do not know who is selling paint, but he is clearly in the win). The flags on the cars, though diminished by the euro ribbon. Cafes, glamor, exhibitions - hamsters rest.
Armed types with machine guns and in camouflage all the time on the street drive.
There are a lot of sellers and consultants in the shops from the west (this was not the case before)
-----------------------------------------------------------------
In Kiev, our classmate lives with his wife. When last year everything was just beginning, she wrote to her classmates that everything was through, the politicians shared power, this did not concern them. I also wrote that Russia had all muddied it. 2 weeks ago, write-help, there is nothing, send money. Sent a little, no response, no greetings
-----------------------------------------------------------------
I remember how my sister on the Internet advised me to communicate with her compatriot from her city in Dpepropetrovsk region. In response, she came from her sister, "I will not sit on the pot with this little woman" And a complete negative. I do not understand anything. The same "little woman" (also with a hohlya name) was like a smart lady. We talked with her on Skype until this year for three in a row. Then she disappeared from view and did not really communicate. In the spring, after the May events in Odessa, he accidentally glanced at her page and was struck by the words - "separatists," "katsaps," and "terrorists." Then he saw that in the photo with her boyfriend, from whom she had a daughter. The guy is eight years younger than her. On the Internet forum he has the nickname "Fascist". He considers himself to be "truly Russian," and he considers us to be "moskal", "threatened Tatars" - in short, sub-dandruff dandruff, nonhumans, untermenschim. And little wife. whose seemingly head should be much smarter and much more experienced than him, turned into a "Frau" with Nazi views. Then I remembered the words of my sister about that "jewel with whom I don't even sit on the pot ...". Her sister already saw through it in advance as a "Svidomo" mutt with a woman's flair ...
-----------------------------------------------------------------
Cherkasy. The plant for the repair of military equipment, repurposed in 90 for the repair of heavy machinery, is closing, all these years, at the very least, it is working, now it is closing - the mother-in-law is selling warehouses. A sister-in-law, a cook, cannot get a job. According to the mother-in-law, in the city is quiet, but depressive, spring slogans "yes we will show this fucking moskalam" anymore, more and more keep quiet. The father-in-law is not maydauny, strenuously planting vegetable gardens, rolling seams, buying gas in balonnas and chopping trees for firewood - they are prepared in general. Retirement in June was given.
-----------------------------------------------------------------
Lugansk region. Everything is going up every day. Many simply do not have medicines and delivery is not expected.
The second month is not paid pensions, social benefits and public sector wages.
I work in the housing and utilities sector - the rent remains the same, but the payment is 20%. Therefore, our s / n is not expected. Of the work we do only emergency gang.
Breaks are heard every day and planes are flying, but it's still quiet on the streets. True, the number of thefts and robberies has increased.
With banks problems.
Many still wear St. George ribbons, but the fuse is not the same, of course. On the street and in transport - talk only about the war. The treachery of the rest of Ukraine and Russia is heatedly discussed.
But still we hope for the best.
-----------------------------------------------------------------
I am a "liverworm", i.e. liver disease. For prophylaxis, I take the drug Darsil (a cheap analogue of the Bulgarian Karsila), produced by PrAT Pharmaceutical Firm Darnitsa (Kiev), once every two months.
Kiev chain of pharmacies Vitalux, my purchases of Darsila in 2014, the price per pack:
January - 12,70 UAH;
March - 16,60 uah .;
May - 20,90 UAH .;
July - 26,90 uah
-----------------------------------------------------------------
Mariupol
Gasoline A92 - 15 UAH 85 cop
Many firms and small enterprises work at 50%, many have released employees on unpaid leave.
Large enterprises are holding on, but I know for sure that people work at Azovmash for an incomplete week, and almost from winter.
Vegetables on the market are cheap (we are still in the south), and products have risen in price.
Journey to the bus 4 UAH.
Kommunalku not yet paid, but I know that the rise in electricity and hot water.
Electricity is now 30% more expensive.
The city is controlled by the battalions of Azov and Dnepr. Squeeze cars from people, many cases of disappearances of people, drunk shooting, raider attacks. There is a planned koshmarivanie population.
At the same time they painted fences, bins, pillars, benches in the colors of the Ukrainian flag. Constantly arrange some flash mobs on the theme of love for Ukraine.
Men in fear waiting for mobilization. Mulling over the option to get
weapon
and blame the militia or try it is not too late to dig a basement and sit in it.
-----------------------------------------------------------------
In Ternopil and Rivne 95% of the population is zombie ukropropaganda. Believe any nonsense, because they do not have alternative sources of information. All Putin's curse and "klyatyh Muscovites", while the majority either have already left for work in the Russian Federation or are sitting on torches and are going to leave. In Ternopil, all Russian products in stores are labeled with tricolors, the population is afraid to buy these goods. Prices are gradually increasing every day. Small and medium business is bent. The purchasing power of the population falls every day. Invalidity is not actually for sale. All hid and cherish the stash.
Svidomity do not want to go to the Donbass with the "Colorado".
-----------------------------------------------------------------
Village, 50km from Odessa. Most lives on the thumb, summer, gardens, farm. Salt disappeared, but already appeared, sugar 10грн per kg. People are given shares. What is surprising is the price for the share grain has not changed much compared to last year. It was 1600grn for 800 kg of grain, now they give 1750grn. For the same amount. The smartest villagers are switching to solid fuel boilers, now they are simply booming. A neighbor complained today that a child allowance was already being delayed for weeks on 2, Kiev did not transfer money, they called Kiev, the answer was that your application was accepted, check letters and see. Pensions still give. They try not to talk about politics, they discuss the economy more. For about a month now, rumors persistently creep in that in the fall the war will begin in Odessa. In Odessa there are very few tourists, the port is still working somehow. In the freight forwarding office, where I once worked, almost half of the employees were laid off, and the salary was cut by 2 times. In the field of construction and repairs end old objects, almost no new ones
-----------------------------------------------------------------
Kharkov. Prices rose by all. Very expensive drugs. services at about the same level. products went up, but unevenly. vegetables are relatively cheap now, cereals, macaroni - at about the "pre-revolutionary" level, meat from the winter - almost doubled. food prices are constantly "crawling" - a little bit, but they are rising. minibus - 3-3.50, subway 3 UAH. gasoline, they say, has grown strongly, but I will not say the number - not relevant
on the street, in principle, without any special changes, people go about their business, young people are walking ... except that there are fewer cars ... poles and trees are painted with bright-colored flakes, but in almost every figure above there is either a swastika or a red spot. I saw on Saturday a traditional gathering of maydanutyhs near the Shevchenko monument - well, the 100-150 man was, at most. In general, there is a certain feeling in the city ... Zanep in Ukrainian, I don't know how to say in Russian ... there are fewer bigboards, posters from the opera theater have almost disappeared ... there are a lot of windows in the center with the words "I will rent rent, "just closed boutiques and shops ... My acquaintances tell me, on Drum and Loske (the clothing and car markets, respectively) - full well ... factories work part-time a week. Familiar on the bearing works - he says, in August, waiting for a very large reduction. The state employees had their surcharges cut, they removed the additional rates, left a maximum of one.
moods ... among my personal acquaintances - there are practically no maydanutyh. at the same time, they don't really want to go to Russia, but everyone doesn't actively like what is happening - in particular, nationalistic manifestations. Donbas sympathize and support.
-----------------------------------------------------------------
Dnepropetrovsk. A rise in price of a communal flat is understandable, but to say that for me this is "deadly" - no, we will break through. In connection with the growth of the exchange rate, the prices for all kinds of things have risen, but again, to say that because of this "everything, we die tomorrow" - absolutely not. More noticeable prices have risen in stores, in the markets somehow it is less noticeable.
And my family, my parents, parents of my husband, my 90-year-old grandmother - we live normally. I work in the civil service. The first problems with the salary happened in the spring of 2013, under Yanukovych, and not in 2014, as many people think. This year, I have no problems with my salary, everything is paid just in time, and even our company's operations in previous years have paid off their mortgages. The size of my salary did not increase, but it did not decrease either. The husband works in the field of the railway (at the factory). In 2013, there was a crisis with orders in general, now work slowly appears, the salary is not very high yet, but it has not decreased compared to 2013. Pensions are paid on time, dad has even increased a little recently. Mom doctor, s \ n also pay all on time, the size of s \ n has not decreased.
In the city itself, the situation on the streets is calm, no one rally, shoots anywhere, many patriotic sentiments. If they saw, July 13 was an attempt at a pro-Russian rally in the Dnieper, but it was dispersed by people (look in Google). Kogiechno, there are all sorts of nuances (such as the fire of the minibuses of the pro-Russian deputy of one of the city council were set on fire), but this is like me compared to Donetsk and Lugansk - household trifles.
TV (both Russian and Ukrainian) and the Internet work without failures, newspapers are published. In general, everything is as before, except for a slight increase in prices, of which only two are the most tangible - it is for drugs and for gas heating in the winter (I am in a private house, a gas boiler), everything else can be overcome.
I can not believe that this is happening in 250 km from the Dnieper in Donetsk. We really live our lives, fry kebabs and gather at the sea. And we very much hope that peace will come in the long-suffering Donetsk and Lugansk regions.
-----------------------------------------------------------------
For the rest of Ukraine I will not say, but the picture for a typical district center in western Ukraine is as follows.
Man - extremely tenacious cattle, adapts to everything. That and adapted to this. People live a normal normal life, as if nothing is happening. He goes to work, goes in for gardens, prepares children for school, does expensive euro-repairs, builds houses, organizes rest as much as he can. On weekends, cars and barbecues do not overflow on the river. Everyone complains about how hard it has become, but these conversations have been going on since the beginning of the 2008 crisis of the year and no one is surprised. As you look at sweeping quail eggs "average Ukrainians", you begin to doubt the existence of a crisis. There is even a joke about this - in Ukraine there are three stages of lack of money: 1) no money, 2) absolutely no money, 3) it's time to change bucks.
The dollar rose from 8 to 12 UAH, but it stabilized and fluctuates in the 11,90-12,00 range. Gasterbaters bring / transfer money from EU countries and the same Russia in hard currency, so this did not affect the incomes of the population as dramatically as one would expect. Drugs rose in sync with the dollar. Domestic - percent on 25-30 (perhaps still old purchases). The communal apartment has grown, but not as quickly as in Kiev (it was greatly undervalued there), plus in the summer it is not yet visible. The population does not consume impregnation on an industrial scale, it is not heated with gas, and water has been expensive before. Centralized heating should grow strongly, but for the last 15 years, people have massively switched to individual boilers. And in the private sector (the so-called hut, of which there are many in villages and district centers), the boiler is often duplicated by a wood-burning fireplace. So they will not freeze as long as there is firewood, but this stuff is enough here. Lepestrichestvo for enterprises (including shops) is growing monthly on 6 kop / quatt (currently already 1,42grn / quatt)
Gasoline A-92 - almost 16 UAH / liter. The fare in the minibus has grown from 2 to 3 UAH. The Internet has not increased in price, at least for now. Cable too. The non-tariff tariffs of mobile operators have slightly risen in price, but given the free talk within the same Life network, this is not significant.
At the salespeople, the revenues fell in comparison with the period, but there was no mass closing of the stores. All puzhatsya, pulling the case on the accumulated fat and try to wait out the crisis times. Sales of real estate, cars and other expensive "excesses" are, but everything else is alive. Clothes and shoes have risen in price, but they are replaced by second-hand and stock. A large plasma with tablets also did not stop buying. Banks are still issuing consumer loans, albeit at a large percentage. Some business is even expanding (second-hand, pawn shops). In grocery supermarkets, the people did not become less, and buy carts, as before. Some products went up, some did not. Folk breads added from 10 to 30 cents. Steep by the type of Borodinsky with sesame seeds and seeds are on 10 UAH for 400 grams. Canned vegetables (peas, corn) did not grow or grew slightly. Cheese grew about half as much, but we always had them expensive. Chicken fillet has risen in price from 33-35грн to 50 UAH per kilo, chicken legs - from 20 to 33грн. Liter of good sunflower oil level "Oleiny" 15-16грн per liter. Pepper Bulgarian first grade 50-60 UAH per kilo. Deferred - 30-40грн. The confectioner has added in the price from 30 to 50 percent. Fruits are expensive, but still cheaper than in Russia (compared to Bashkortostan and Magnitogorsk). Eggs 70-90op depending on the delivery. Potatoes from 2,5 to 6 UAH per kilo (depending on the size). Percentages of 20 increased canned fish. Beer has grown from 10 to 40%, but almost all manufacturers launched promotions "buy 2 bottles, get a third penny for 1." It turns out 3,5-5грн / 0,5л. More expensive varieties are up to 10грн / 0,5л, imported inexpensive Czech and German 10-15грн / 0,5л. Vodka from 30 uah / half a liter. Cognac 3 stars from 40грн for 0,5л. Rows of expensive whiskey / tequila / henessy and do not think row.
Friends called me, they told me that Truskavets and Morshyn were practically empty, sanatorium workers complained about the lack of tourists and the reduction / delay in salaries. It became harder for state employees, nobody wants to sell anything to them, because no confidence in payment. In Kiev, people almost every day are going to protest against something (loans, the dollar rate, tariffs), but this is far away and frankly violent for the authorities. As long as people are not concerned personally (there is nothing to pay the loan, a relative died during the anti-terrorist operation or simply they called for the army)
The mood among people who support EdinuUkraine is clearly not a defeatism (thanks to the censorship in the media). "We will win, America is with us, Ukraine, uber alless!" Drunk youth at night on the streets often bawls a song about Putin la-la-la-la. In the minibuses, the people are scolding the authorities for "our children are going to die in the Donbass, and from there they send us dirty refugees / jackets / drug addicts" and the classic "oligarchs have again plundered / bought / sold everything". But this is more from the category of the eternal kitchen chatter, and no one is going to leave for the Madian. All these disassemblies and wringing out each other's business "up above" are perceived by the public indifferently as dismantling of some thieves with other thieves, since for hard workers nothing changes.
Donchan sorry to tears, they frankly genocide. Supporters of New Russia living in the rest of the territory of Ukraine are now also hard primarily psychologically. Lawlessness and impunity of the junta under the inaction and sluggish lowing of the guarantor with the Ministry of Foreign Affairs about the truce are perceived as a drain of the New Russia. More and more people are losing hope and are getting used to the idea that there will be no help from Russia. Looking at the blood-filled Donbass and Strelkov's constant requests for assistance with weapons, even those who are taking the pro-Russian position are becoming more and more strengthened in the thought "let Natsik, but at least the bombs don't fall on their heads." Numerous recent comments by the couch "dear Russians" in the spirit of "no one promised you anything," "why not 100% of the population in the militia," "why he himself is not in a trench," do not help either.
-----------------------------------------------------------------
info in Kiev
I have repeatedly said and I will say it again - stories about the fact that in Kaklostane there will be a famine-cold is nothing more than wet dreams of the Kremlin panties. The decoration is one of the largest exporters of food in Europe, and for grain it was included repeatedly in the top five world countries - there will be no hunger. It may be cold, but it will be in winter, and before winter it can happen so much in the first place in Russia. And then, the decoration can easily and simply take gas from the pipe, and no Russia will be able to prevent it, and the United States will agree with Europe.
Now about the numbers
The dollar is stable on 11,60-11,70gr
Gasoline 15-16gr
hot water, electricity, the rent has risen in price, but here is ridicule - Kiev is now almost without hot water, and thanks to this, people have received serious savings in their commune expenses
Work
Someone else, some firms for six months now send their employees constantly on vacation at their own expense, while others, on the contrary, are much more busy than before all the events. Salary, oddly enough, is paid to many without delay.
Aircraft factory Antonova rose almost completely, there is no work
But farm. Plants, as I was told, are now barely managed with orders for medications - war
Society
A complete departure from reality, talk of politics is almost inaudible, everyone seems afraid to talk about it. By the tragedy of people in the Donbas, many are as indifferent as indifferent zombies can be. The conscious consciousness is full: the Donbass is Ukraine, there are all Ukrainians, terrorists are bombing the Donbass, if people donbass are killed, they don't feel sorry for them. all Donbassians should be killed or expelled to Russia, because they are not Ukrainians, but all those who must be bombed against Ukraine, and the Donbass is Ukraine, and the Ukrainians live there, and the Donbass are bombed by terrorists - and so on. Germans became a nation of murderers in Germany, and then calmly bought mattresses full of female hair and slaves from the same ornament.
Hate for Russia is painfully hysterical, as if artificial, nevertheless generated instantly - as Pavlov's conditioned reflex. Organized by some youngsters paint fences, playgrounds, houses, pipes, stands, garages in yellow and blue, and the worse it gets - the more actively they will remove everything yellow and blue. Yellow and blue flags as a symbol of reliability - they were obliged to have all route makers, bus drivers, trolley buses, and two or three flags were stuck on their cars so that they would not be beaten if suddenly.
-----------------------------------------------------------------
Kharkiv
every three months I undergo a course of treatment (ten-day procedures for injections) the list of drugs does not change.
In early January, I spent 180 UAH on drugs, in early May - 430 (a rise in prices almost 2.5 times)
-----------------------------------------------------------------
Kiev.
As already noted, the dollar and the euro have increased by 50% since the beginning of maydaun, the prices of goods produced in Ukraine (mainly food products, we have almost nothing more) increased respectively by the same 40-50%, by that something more, something less. On import, everything is simple - a hard peg to the course, i.e. + 50% for different equipment, for food seems even more, for drugs are often 2 times or more (they changed the law, some benefits were canceled, some payments are still introduced), for cars by July basically came to + 50% to hryvnia value (until now, dealers at the expense of old stocks fixed prices at a lower rate of 10,5-11 UAH / USD). The communal apartment has risen in price for 20-50%, different services in different ways, but in general during the year the growth should be in 100% (laws are signed, as required by the IMF). On 30-50% the price went up in minibuses, and in the near future we expect a rise in price for the rest of the transport.
I work in the production / sale of metal, by the way, one of the main income items of the Ukrainian budget, as well as foreign exchange earnings. So here confidently approaching ASS!
The beginning of maydaun just coincided with the seasonal decline in this area, since November, because at the beginning no one was particularly worried. Usually, the metal market comes to life from the end of February and the beginning of March, but it was just here that the massacre on the Maidan happened, and sales did not start. In principle, from mid-March, the process started at the same level as last year and lasted until the end of June, it seems not bad, but ... From September to December of 2013, metal prices fell continuously and reached a minimum over the past few years by winter. Since March, prices have sharply gone up after the dollar, though lagging behind it in terms of dynamics. By mid-June, the rise in prices stopped at the level of 10000грн / т having started in February from 6000грн / т (average price), actually at the level of the dollar growth from 8 to 12грн. However, sales were mainly provided by metal traders, who, under the conditions of continuous and forecasted price growth, had the opportunity to buy metal cheaper today, and to sell it more expensive tomorrow less efficient. But the end users did not show particular activity. And then came the end of June, prices stabilized, traders filled the warehouses with metal, but the "end-players" never woke up. And judging by the communication with some of them, they are not expected to have a surge of activity, rather, on the contrary, they can completely curtail their activities. Total we have since the beginning of July, the largest decline in sales in recent years. Really spit in the ceiling, colleagues have a similar situation.
In the spring with the beginning of the rise in prices there was an increase in exports, but now, as the exchange rate has stabilized, exports also fall to their usual level.
I would also note that the construction sites have not stopped yet, and this is one of the main consumers of the metal, but it seems that here it is close to the brink. The price of new housing has practically not grown, despite the rise in prices for building materials, there is still a demand. Prices on the secondary market fell and continue to decline, demand is low. Realtors are now biting their teeth into customers. I came across the topic tightly when in April-May I was selling an old apartment, buying a new one.
Import of metal from Russia also fell to 0, and for political reasons, and because of the high price due to currency pegs. And this, among other things, is also a roll for the production of welded pipes, which a bunch of factories do here. They now have one supplier left - Akhmetov's plants, and this, besides the fact that 100% is a monopoly, which he, despite the difficult situation around him, is actively using, also still lacks its production capacity.
Here you can add problems with logistics in the country. Gasoline went up in the same 1,5 times as the dollar, and sharply. Carriers have nowhere to go - also raised prices. But not everyone is ready to pay more for shipments right now in 1,5. Plus, a significant part of the metal production (and not only it) turned out to be in the combat zone. Some carriers in such a situation decided to curtail their activities rather than risk their property (the burned wagons in the Donbass were seen on the internet and on TV more than once).