Rear Admiral of the PLA Navy on the possibility of building an atomic aircraft carrier in Russia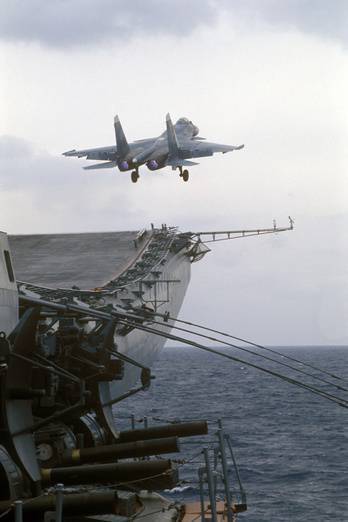 Rear Admiral of the Chinese Navy Yin Cho gave an interview to the local media, where he made a "in-depth analysis" of the statement about plans to build an atomic aircraft carrier in Russia for 2023. This message was made during the 5-th International Naval Salon in St. Petersburg, the head of the United Shipbuilding Corporation (USC) Roman Trotsenko. As is known, this statement was almost disavowed by Russian Defense Minister Anatoly Serdyukov, who again reminded that the State Arms Program 2011-2020 did not provide funds for the construction of aircraft carriers.
Responding to questions from the correspondent, Yin Cho said that in Russia for almost 10 years the issue of building aircraft carriers has been debated. The new Russian nuclear aircraft carrier may have a displacement of approximately 75 thousand tons, which is slightly less than American ships of this class. The amount of fleet can reach 60-70 machines. These could be the Su-33 and MiG-29K fighters, and perhaps the fifth-generation T-50 fighter will be developed.
The only Russian aircraft carrier Admiral Kuznetsov, according to the admiral, cannot provide "high intensity of military operations", which is "very dangerous." In his opinion, Russia should have at least two carrier strike groups. According to him, before 2030, Russia planned to build six aircraft carriers. The current naval strategy of Russia has become almost "coastal", and the Russian Navy must return "to the sea." In his opinion, the construction of aircraft carriers, attack submarines, as well as the purchase of Mistral helicopter carriers in France and the continuation of their construction at their own shipyards will allow Russia to create naval forces that are close in structure to the US Navy. Submarines are not enough to control the Arctic, the Chinese naval commander believes.
Answering a question about the possibility of building an atomic aircraft carrier in Russia, Yin Cho believes that from a technical point of view, the construction of such a ship would not be particularly difficult. Russia has sufficient experience in the construction of "large-tonnage" nuclear surface ships. Most importantly, Russia needs to resolve some issues related to the creation of a catapult, including working out its application in the conditions of the emergence of "steam and ice" on the deck. The technology of arresting equipment has been developed to a sufficient degree. Thus, problems of creating a catapult capable of operating in the conditions of the northern seas should be "gradually resolved".
Ctrl Enter
Noticed a mistake Highlight text and press. Ctrl + Enter