Poroshenko ordered not to open fire in the crash zone of the Boeing. In less than five days ...
President of Ukraine Petro Poroshenko several days after the collapse of the passenger liner ordered the punitive detachments to stop the military operation within 40 radius of km from the crash site. Such a statement by the president according to the established Ukrainian tradition was spread through social networks by the press secretary of the ukropresident, Mr. Tsegolko. This time we decided to use Twitter microblogging service (translated from Ukrainian):
Poroshenko: in the radius of 40 km (around the crash site), the Ukrainian military will not open fire.
Subsequently, Poroshenko himself, through the Ukrainian news agencies, announced that he had indeed given such an order. What prevented Mr. Poroshenko to order a cease-fire in the area of ​​the crash of the aircraft immediately after the tragedy? - he did not specify. In Kiev, they didn't specify exactly which place the law enforcement officers needed to count 40 km in order to refrain from continuing the punitive operation. According to representatives of the DPR, the wreckage of the aircraft scattered over an area longer than 12 km, the search for the remains of the dead continues to this day.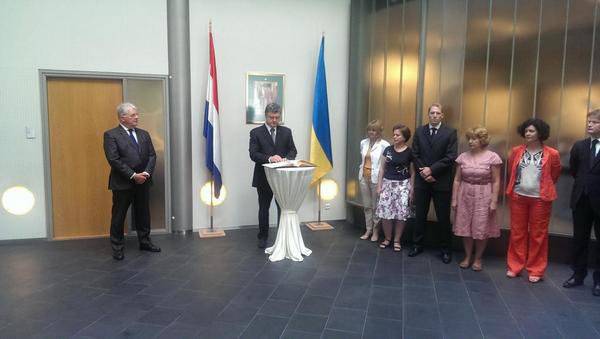 Poroshenko visited the embassy of the Netherlands, where he announced that "Ukraine is doing everything to investigate the attack on the airliner." And in fact, however quickly Ukraine does everything for an investigation ... Even the "guilty" ones know it without expert examination.