Russian Air Force received three Su-34 front-line bomber
"Russia's Arms"
reports that on July 18, the Russian Air Force received three Su-34 front-line bomber, built at the Chkalov Aviation Plant in Novosibirsk.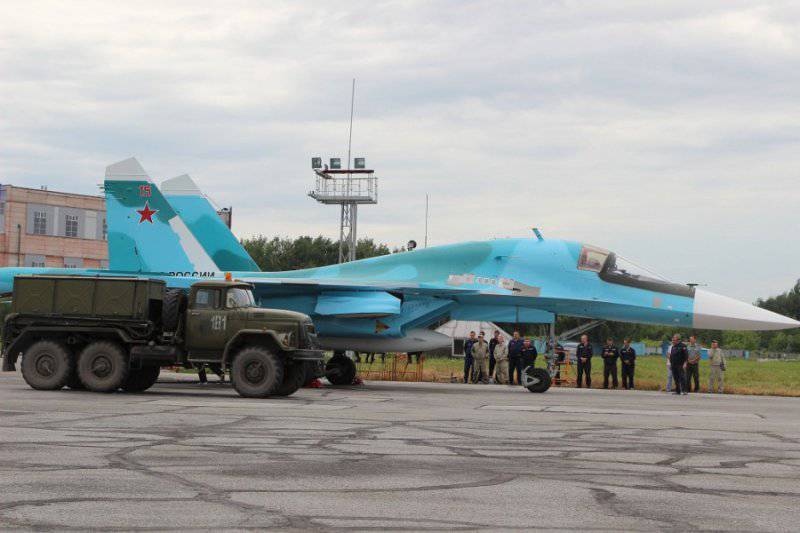 "It is important for us that sending a large batch of cars was accompanied by a direct line with the Minister of Defense. Now sending aircraft in this format will be carried out continuously. The plant is now operating at maximum capacity. A state contract with the Ministry of Defense of the Russian Federation for the supply of Su-34 to the Air Force until 2020 ensures stable workload of the plant for the coming years and determines the prospects for its long-term development. Today, Su-34 airplanes are successfully used in the Air Force and demonstrate high performance, "said the director of the aircraft factory Sergey Smirnov.
This is the second batch of aircraft transferred to the Air Force this year. In 2008, the Ministry of Defense of the Russian Federation signed a contract with the Chkalov plant for the supply of 32 Su-34. In the 2012 year, another contract was signed, which provides for the production of 92 of such machines for the 2020 year. In just the year 2014, the company will launch the 18 Su-34 aircraft.
Three aircraft set off for the 559th Separate Bomber
aviation
Regiment of the 4th command of the Air Force and Air Defense of the Russian Federation, which is based at the Morozovsk airfield in the Rostov Region.
Machines manufactured under the 2012 contract of the year received a light camouflage color, which differs from the eggplant dark-gray and blue Su-34 colors, produced under the 2008 contract of the year.