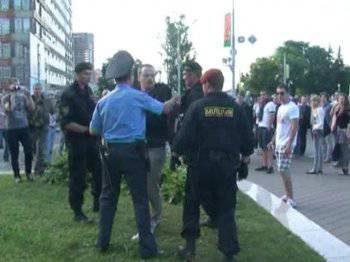 Official celebrations against the backdrop of social protests, accompanied by mass arrests, will be remembered by the residents of Belarus on Independence Day, which the country celebrated on Sunday 3 July.
About a month ago, appeals appeared in the Belarusian segment of the Internet to all opponents of the policy of President Alexander Lukashenko to hold a mass protest on the main state holiday.
The activists of this action "Revolution through a social network" expected that tens of thousands of people would take part in it, who would gather without any symbolism in the central squares of Belarusian cities and protest by applause. Despite the fact that in reality the protesters turned out to be an order of magnitude smaller, the response from their performance turned out to be considerable. And contributed to this, first of all, the authorities themselves.
In Minsk, in order to disperse the protesters at Privokzalnaya Square, numerous detachments of officers of special services disguised in civilian clothes were thrown. These sports people, short-haired people, defiantly ignored laws, used brute physical force, provoked fights, grabbed action participants, journalists, even simple onlookers and dragged them into buses without license plates. According to eyewitness accounts, tear gas was used during the collisions.
According to the Belarusian media, more than 200 people were detained in the capital during the holiday, of which several dozen were detained in a Minsk detention center for offenders. The law enforcement agencies promise to give the exact number of detainees a little later.
Attempts to hold protests were made in other cities of the country - in Brest, Grodno, Gomel, Mogilyov. There are also detainees, including journalists, ITAR-TASS reports.