Brazil confirmed its intention to conclude a contract with Russia for the supply of 3-x batteries of the new Pantsir-C1 anti-aircraft complex. The amount of the transaction will be more than a billion dollars. This newspaper reports
Look
.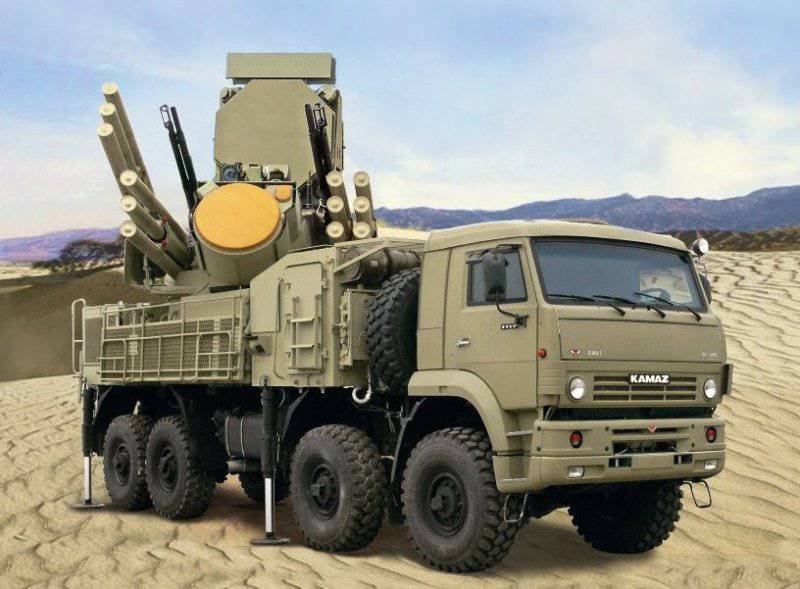 "Now we are going through the latest procedural agreements. Currently, joint working groups are focused on finalizing operational requirements, which include contract structuring and transfer of ZRPP production technologies. In September, our working group will arrive in Russia to clarify the requirements for the complex. And in October-December we will sign a contract. "
told a source in the Ministry of Defense of Brazil.
ZRPK is planned to be included in the command center of the aerospace defense of Brazil "COMDABRA". The complexes will protect critical infrastructure, military establishments and airfields.
The Russian "Pantsir" is installed in the body of a four-axle KamAZ of the "Mustang" family. The system consists of 2-x blocks, each of which includes 6 hypersonic anti-aircraft missiles, and 2-x rapid-fire cannons, located on the inside of the launch containers. The complex is equipped with a radar station and a station of optical-electronic tracking of targets.
The deputy head of the Tula Instrument Design Bureau, which produces ZRPK, Yuri Savenkov said that Brazilians are interested in the Panther because it meets all their requirements.
"We have excellent means of intelligence, detection and identification of the target. An optical-electronic system that not only provides guidance for missiles and artillery systems at a target, but also allows operators to see exactly what they are shooting at: a drone, a parachuter, a hang glider or a small-sized aircraft. And, accordingly, assess the degree of threat. In addition, "Pantsir-С1" can be used not only for air, but also for ground targets "
told Savenkov.
Hypersonic missiles of the complex can hit targets at altitudes from 15 m to 15 km and at a distance to 20 km.
"Pantsir is the only combat system in the world capable of firing rockets at a target while moving, and it does so instantly, immediately after detecting the target, without pre-launch preparation typical of missile weapons"
explained Yuri Savenkov.
Initially, Brazil had planned to purchase complexes before the football championship to protect sports facilities, but in the total confusion they did not have time to do so. Now delivery is scheduled for 2016 year. True, Brazilians still have one condition: to adapt the complexes for their own production trucks.
It is also assumed that the ZRPK will be serviced by the Brazilian firm ODEBREHT Defensa e Tecnologia. She also has to master the production and 30-mm ammunition for guns.
The upcoming contract will bring Brazil into the category of strategic partners of the Russian Federation in Latin America. The country already purchases Tigr armored vehicles in Russia, Mi-26 and MI-35 helicopters.