Dolgov: Losses of Ukrainian militants number in the thousands
In the last week alone, the loss of Kiev security officials in eastern Ukraine totaled at least 1 thousand, said in an interview
ITAR-TASS
Co-Chairman of the Popular Front of New Russia (NFN) Konstantin Dolgov.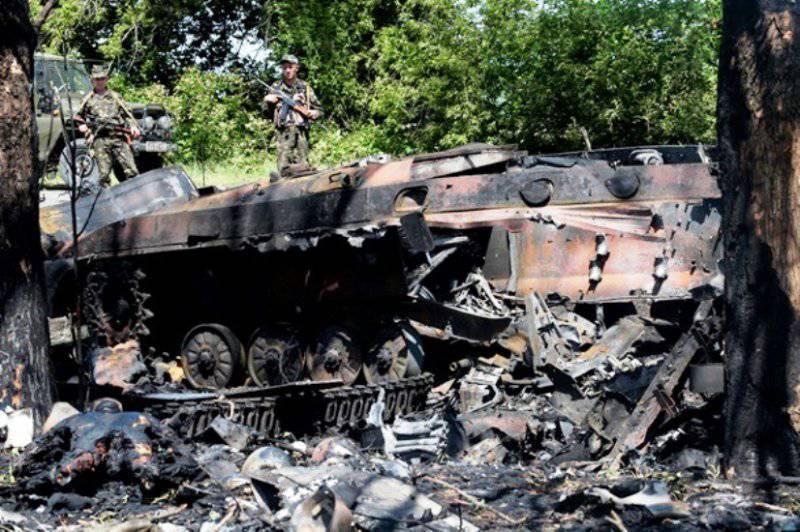 The militias have reliable information that there were about 4 thousand corpses in the Kharkov morgues, and over the last week their number has increased by a thousand, the agency Dolgova quotes.
"These are Ukrainian soldiers, as well as those who fought in the so-called special battalions. And it is only those who were delivered in transit through the Raisin to Kharkov. We are absolutely sure that they are not just dead people, but soldiers, whose cause of death is obvious. "
said Dolgov.
The Security Council of Ukraine cites other data: for the entire period of the ATO, the army lost 258 people killed, injured - 922. Meanwhile, the Ukrainian edition of the "Correspondent" 17 July, citing its sources, reported that only during the last battles near Izvarino, the loss of the military amounted to more than 200 people. However, official Kiev either does not confirm such information, or declares the need to verify it.
Dolgov also said that the militia is now checking information about suspicious activity at the Bezlyudovsky incinerator near Kharkov.
"We have information that the Ukrainian side is getting rid of part of the bodies of the dead, using the capabilities of this enterprise, but this information needs to be confirmed"
said a representative of the nfn.
According to Dolgov, the mothers of many soldiers who died in the east had no idea where their sons were. He said:
"Now throughout Ukraine, young children are being drafted into the army, and they are allegedly in training units. So say their parents, and in fact they are sent to the Donbass, and there they die for the interests of the Ukrainian oligarchs. "
In addition, Dolgov told a journalist that the NFN receives many complaints in which citizens say about the disappearance of children.
"We are now carefully studying these signals, checking the information. I do not want to say anything in advance, but I do not exclude that the Ukrainian side or those who are fighting directly on the side of Ukraine are engaged not only in a punitive operation in the Donbass, but also in some other criminal cases. "
- said the co-chairman of the Popular Front.
At the end of the conversation, Dolgov said that the lawyers of the FIS gather evidence and work on the qualification of the crimes that top state officials have committed and continue to commit, destroying their people.
"Experts qualify their crimes from a legal point of view, and in the very near future we will have a legal opinion on what prison terms threaten all these people as responsible for the crimes committed. In our opinion, their actions quite fall under the article of the Ukrainian criminal code "genocide" "
he summed up.