Canada is preparing to conduct large-scale military exercises in the Arctic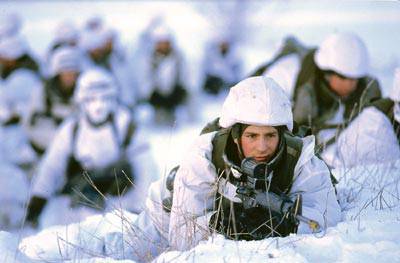 Canadian Defense Minister Peter McKay announced his country's plans to arrange the large-scale Nanook military exercises in August 2011 in the Arctic in August. As noted by Zman, the goal of the exercise is to strengthen Canada's military presence in the Arctic.
He assured that these will be the largest exercises in
stories
countries, they will be attended by more 1000 soldiers and officers. Also, besides infantry, CF-18 "Hornet" fighters and other aircraft of the Canadian Air Force and ships of the Canadian fleet will be involved in the exercises. Inuit reservists will also take part in the exercise (the Inuit call themselves Eskimos) from the fifth Canadian Ranger patrol.
It clarifies the channel "Vesti", the exercise will be held in several stages on Baffin Island, as well as in the area of ​​Ellesmere Island - the northernmost of the islands of the Canadian Arctic Archipelago.
About who is the likely opponent of Canada in these Arctic exercises, it was not said. Meanwhile, we recall, Russian Defense Minister Anatoly Serdyukov announced in early June that Russia intends to create two military brigades in the Arctic with a deployment in Murmansk and Arkhangelsk.
In addition to the Nanook exercises, the Canadian Department of Defense annually conducts Nunakput maneuvers in the Western Arctic and Nunalnut in the High North.
Ctrl Enter
Noticed a mistake Highlight text and press. Ctrl + Enter