Passenger "Boeing777" fell in the DNI near the border with Russia
Not far from the border with Russia in the Donetsk People's Republic, the airliner of Malaysia Airlines fell. According to preliminary data, all 295 people aboard the Boeing 777 died. These are 15 crew members and 280 passengers on the Amsterdam-Kuala Lumpur flight. Reports about it
RIA News
.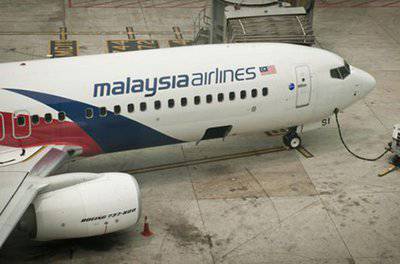 Reportedly, the plane did not fly approximately 50 km before entering the airspace of the Russian Federation.
Interfax-Ukraine
reports that the wreckage of the aircraft are near the village of Hrabovo. According to reports from the same news agency, this locality is controlled by the militia of the Donetsk People's Republic. In ukroSMI, it immediately gave rise to the "main version" of the tragedy: allegedly the passenger airliner was shot down by militias. Another version of ukroSMI today is not to be expected.
The plane disappeared from the radar screens at an altitude of 10 thousand meters, and after a while fell in the Shakhtyorsky district of the DPR. 10 thousand meters - height, which is inaccessible even for the most advanced MANPADS.
In the air traffic control service of Ukraine they report that the Boeing has operated an emergency beacon.