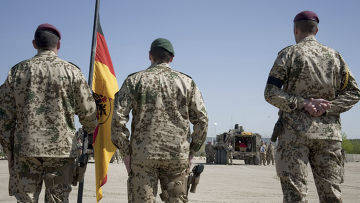 This was announced on Saturday, July 2, by the German weekly Wirtschaftswoche, citing data from the European Defense Agency (EDA). According to the EDA, at present the number of German soldiers ready to participate in military operations is 7000 people, while in the UK there are thousands of 22s and in France 30s of thousands.
According to the same source, the actions of every German soldier taking part in military operations abroad are provided in Germany by 35 other military personnel, as well as 15 civilian soldiers of the Bundeswehr. For the British, these figures are 16 troops and four civilians, the French have eight soldiers and two civilians.
The costs are very high.
The participation of one soldier in a military operation costs the Bundeswehr 5,16 million euros. This is about three times more than the average for the European Union. Germany's Defense Democratic Party (FDP) defense policy expert Christoph Schnurr considers this cost-benefit ratio a "terrifying imbalance." "The Bundeswehr still has not realized the concept of its transformation from a frozen
tank
army into a highly mobile armed forces, "DAPD quoted the Schnurr as saying.
But even if the reform of the Bundeswehr is successful, the question of whether the armed forces of the Federal Republic of Germany will be cheaper for the state will remain open. German Finance Minister Wolfgang Schäuble intends to reduce defense expenditures to 2014 billion euros a year by 24 by year, although the current indicator — 31 billion euros, or 1,3 percent of GDP — is one of the worst among the countries of the North Atlantic Alliance. In France, for example, it is 2 percent of GDP, in the UK - 2,5 percent. Meanwhile, at NATO headquarters, they believe that to maintain their defense capability, states should spend 2 percent of their GDP. For Germany, this would mean spending 50 billion euros.