A letter from a resident of Slavyansk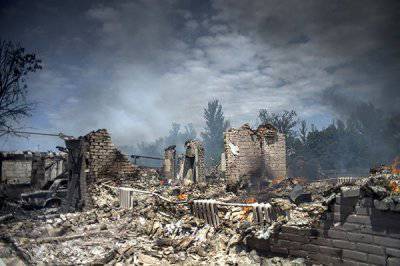 I have not written for a long time. There was no electricity. It is impossible to write to live through a mobile phone. Yes, and the battery sits quickly. It was necessary to save. Only generators worked in the city. And there was a huge queue around them.
But now there is light! And those maydauns who declare to me that this "wonderful Ukrainian power to take care of Slavs" will be swearing aloud very obscenely, since the power lines, a lot of substations and the rest of the electricity-related structure in Slavyansk have been owned by DTEK for a long time, We will definitely come across the name of the wonderful Rinat Lioniditch. So willy-nilly, a respected oligarch had to fork out for the repair of his property, which brings some income. But I hope she was insured.
But Gorvodokanal - state. And no one is in a hurry to repair it.
With the products is still stressful. In the shops of all a little, it is very expensive and is not fresh. Humanitarianism scanty. In the first two days, when the National Guard under entered the city, the product was the sea. This entire PR party pofotkas against the background of food, but it was still stocks from the militia warehouses, as well as the Baptist church (and she is the richest in the city) was intensely engaged in charity. But then they were either told shit, or for some other reason, and they cooled down a bit with humanitarian aid.
The national guard walks around the city cautiously, in groups. We are afraid of them, but we pretend that they are not there, they are also afraid of us and notice the population mostly on cameras. Depending on what kind of reporting is needed, either as liberators or as fighters against terrorists. But I am sure that despite everything, they see Chechens everywhere.
I do not understand, however, why these, if I may say so, guardsmen cling yellow bows to body armor (sometimes right on the back, like girls in kindergartens on dresses) They frighten me with their immediacy as well as with their machine guns. But I understand all the same, why they do not go alone and without
weapons
. All the same, Slavyansk is an enemy city for them. Militias could afford to walk with bare hands.
What else is going on here? Barricades dismantled. Although in the current situation, I would not call it a plus. More maradery appeared. And no one investigates them. Previously, they sent for digging trenches to Semyonovka. And now?
The police are ashamed and supervised. So, it does nothing. Or just pretends to do something. If you think that some of these brethren were fired or arrested, as shown on TV, this is PR. Moreover, the head of the police appointed a man who had already worked in the city department of Slavyansk. But the fact that when the valiant guardsmen kicked the cops out of the regional department, and the next day the cops didn't count their mobile phones (which were charging there), laptops and bicycles - a good indicator of the morality of those who came. Police swallowed this insult. But will they tolerate this for a long time? Everybody knows the mentality of the cops. They can be very vengeful and vile.
Of the benefits, only one thing: pensions are quietly beginning to pay. Honestly earned pensions, I must say. Here are just what do grandmothers, whose homes are destroyed to the ground? Will they have enough thousands of hryvnias to restore the house? Yes, even if it is not a grandmother. Let it be a family of young people who receive an average salary. Will they be able to build a house? Ukrainian authorities will not help them. The Ukrainian government even fotkal against the background of the stew, bought by ideological enemies.
In general, about Slavyansk a lot of horror goes. Most of them are fakes. But people really disappear. Who simply collects his manat and leaves. And who really kidnapped. Snitches in the city enough. And what they are thinking up there, only the devil knows.
Honestly, I'm also afraid for myself. I never hid my views from neighbors. Let me not run with a gun on the suburbs, but like me under suspicion only thanks to worldview and Slavic registration.
In general, the people in the city poprimli. Already neat in the statements. A stranger can even say that they are glad to come Natsik. Recently met one woman. Stood in line with her for water, chatted. She told how happy that the battles stopped, how good that legitimate power reigned in Slavyansk, how good that terrorists were driven away and what a bad Putin that gives weapons to the separatists. But I know that her son went back to Russia in May and lives quietly in Voronezh.
Now it's scary to say what you really think. And I also have to bite my tongue.
But looking at the National Guard patrols is sickening. But a friend suggested to me an effective psychological device. He says: "Look at them as if they were dead. They say about the dead either well or not."
But I still hate. Pulls away. I feel that we were abandoned. The brain understands that the militia had to retreat. The last days the Ukrainian army heavily bombed the city with high-explosive mines. Without reinforcements or reinforced weapons, the militias would simply crush along with the city in a week or two. There was no help and they did the only thing that could save the buildings and the people - they moved away. But the feeling that we were betrayed, did not leave me all these days. Only now it is quiet. When emotions were dulled and the mind again prevailed. But only my brain is asking questions now, but there are no answers to it.
I do not know what will happen tomorrow. I do not understand what is happening with Ukraine. I do not understand what happens to people. Did you want Ukraine in Europe? Received Ukraine in Europe. 13 century. The same manners, the same laws. The same level of education. Only weapons terrible. And Europe itself is terrified. But no one wants to carry on dialogues. But it's too late to talk. Not with this government, which is now settled in Kiev. And friends say that it is possible that Lyashka want to make the next president of Ukraine. Hour from an hour is not easier. This disaster on 10 years is calculated, as I understand it?
But I hope their plans fail. Today I had a good dream. For the first time in two weeks. And I believe in the good. Hopefully, Slavyansk will come to life again soon. And they will stop torturing me with heavy thoughts.
http://masiandra01.livejournal.com/20261.html
A letter from a resident of Slavyansk mara_beyka
"We learned to calmly accept death.
When opening a personal message from friends every time (without exceptions), the first thing I see: "Alive?"
This is our place instead of "Hello!", "Good afternoon!". It is we all have such a habit now. The main thing is to make sure first that the person (familiar and dear to grief) is alive.
My answer is always emotional. I write my "YES", backed up with several exclamation marks. And I get the following: "Thank God! .. Tell me now." Now it is possible to write further about various trifles. Even if these trifles exhausted for the whole day so that you roar into the pillow while the child is watching the cartoon. All nonsense. You are alive - this is important.
We discuss with terrible noise, calling back a hundred times approximately, on Skype with relatives and friends the situation in the city, and also we begin: "is he alive?", "Do they have a home?".
Survived. How can you live? Lord ukry! Who can explain this to us? Who can explain to me that of the years acquired in 20, only a surviving bicycle locked in the garage remained in my yard? AND EVERYTHING!
And as I was tired of calling people familiar with the same phrases: "Today we drove around the district, everyone was watching at home. In your stupidly ONE WALL. And a fence. Inside is ash. "
Or more stories about HOW friends died ... Neighbors ...
We so calmly accept any
news
.
In the news feed, no one is absolutely intimidated by the 18 + mark when viewing photos from the site of regular attacks.
We just saw ALL. This is so terrible everything and so everyday. So it's customary to see your area (although in my person it's already practically killing something and no one — everyone either left or died), the ruined house of neighbors and the neighbors themselves on the ground ... And nearby there is blood ...
Today in Moscow, mourning for those killed in the subway. We offer our condolences to the families of the victims. We are the inhabitants of New Russia.
We know what it is to lose loved ones ... "