Interview with Managing Director of NPO Saturn Ilya Fedorov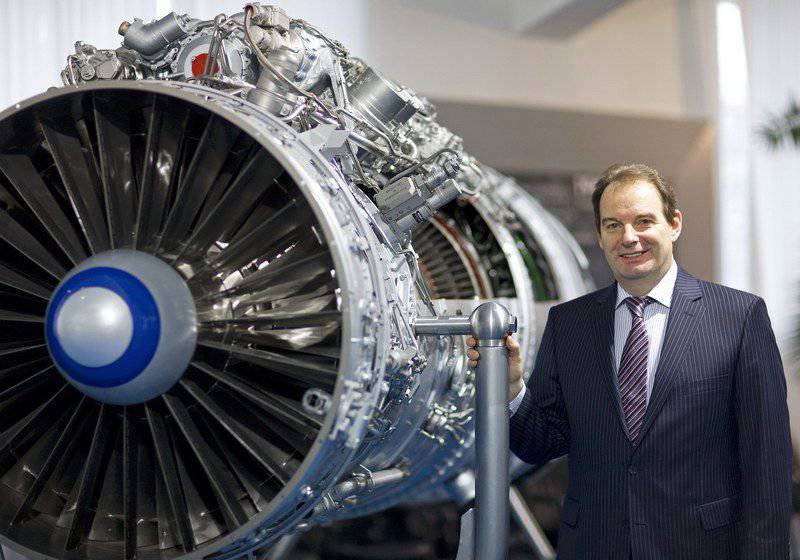 In recent years, the United Aircraft Corporation has increased the pace of production of Sukhoi Superjet 100 short-haul airliners, active work is under way to create a promising MS-21 aircraft, and export deliveries are increasing. Ilya Fedorov, managing director of NPO Saturn, spoke about how the needs of aircraft manufacturers are met in power plants for new aircraft, as well as for cruise missiles, and marine technology in an interview with Interfax-AVN.
- Ilya Nikolayevich, tell us how the SaM146 engines production program is being implemented for the new Russian regional Sukhoi Superjet 100 aircraft. How many engines are planned to deliver this year? What is the plan for 2015 year?
- The real number will be determined by the needs of Sukhoi Civil Aircraft (GSS). This year, the production rate of SaM146 is eight engines per month. Accordingly, in the 2014 year, we plan to increase the production volume of the SaM146 engines by almost half compared to the 2013 year, when Saturn produced 45 of such engines. Our partner - the company GSS - plan to transfer to customers this year 36 aircraft, which we fully provide. In addition, the production plan of NPO Saturn includes spare engines and rolling stock on 2015. We track in real time at what stage of the assembly the planes in Komsomolsk-on-Amur are and prepare engines for them.
In 2015, at the request of the GSS, it is necessary to make 100 engines. I have no doubt that we will manufacture them.
Of course, we make engines and substitution. And, although we have very high reliability and there were no cases of engine replacement due to our fault, but operation is exploitation. There are times when something happens. For example, once during the test, the aircraft on landing damaged the engines on the runway.
Gradually solve the problems associated primarily with heavy logistics. Because our logistics is the whole world: the United States, Europe and so on. And in Europe - not two and not three places.
The ordering system does not always work well, which is rather complicated both for us and for the GSS. There are small miscalculations, minor delays. But the situation is quickly rectified.
However, in spite of everything, the SaM146 engine is a priority for NPO Saturn. He is supported by the state, and this is the most important thing for us. It is made on very good technological principles. The French company Snecma took an enormous part in its creation. This cooperation, in fact, turned, radically changed our company.
- Earlier it was reported that the production of each SaM146 engine is subsidized by the French and Russian sides. Thus, a paradoxical situation arises when an increase in output entails an increase in investment. What measures are taken in order to break even during the production of SaM146? When will this be possible?
- It is no secret that both we and the French partners incur losses in the production of this engine. The state, understanding the current situation, helps and subsidizes these losses to us. It would be difficult for us to pull a loss of 3-4 billion per year. According to our calculations, we will exit to zero on break-even on the SaM146 engine in the 2023 year. This is known in the government of the Russian Federation.
This is nothing new. Even the most famous CFM56 production program was unprofitable for eight years. A new commercial engine never begins to pay off before eight to ten years.
If we talk about the production process itself, then at cost, normal hours and other parameters, we achieve a significant reduction, about ten percent a year. This is very good, because in Soviet times these figures did not exceed two percent per year.
To gradually reverse the situation, you need to fly as much as possible. Airplanes with our engines have already flown 100 thousands of hours. With an increase in the raid, the engines will be serviced. And there will be a very good economy. Business is done on repair and after-sales service. The most important thing is that the market believed in the Sukhoi Superjet 100, especially when it began to be operated abroad, for example, in Mexico. They fly ten hours a day, two or three flights every day, and everything works very well, the Mexicans are very satisfied.
Of course, there are still problems with Aeroflot. But there is a separate
story
. There initially got the first cars that were not in the best condition. Now ten cars have changed, and I think, then everything will be fine. But, most importantly, for all this time, there has not been a single minimum precedent affecting security. We "stripped" the nacelle and the birds got into the fan, but this had no effect on the safety of the passengers. They planted even with one engine. Very reliable car.
- Recently, the repair production of NPO Saturn (Rybinsk) was awarded a certificate of the European Agency
aviation
Safety (EASA) for the right to maintain and repair SaM146 engines. When are you planning to start repairing CFM56 engines? Are negotiations ongoing with airline operators?
- It was very important for us to receive this certificate. Now we have already introduced a new case for the repair production SaM146 and we are completing the second part of the case for repairing CFM56. I hope that we will start repairing CFM56 in 2015 year.
We are negotiating with Aeroflot and other Russian airlines that operate this engine. It is no coincidence that Russian airlines have become a logical and logical choice in terms of logistics and other aspects.
Also on a regular basis are negotiations with the French. They have their own reasons for being interested in this. The fact is that when we talk with French partners about how we can improve the SaM146 economy on our part, it turns out that it is necessary to redistribute the shares in the distribution of profits from sales. Because during the signing of the agreements, these shares were fairly distributed in the direction of the French. But of course, no one is going to revise the shares, the French will not agree to this. Therefore, they say that they are ready to share the repair of CFM56 engines that are in service with Russian air carriers.
Of course, it's not easy for them to go for it. After all, Snecma has a number of exclusive contracts with Russian carriers, and here we have to essentially share with us part of the market. It is not an easy task to give such lucrative work to partners. But they understand that technically we are able to do this. We have people and equipment. The Safran group considers NPO Saturn a strategic partner. And the heads of Snecma and Safran Pierre Fabre and Jean-Paul Erteman agreed that CFM56 engines will be repaired in Rybinsk.
- At what stage is the development of the PD-14 engine for the MS-21 advanced liner? When are you planning to start testing, put the engine on the wing?
- Aviadvigatel, Perm Engine Company and we have implemented unique technical solutions in PD-14. In terms of its characteristics, this engine will be able to compete with engines such as CFM International LEAP-X and Pratt & Whitney PW1000, which are installed on the most popular aircraft such as the A320 and Boeing 737.
Today, three PD-14 engines are in the works, and there are also tests of the engine-demonstrator and gas generator on the stand in Perm. If we talk about the reduction of technical risks and timing, I think that the engine will not be late at the time of landing on the MS-21 aircraft.
The engine is new, with a huge number of new technical solutions and it is not necessary to wait for an easy solution to the problems of its creation. This hard work is carried out under the direction of the head of Aviadvigatel OJSC Alexander Inozemtsev. In fact, the United Engine Corporation (UEC) pounced on this work with all its might.
Cooperation on PD-14 was painted to us. Not only NPO Saturn there, UMPO does a lot there. Now we are taking more and more work on ourselves. Because other plants are also pretty overloaded. Of course, it makes no sense to transfer the production of a hollow blade from Ufa, where huge state funds are invested in this business. But this is not necessary.
- How actively does the state help in financing key civil projects and updating the production base of the enterprise?
- In terms of finance, we have state support for SaM146 in terms of compensation for losses. We are also compensated for interest rates on loans.
From the point of view of state aid, there are federal target programs, programs for the development of the defense-industrial complex. Along this line, we transfer quite serious funds for which we are conducting technical re-equipment.
Frankly speaking, in five years we have actually built a new plant in Rybinsk. These are new shops on 80 thousand square meters, modern equipment, these are new people, new mentality. This is a completely different logistics between the workshops, a completely different management system for the centers of competence within the company.
- What is the share of the state defense order in the production structure of NPO Saturn? How rhythmically are supplies from the Ministry of Defense of the Russian Federation financed? Are all contracts signed in the framework of the state defense order for 2014 year?
- We are trying to keep the state defense order at the level of 40% of the total production. There are no problems with such customers as the Ministry of Defense, the Ministry of Emergency Situations and the Ministry of Internal Affairs. They regularly pay very good advances, and we, in turn, have never let them down on time.
After all, many civilian engines are going to combat vehicles along the state defense order. These are the same PS-90, D-30KP2. But today we do not manufacture new D-30KP2 engines for the Ministry of Defense. Mainly under repair and maintenance. But if the Defense Ministry needs to support the IL-76MD park with our new engines, we will make new ones too.
- At what stage is the implementation of the import substitution program for gas turbine engines (GTE) for the Navy
fleet
Russia? Have contracts been signed with the Russian Ministry of Defense for the supply of these engines? If so, how many M70FRU, M75RU and M-90FR engines are planned to be manufactured and delivered in the coming years?
- This is a very topical issue. While there were normal relations with Ukraine, ZORIA Mashproekt made many engines for our ships. Almost all the ships now go on their motors. Both military and civilian.
The program of import substitution for GTE for ships is not new. Obviously, we must do the engines for our warships ourselves, this task was previously set by the state. And such engines were made at NPO Saturn. Two engines - M70FRU and M75RU - power 7000 hp, 14000 hp respectively. In addition, we are now in conjunction with Ukraine producing 27 high-power thous. Hp engines. - this is the M90FR. But we did not force things. They built stands, prepared production, worked out engines on a ground-based theme.
After the president of Russia set us the task of speeding up the process of import substitution in this area, to master the full cycle of production of the engine and the unit based on it, we abruptly forced our work. In 2017, we should have already put these engines on ships that will be built in St. Petersburg. The task is very difficult, deadlines are tight. We understand the whole measure of responsibility.
When installing marine GTEs a lot of their subtleties. The fact is that the engine, together with the gearbox, is lowered into the ship, then the hull is brewed and only after that the completion begins. If we do not have time with supplies, the ships will be waiting for the engines as empty barges.
Today we have announced this program as one of the top priorities for Saturn. My new deputy was appointed on this topic, Dmitry Novikov. Created directorate. We have a branch in St. Petersburg, which deals with this topic. We have enough specialists and now we need to work in three shifts for two years.
Engine M90FR good, run-in, understandable. I do not see any problems other than financial ones that need to be solved. The Russian President promised to help with financing. In terms of import substitution - this is one of the most important tasks. Because all the ships go to these turbines. If we do not make our own, then everything will rise.
We also understand that we will have to maintain engines of Ukrainian production already installed on ships, since the Ukrainian side has withdrawn the brigades from the repair plants.
- Tell us about the production of small-size short-resource engines for long-range air-launched missiles? What other engines for cruise missiles are in production, are new developments being conducted in this direction?
- The program is huge: we make more than 300 engines a year for companies that produce rocket
weapon
. We are increasing the pace of production by a half to two times a year and cover the entire spectrum.
I want to pay special attention to the new small-sized engine for a promising missile, which is being developed by the Tactical Missiles Corporation. Now we already have a contract for the supply of serial engines. We have already started supplying these engines for the corporation, have signed a schedule with them. And I am sure that we will fulfill the state order. We work quickly, learned to master the series.
The engine is unique in that it is electric. When creating it, a number of difficulties arose that we need to solve before the end of 2014. Firstly, there are interruptions in the operation of the rocket control equipment due to current generator interference. This is due to the fact that the engine is tightly "packed." At the same time, it is also "digital". Accordingly, the influence of interference is very serious and we struggled with this for a whole year. I think that overcame. Secondly, there were problems with the bearing oil supply system. In addition, the absence of a normal bearing industry in our country seriously complicates matters. Because of these problems, we are pretty late, we have met with quite tough substantiated criticism from the customer in the face of the corporation "TRV".
It should be noted that this engine is completely Russian, it is not being done as part of the import substitution program. Today, only one subsonic rocket, the X-35 rocket, remains with the P-95-300 engine, which is mass-produced in Ukraine. But even there the problem is completely solved. All other cars have already switched to domestic engines.
- How is the contract for engines AL-55I for Indian training aircraft HJT-36 performed? When will the licensed production of engines be deployed in India?
- The project is not easy, it was replaced by three general designer. It turned out to be difficult due to the fact that the level of sales is not clear. Indeed, in addition to Indian aircraft, this engine was also planned for installation on the MiG-AT aircraft, which, unfortunately, lost the tender and the Yak-130 is now being replaced instead.
I would like to note that when creating this engine, we also encountered technical problems, because after the 50-year recess, the development of an engine for a single-engine aircraft began for the first time. And this is a completely different approach. When we conducted the tests, CIAM gave us requirements almost from scratch.
Now the development is completed and this year we have fulfilled the requirements of the Indian side defined in the contract: we confirmed the resource of 300 hours. We have already been given a program for commitments to Indians, according to which we must provide a resource first on 600 hours, then on 900 hours, on 1200 and 1400 hours on the hot and on 1600 hours on the cold part. For all these works, estimates have already been worked out, and we understand how much they cost. Now all the documents transferred to Rosoboronexport.
In general, the Indians are satisfied. Now we need to deal with the resource and we are doing it. But this does not mean that we should put the engine on a stand and drive it until the pulse is lost. There must be a response from the Indian side. We need to know how much they fly and in what conditions. Based on their modes and the results of our tests in CIAM, we will extend the resource. One without the other will not work. We told the Indian side about it.
In fact, now the leading role of NPO Saturn in the development of AL-55 is completed, now this role belongs to UMPO. We will supply them with the hot part, carry out design support, and they will set up licensed production. This is logical, because NPO Saturn has never engaged in licensed production, and UMPO has vast experience in India on the AL-31F engine.
I think that the launch of licensed production will happen quite quickly. But we must understand that fewer 250 machines run into a series of meaningless. There will be losses.
At the end of 2014, government visits are planned, during which, I hope, everything will be determined and the process will go. NPO Saturn and UMPO are ready for this work.
- How is the contract for the supply of the D-30KP2 engines to the customer?
- Everything goes according to plan. Under the contract, we must produce the X-NUMX engine D-184KP30 for the foreign customer, which we do on time and often even surrender ahead of time. This contract we will complete in 2 year.
We also hope that the contract will continue in the future. Or sign a new contract. It is desirable to early, so that there is no break in the production process. Because they need engines in sufficient quantities. For us, this is a very profitable job. The D-30KP2 engine is a bestseller that gives us a good economy. We do our best to meet the requirements set by customers, and we did not have any failures.
- What ground power plants are now produced by NPO Saturn? Is there any interest in this direction from the state, especially in connection with the sanctions of Western countries?
- This is another priority task, which started at NPO Saturn with a new force. Just recently, I attended a meeting with the participation of top managers of the Russian energy industry and RUSNANO. The President of Russia made a decision and set the task of ensuring the country's energy security.
Previously, the state was counting on General Electric turbines with a capacity of 70 MW and more. In Rybinsk, GE even built a plant to assemble such turbines. But we understand that in the conditions of sanctions it's not a fact that all this will happen. And, frankly, the Americans slowed down great.
Now we have begun the manufacture of the modernized gas turbine unit GTD-110. This is perhaps the most interesting product of all that we do. GTD-110 was developed at the Ukrainian enterprise ZORYa Mashproekt, then it was manufactured under the agreement at NPO Saturn. The upgraded product is manufactured at the highest level, using various nanocoatings and other modern technologies.
This setting is unique, it has cyclopean sizes. She always had problems, periodically something refused, it was hard to exploit. Some blades are half a meter long. We had no such equipment. Now everything has moved in this program, and we are actively engaged in it.
- NPO Saturn has a unique test base for the development and production of various engines, from small cruise missiles to powerful marine gas turbines. How is the testing base updated? What new projects are planned to be implemented on it?
"The testing base is something we are very proud of. And it is rightfully. Because today the test base of our company corresponds to the world level. Marine, ground, aircraft stands. All this successfully works and multiplies. For example, the ultra-modern French engine, which will go to the French business plane Falcon 5X, today is being tested in Poluyevo at our stand. And the French are happy.
- How is the development of the Civil Aviation Engines Division going and interaction with the Perm Engine Company is provided? How is the cooperation built?
- Our relations with Perm are perfect. The initial stage of formation has passed. It was attended by some kind of tension in terms of "who governs whom." Now everything is clear that no one is in charge of anyone, but a common cause is being done. There is a very good personal relationship between the management of our and Perm companies. Complete trust. It is clear that Rybinsk will be hard without Perm, and Perm without Rybinsk will be hard.
We have many common tasks. For example, the volume of the PS-90А2 engines, which is required for IL-476 aircraft, Perm alone is difficult to do. Therefore, we distributed cooperation with them, agreed on who will do what. On this motor signed a separation statement, and we got down to business. I signed an order that we run on PS-90А2 in Rybinsk. Well, of course, the assembly and testing will be in Perm. We will produce this engine on a parity basis. Such documents have already been signed. And this is the most important achievement that is.
Within the division there is a very good exchange of personnel. Some of our employees left for Perm. To some extent, we are learning from Perm citizens, but to a greater degree they do not disdain to come to us and learn what the French have taught us in SaM146.
Financial services work together very well. The authority of NPO Saturn from the point of view of the company, which is very promising for VTB Bank, helped Perm residents to take stock of all debts, to reduce all bank loans from other banks to VTB, due to which their economy improved significantly.
- How does NPO Saturn build work with outsourcing companies? What engine parts are made "behind the fence"?
- The most important thing that we are doing now is outsourcing. Today we have gathered all people from the Yaroslavl and Tver regions. Personnel is not enough. Therefore, it is necessary to carry out many works beyond the perimeter of our Association. We have a very serious program with the Yaroslavl region, according to which we transfer a lot of work on machining, making less responsible engine nodes for outsourcing.
This is not a simple matter. It happens that we have a year and a half certify enterprises for what they can. There are companies in Dubna, there are companies in the Yaroslavl region. It is hard going, but we need more and more work to be outsourced.
In the west, it has been implemented for a long time. For example, Snecma gas generators on SaM146 only collects. Components for them makes Mexico, China, because there it turns out cheaper and more qualitatively. Also on other engines. Snecma today produces only 12 percent of the total number of blades. These are the M88 engine blades for the Rafale fighter. Everything else is outsourced. And all over the world. A lot of blades makes Israel, China.
We, too, in many areas, such as the CCD-110, AL-55, do not shun to give some details to the West. Cheaper make. Small companies are focused on this, they "fit in" very deeply and make it cheap. It is profitable for them, they are fighting for this order. We are doing something like this in both Germany and Switzerland. Unfortunately, in Russia this process is still difficult, because outsourcers need to be "grown". And not one, two or three need to have for each position, since "all the eggs in one basket do not put."
- How is the financing of such large-scale projects that Saturn is engaged in today organized? Are credit resources attracted? What banks do you work with?
- We have all brought in the VTB Bank. We have a great relationship with this bank. Besides the fact that they credit us, we have two more members of the Board of Directors from VTB. All lines of credit through them are extremely beneficial for the "Saturn" on the background of what is happening now. Moreover, VTB 24 is also engaged in social programs, housing, and youth policy.
One of the board members, Valery Lukianenko, leads the defense industry, he and the head of the bank, Andrei Kostin, are true professionals and statesmen. To be honest, we cannot take any strategic decision without them.