Poland ranks second (after the Russian Federation) among the countries in terms of the number of arriving refugees from the territory of Ukraine. This is reported in the press service of the Office for Foreign Citizens of Poland.
RIA News
referring to the spokesperson of the Office, Eva Pnekhot states that no one who arrived in Poland from the territory of Ukraine was officially granted refugee status.
At the same time, the Polish authorities are registering a significant increase in the number of Ukrainians who wish to receive refugee status on the territory of the Polish state. If last year 46 Ukrainians applied for such status, then only in the first half of 2014 - about nine hundred.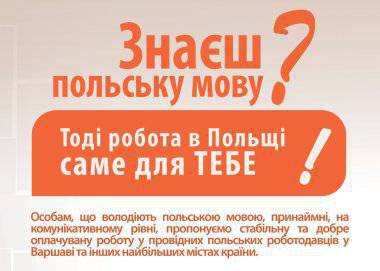 The largest number of people asking for refugee status, according to Eva Infantry, refers to the so-called activists of the Maidan - those who advocated for European integration in the center of Kiev.
If we talk about Russia, then, according to the Federal Migration Service of the Russian Federation, about 30,4 thousands of Ukrainians made a request for refugee status. Many have already received official refugee status, allowing them to rely on social guarantees. More than 130 of thousands of Ukrainian citizens applied for long-term residence and work permits in Russia.